Cottonwood Studios
---
About
We are Kari and Caleb Nichols, and we love capturing love. After 10 years of experience and over 250 weddings captured, it's still our goal to create unique art for every single couple we have the opportunity to photograph. We adore seizing that one moment of emotion through our lens and immortalizing forever the laughter or tears that a wedding day brings. The highest praise we can receive is to hear that when our couples look through their photographs, they remember how they felt on their wedding day--not just what they did.
We want to get to know every couple on a personal level so we can truly understand how to capture you in your most natural form--if you're giggly, we want you to be giggly...if you're more serious, we want you to be serious. We have worked all over the world, including New York, Thailand, the UK, Austria, Germany, and (of course) France. We love to travel, and if you're heading off to an exotic location, we probably *need* to go with you to capture your big day.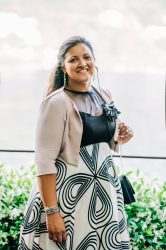 Because there are two of us, we always work in tandem and *fingers crossed* never miss special moments. While Kari photographs the bride getting ready, Caleb is with the groom. While Kari photographs the processional of the family and bride from the front of the ceremony location, Caleb is in the back capturing the last few moments of excitement before the bride walks down the aisle. We are always working from two unique perspectives, which allows us to provide a much more comprehensive set of images than one photographer can provide alone.
We do our best to remain as unobtrusive and hidden on the wedding day as possible. One of our favorite things to hear at the end of a ceremony is, "We never even saw you!" We want our brides and grooms to remain the center of attention all day long. We even dress to look like wedding guests so we won't distract.
If possible, we always want to meet with our couples face-to-face before the wedding day. It's important for us to understand how you work together as a couple--what makes you laugh, what makes you cry. Basically--how can we find the real emotions from you while we're capturing photos. One of our favorite ways to discover how a couple works best together is to do a pre-wedding session. If we can make our schedules and travel locations work together, we always try to provide a complimentary engagement session just so you can understand how we work and visa-versa. This makes the wedding day much easier for everyone!
We adore the beautiful architecture of Paris and the sweeping landscapes of Provence. In our opinion, France is the ideal wedding destination. Whether we get to photograph at a chateau or train station or coastline, the beauty of France never ceases to amaze us.
Contact
1 Rue de l'Épine, 67000
Strasbourg
France
Extra Locations
Marseille
Provence
France