The Ritz London
---
About
The world's greatest hotel, as conceived by the world's greatest hotelier. For over a century The Ritz has been the benchmark by which other hotels are measured.
BANQUETING AND EVENTS, THE PERFECT VENUE.
Can there be a better venue for a banqueting, wedding or corporate event than The Ritz London? With a total of 5 banqueting rooms to choose from in either glorious Louis XVI or fully restored 18th-century interiors, there's room to suit every occasion. Add in the sublime Ritz cuisine and the renowned service and The Ritz are the obvious choices.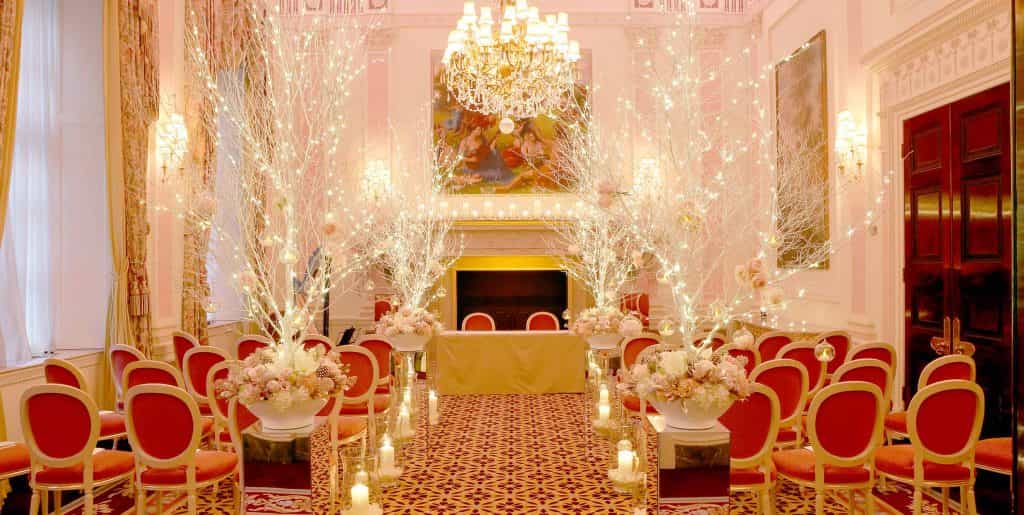 YOU AND THE RITZ. A MATCH MADE IN HEAVEN.
Hold your reception, your honeymoon or even the ceremony itself at The Ritz and you're guaranteed the perfect wedding imaginable. A choice of reception areas in a choice of styles; select from the sumptuous Louis XVI interiors of The Ritz itself, or the restored 18th-century splendour of adjoining William Kent House. The Italian Garden, one of the few outside locations in Central London is ideal for a summer reception and photographs.
LEAVE THE DETAILS TO US.
Organising the biggest day of your life is no small matter. At The Ritz, we can help you make sure everything runs like clockwork. Our experienced and professional staff will guide you through the many necessary preparations and help with flowers, your wedding cake, place cards, printed menus and limousines.
And our special Honeymoon package of one night's accommodation, Ritz Champagne, fruit and flowers on arrival and room service breakfast is surely the perfect end to the perfect day.
---
Additional Information
Venue Type: Five star luxury hotel in the heart of London
Venue Capacity: The Ritz London can hold up to 120 guests
Accommodation: When Cesar Ritz created his iconic London hotel he was triumphant in his aim to set new standards in quality among London's luxury hotels. Our guestrooms remain among the most impressive in the city, designed in the lavish Louis XVI "house style"
Other Features: £285 per person using the Burlington & Music Rooms (Min 40 people, Max 72 people) £500 per person using the Queen Elizabeth & William Kent Rooms (Min 17 people, Max 24 people) Prices include Value Added Tax and are not subject to service charge.
Welcome to The Ritz London
Contact
150 Piccadilly
London, England W1J 9BR
United Kingdom
Features
Accommodation
Event Planner
Bridal Suite
Disabled access
Civil License
Kosher
Music License
Outside Photography
Car Parking
Toastmaster