Member Spotlight: Elizabeth's Cake Emporium
Bookmark this
"Making cakes has always been a deep-seated passion and with the encouragement of friends and family what was simply a hobby has turned into a thriving business …"
- Elizabeth Solaru
Elizabeth Solaru is the multi-award winning founder of Elizabeth's Cake Emporium, one of the UK's premium cake companies. Elizabeth holds the prestigious title of the only ever three-time winner of Wedding TV's The Great Cake Bake. With a genuinely impressive range of clients, Elizabeth has made cakes for royalty from around the globe as well as a range of celebrities and VIP individuals. She has also appeared on a variety of TV and radio channels as a cake expert and judge. Elizabeth's cakes have been flown all over the world and have even starred in the Hollywood movie My Best Friend's Wedding. Elizabeth's Cake Emporium is renowned for its delivery of unique, delicious cakes that can only be described as works of art.
Elizabeth's exquisite masterpieces have been featured in a range of national and international magazines and newspapers.
---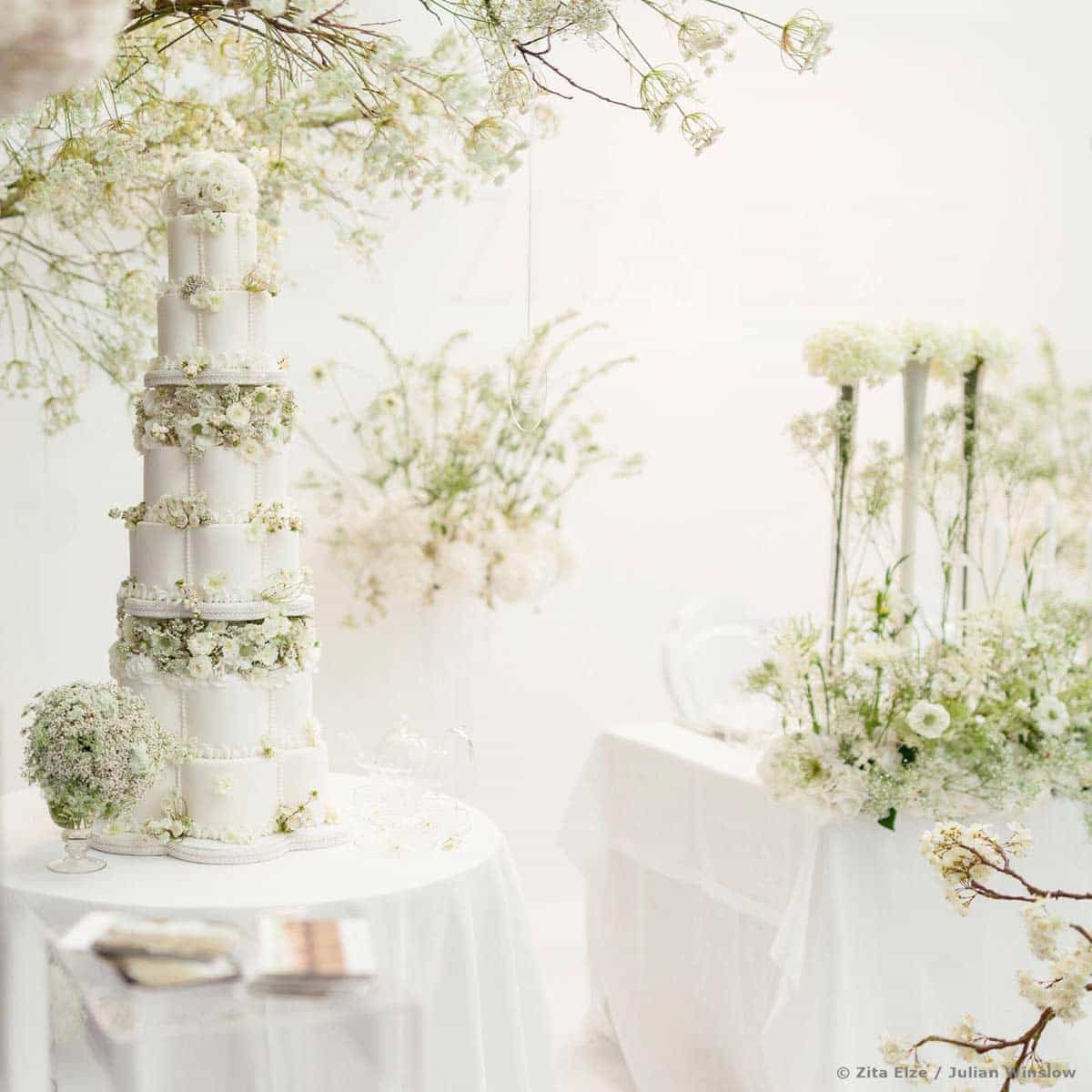 ---
Like many cake makers, Elizabeth's passion for cake baking started as a hobby. She began her working life as a scientist in microbiology for the NHS before moving on to become a headhunter, recruiting CEOs and other board level executives for the private, public and charity sectors. Elizabeth undertook all these jobs while making her beautiful cakes on the side until, with her loving family's support and encouragement, she finally started her business. Her company now employs four members of staff at its headquarters in Barnet, North London.
Elizabeth's clients range in their needs and desires, and she works in close collaboration to ensure they receive a stunning, bespoke wedding cake that finishes off their magical day with style. Her cakes are favoured by those who have a love of luxury -- she has produced some truly spectacular cakes and prides herself on rising to the challenge no matter how big or small. Elizabeth's sugar work is brilliant, and her attention to detail results in a beautiful and unique work of art that adds the wow factor to a wedding venue.
---
---
The design process at Elizabeth's Cake Emporium begins with an initial consultation. The ideation stage is used to decide on the design, textures and colours of the cake. The bride and groom are encouraged to bring invitations, swatches and photographs of themes they are considering for their event.
These are used as inspiration, helping the couple to realise their dream of the perfect wedding cake. Elizabeth loves creating unique statement cakes with beautiful sugar flowers, edible jewels and edible lace. Hours of painstaking work go into every production.
The effort given to the outside of the cake is first given to the inside, resulting in a cake that is as good to eat as it is to look at. Elizabeth has over 50 different cake flavour combinations to choose from; there is something to suit everyone's taste. Elizabeth's Cake Emporium is the ideal choice for couples looking for a luxury cake that's delicious and truly impressive.
---