A Heart Warming Real Life Love Story: With all the doom and gloom surrounding weddings and Coronavirus at the moment, we have a heartwarming real-life love story from one of our recommended luxury wedding planners.
Jane Riddell from Planned for Perfection has been planning Amelia & Matt's wedding for over a year. Elaborate plans were in place for the most amazing day of celebrations at the brides family home in Wiltshire on 30th May 2020… & then COVID 19 made an unwelcome appearance!
At first, Amelia and Matt were determined that their May wedding would go ahead as planned, but when Coronavirus was officially classed as a global pandemic, the couple soon realised that they needed to consider moving the wedding date. 
Inevitably, with less than three months until the wedding weekend, everything was already in place for an incredible celebration; The invitations had been sent and RSVP's already returned, the converted barn on the family estate had been licensed for the ceremony, the brides wedding dress was hiding in her childhood bedroom, adjustments to the groom's suit had been finalised by the family tailor, the marquee layout was confirmed, a delicious wedding menu from Rhubarb catering was chosen, a stunning cake design confirmed with Rosalind Miller cake and the floral arrangements were all signed off with Paula Rooney. The two bands (yes two!) were ready to party, but sadly it looked increasingly likely that the wedding would have to be postponed to 2021.  
Whilst postponement discussions continued, these two love birds simply didn't want to wait to get married and took the bold move of following their hearts! The bride's mother called the local registrars and a few days before the U.K. went into an official lockdown, Matt and Amelia became husband and wife on Saturday 21st March 2020!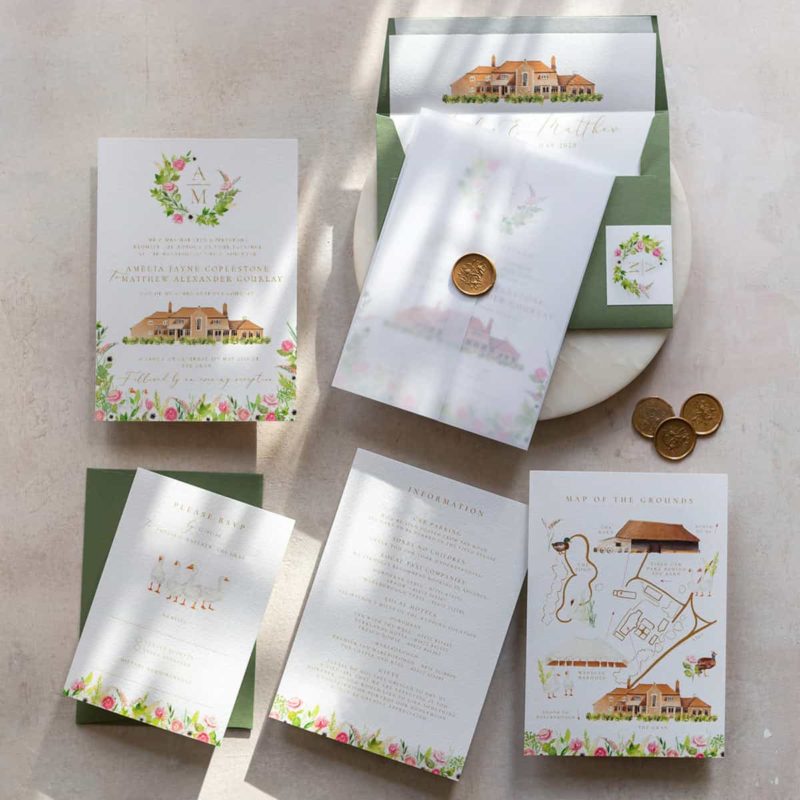 They enjoyed an intimate wedding at home with just parents, grandparents and siblings sharing their day. The wedding was nothing like the day that they had spent months planning with Jane and her team, BUT it was the most beautiful intimate wedding day. 
Fortunately, the couples original wedding suppliers are all available for the new wedding celebration date in 2021, so this fun-loving couple will celebrate in style, with a beautiful first-year anniversary blessing and an incredible party to celebrate with family and friends. COVID-19 may have postponed the original wedding celebrations, but the newlyweds still enjoyed the most wonderful wedding … and have an amazing love story to tell their children & grandchildren one day!