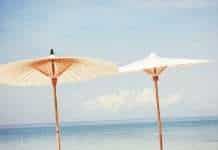 Bringing together the finest luxury travel experiences, this fabulous event will welcome over 100 exhibitors from across the globe. Offering tailor-made, awe-inspiring escapes, their specialists will help you plan a bespoke getaway.
Today we have a real treat for you, as it is all about couture veils beaded embroidery, silk embellishments and rare stones. If you are...
If the Duke and Duchess of Cambridge gave us a Royal Wedding that was quintessentially English, then David Lauren and Lauren Bush's wedding was certainly all American.
Siobhan Craven-Robins is renowned for her imaginative flair; no two weddings are ever the same. Her goal is to achieve a wedding that is...
Winter Sunshine at Arizona Ranch This week's real wedding comes to us from Phoenix, Arizona, where Vanessa and Jairo tied the knot in the...
Now is the time to get yourself into a proper skincare routine, it's important that you understand your skin type so you can choose your products according to your skin type. We all want glowing skin on our wedding day so preparation is really important, remember you are investing in your skin so find a skin care routine that works for you. It's no good buying lots of products if you only use 1 or 2 so do be realistic.
For a wedding venue with a real difference; discover one of the most sought after venues on the South Coast - the elegant and historic HMS Warrior 1860, situated in Portsmouth's Historic Dockyard.
If you are a couple with ecological concerns and you want your wedding to be "environmentally friendly", there are now options on how to Plan a Green Wedding. Making a wedding with eco spirit will succeed, apart from a very nice theme wedding, in raising awareness for your guests. Here are some ways on how to Plan a Green Wedding.
Mandarin Oriental Hyde Park, London is delighted to announce their partnership, 80 at 80, with Olympus, who in celebration of their 80th Anniversary
Multi award winning Royal wedding gown designer Sassi Holford's 2015 collection is all about the delicacy and beauty of an English summer garden. The designs,...
Remember that stunning pre-wedding party? Planners Valtueña gave us the inside info on the couple's big day itself. Here are all the gorgeous details! "I first...
At Paolo Cicognani Weddings & Events in our never-ending quest for the perfect Italian Wedding we pride ourselves of constantly searching for the best professionals on the market and this especially true about Wedding Photography.
If you are looking for a high factor sun cream to take on honeymoon that you can apply once, is water-resistant and can combat the...