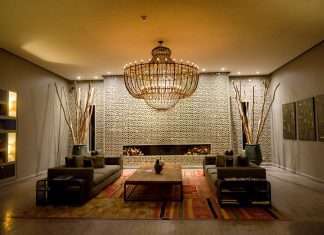 We were so excited to be invited to visit Le Palais Paysan in Marrakesh (apart from the 6 am flight time!) and couldn't wait to explore.
The beautiful country of Italy is steeped in history and synonymous with art, romance and style. This makes it the ideal location to hold your destination wedding.
What a simply sublime visit we had to the Corinthia Hotel in London's Trafalgar Square last week. From the moment we stepped through the doors, we were transported to a relaxing, friendly and gorgeous world away from bustling London.
By now you may have gathered that we were absolutely over the moon to win an award at the Wedding Blog Awards last weekend. So, in true 5 Star Wedding Directory style,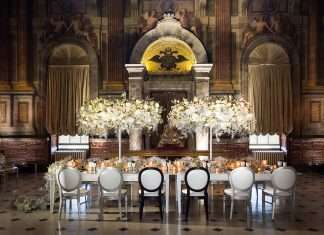 Antique grandeur meets cool sophistication We are so in love with this style shoot! Shot at Blenheim Palace by John Nassari and styled by Cranberry Blue, we just can't get enough of the breathtaking interiors, fabulous...
With skinny belts, dropped waists and iconic handbags, Prada's cool, chic and sophisticated vibe has caught the imagination of many a devoted fashion follower. Founded in 1913 by the Prada brothers, Prada started life as...
Daydream a little dream with me... Inspired by texture and light, Lyn Ashworth's collection for 2018 is luxuriously sophisticated. We adore the ruffles, twinkle and tulle that is scattered throughout the Daydreamer collection, from the hand...
Jodi and Arjen chose to tie the knot at Casale de' Pasquinelli in Tuscany. Set in beautiful scenery, its authentic rustic Italian charm created the perfect location for the nuptials. Linda Nari captures the occasion in her beautiful photographs.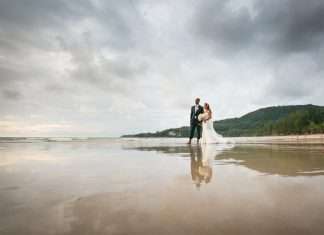 Starlit Celebrations for Leanne and Stephen Leanne and Stephen met at a Halloween party in 2014. After bonding over a mutual lack of costume, the pair exchanged numbers. Exactly a week later they found themselves...
Our top trends from a fabulous fairytale week As always, New York Bridal Fashion Week had a jam packed schedule. But in spite of this, coming hot on the heels of the international fashion weeks,...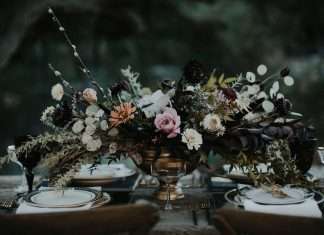 A moody palette for a cosy season You can have some fun with your autumnal wedding palette. Autumn weddings can take the luxurious, rich colours and textures that a lighter spring or summer wedding would...
Wedding photography, film and aerial footage with byLumiere We love catching up with our friends in the wedding industry and seeing what inspires them. We spent some time chatting with Kate and Brent from byLumiere, specialists...
Today's real wedding comes in from Will Pursell Photography who captured the day of Saina and Said's elegant wedding that took place at the Sutton Place Hotel in downtown Vancouver.
Take a peek inside the lavish wedding of Armenian billionaire's son, Karen Karapetyan to fiancee Lilit. With sparkle, stars and bold
Is there a more luxury wrist adornment than a Rolex? Founded in 1905 in London, the pioneers of the wristwatch now lovingly craft over 2000 timepieces each day.
An autumnal outdoor wedding holds all the beauty of the transitional season along with a chance to really stamp your own personality on it. So here are some ideas to spark a little luxury inspiration.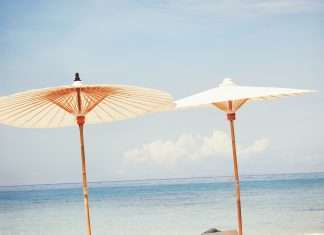 Bringing together the finest luxury travel experiences, this fabulous event will welcome over 100 exhibitors from across the globe. Offering tailor-made, awe-inspiring escapes, their specialists will help you plan a bespoke getaway.
Putting your style stamp on your wedding stationery The eagerly anticipated wedding retail, planning and inspiration destination The Wedding Gallery is set to officially open its doors next month and we are just so excited to be...
Five trends we love from London Fashion Week The LFW Spring Summer 2018 shows are over and we've loved every minute of them. From royal influences to extravagant layering, it's exciting to see what might make...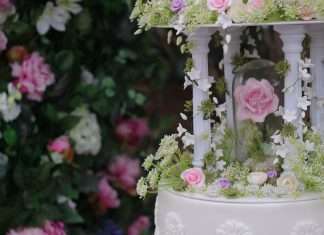 A classic English garden cake Our friends at Tees Bakery recently created a beautiful masterpiece for a gorgeous garden wedding. The wedding was held at Northbrook Park and the decor was truly magical. Breathtaking florals by...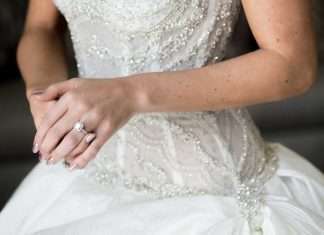 With rings on her (perfectly manicured) fingers... Dress, hair, make up, shoes, flowers... nails!! Don't forget, your hands will be on show all day. After the main event when your finger gets itself some new...
Remarkably light, reassuringly strong When you're constantly dashing about reviewing hotels and attending fancy wedding shows and product launches, the most important piece of equipment has to be your luggage. It needs to be reliable,...