Mr. and Mrs. Smith recently celebrated their ten-year anniversary by creating their Smith Awards. Among the various categories was "Sexiest Hotel Room"
Room 505 at Blakes Hotel London, reached number one, which bills itself as the first boutique hotel in the world  was designed by Anouska Hempel, a London-based hotelier and interior designer whose portfolio includes the flagship Louis Vuitton store in Paris and retail stores for Van Cleef and Arpels.
Advertisement
Inside the suite dubbed the sexiest bedroom in the world, couples are greeted by a four-poster king-sized bed draped in light gossamer nets and a pair of exquisitely detailed mother-of-pearl dressers.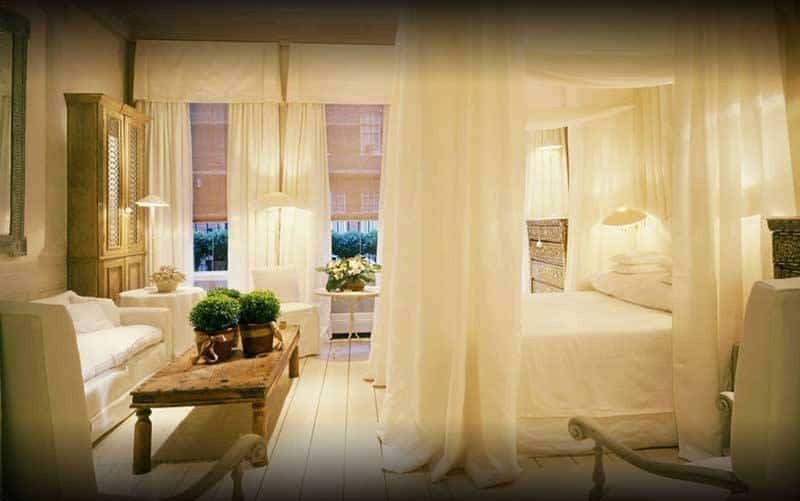 The bright airy room with high ceilings and clean, white elegance has made the Corfu Suite at Blakes Hotel London a favorite among honeymooning couples Mr and Mrs Smith, who named the French Provencal suite the world's sexiest hotel bedroom.
Here are the winners:
Best Smith Hotel 2013: Post Ranch Inn, Big Sur, California, USA

Sexiest Bedroom in the World: Blakes Hotel, London

Best-Dressed Hotel: Alila Villas Uluwatu, Bali

Hottest Hotel Bar: Ace Hotel, New York

Best Spa Hotel: Como Bali

Best Hotel Restaurant: Bastide de Moustiers, Moustiers-Sainte-Marie, Provence, France

Best for Families: Soneva Kiri, Koh Kood, Thailand

The Eco Award: Sextantio Albergo Diffuso, L'Aquila, Abruzzo, Italy

Best Budget Boutique Hotel: Brody House, Budapest

The Greatest Outdoors: Dunton Hot Springs, Colorado, USA

Above and Beyond Award: The Upper House, Hong Kong

Best Newcomer: Fogo Island Inn, Newfoundland, Canada
Is This The Worlds Sexiest Hotel Bedroom?