Luxury Portugal Wedding Inspiration: With its alluring coastline of gentle scalloped bays, boasting pristine beaches, the country's wealth of history and tradition, amazing culture and over three hundred days
of sunshine each year, the stunningly beautiful Algarve region of Portugal requires no further explanation as to why it is the ideal setting for a perfect wedding – no matter the time of year!
Perched upon an expansive promenade with idyllic views across the green fairways of the golf course and vistas of the Atlantic Ocean beyond, the simply gorgeous setting of the Anantara Vilamoura Hotel and Resort, provides the most perfect and serene setting for a wonderful and luxurious wedding of either intimate or grand proportions.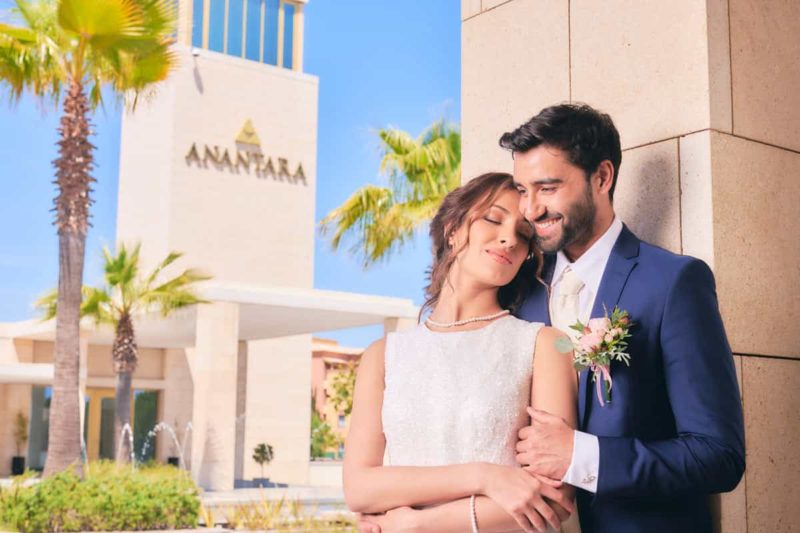 With wedding and event maestro Steven Pellier from London based Steven Pellier Weddings and Events creating, planning and managing the day, an awe-inspiring wedding extravaganza comes to life.
Steven Pellier worked with local businesses in the Algarve to create the intricately floral framed tables with cascades of delectable flowers from the wonderful Oura Flores, Chanel-esque inspired clear acrylic chairs from Squaretree and photography from UK based and world-renowned photographer Stuart Wood – this destination photoshoot was set to impress.
The most elegant five-tiered wedding cake from Algarve based Sónia Marreiros Wedding Cakes took centre stage upon the golf course backdrop, with the bride and grooms monogram detailed beautifully in gold icing on one of the tiers, complemented by sugar flowers in pops of pink subtly adorning.
The tablescape delightfully curated by Steven Pellier to include the colour palette of gold, pink, white and silver all sitting in beautiful harmony our happy couple in models Marlene and Ashlin sparkled as they looked on, styled gorgeously by Algarve based Hair by Joanna and Make-Up by Bianca Pereira.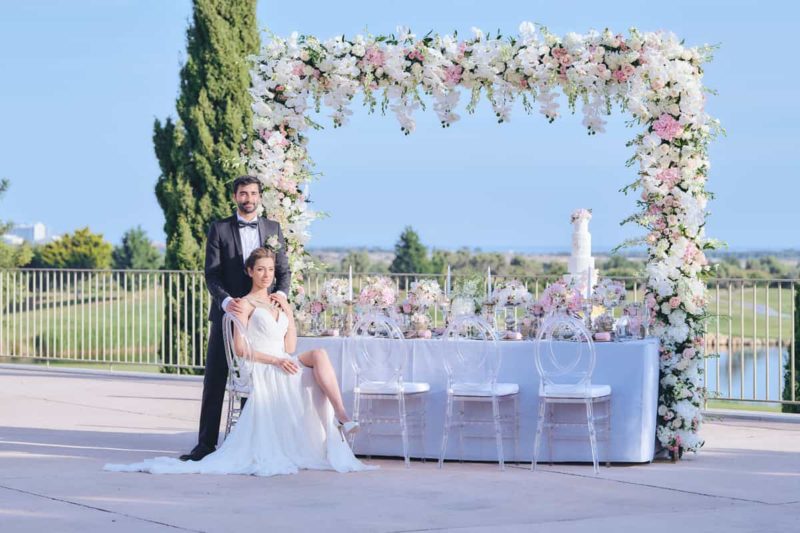 As the sun started to set upon our Algarve Paradise, our bride and groom wondered lovingly along the sandy beach as the ocean lapped the shore. A wonderful, elegant and luxurious design in a stunningly, beautiful setting with a fabulous team of industry professionals.
Suppliers