Certain destinations for weddings in the tropics and Mediterranean have become popular – which means they're not quite so special and original. But you may be eager to visit a destination that's new to you, to experience somewhere unique that most of your friends have never thought of. A wedding in Poland? Why not?!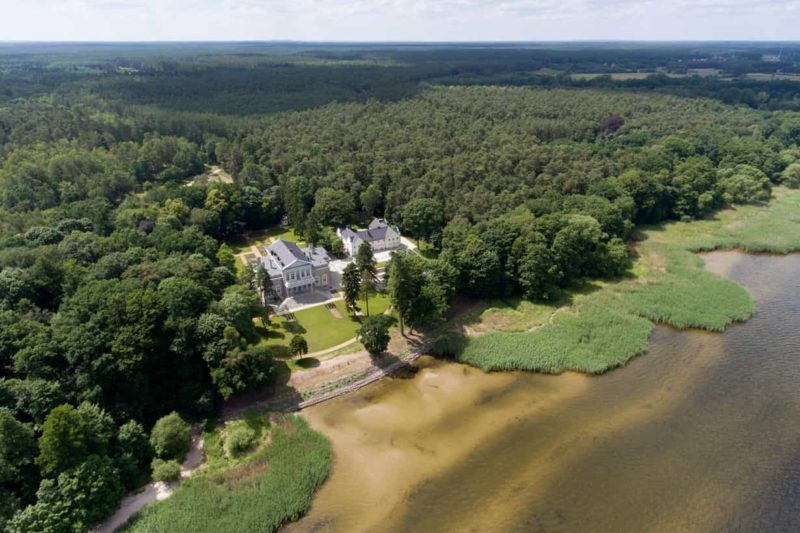 Poland is a beautiful country, with mountains in the south and lakes and the sea in the north. There are wonderful historic sites, like Cracow, the memorable Auschwitz Memorial, the salt mine in Wieliczka and the Teutonic castles. For many foreigners Polish food is a big hit, especially bigos (sour hunter's stew), pierogi (Polish dumplings), gołąbki (cabbage rolls), żurek (sour rye meal mash soup) and kiełbasa (Polish sausage).
When you come to Poland for the wedding, you can get a feel for the culture, from the specialities on the menu to the music on the dance floor. You can also incorporate Polish wedding customs in your celebration. On arriving at the reception party, the newlyweds are greeted by their parents with a huge loaf of bread, salt and two vodka shots. This represents a wish that the couple will always have sustenance in their life together. After the greeting with the bread and salt, the groom scoops the bride up into his arms and they walk like this into the reception party. This tradition symbolises the change in status from single to married.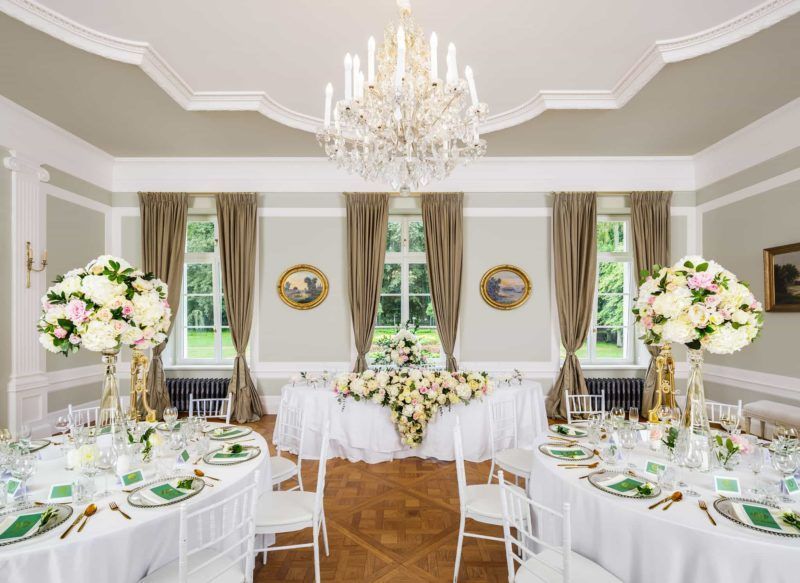 Many couples want to incorporate their personal heritage in their destination wedding in some way. If your ancestors came from Poland, you may want to visit the country where they lived 50 or 100 years ago and enable your family and friends to experience it, too. Some members of your distant Polish family will be more than happy to join you.
One of the best things about Europe is that most countries are easily accessible. Many different cultures are within just a day's drive. Planes are quick and cheap. It takes just one to three hours to fly to Poland from any place in Europe, and the tickets may cost as little as 75 GBP (around 95 USD) both ways. Promotions and group bookings can bring the costs down even further.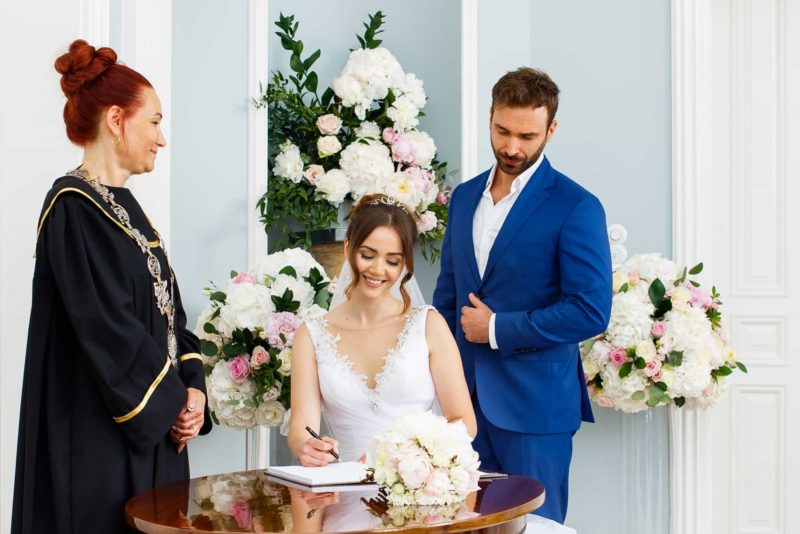 Manowce Palace
Couples heading for Poland as their wedding destination can choose from lots of venues of various types and locations. But one in particular stands out as a little haven of seclusion and beauty.
Manowce Palace is a historic property uniquely located in northwestern Poland, in vast woods and right on the shore of a large lagoon next to the Baltic Sea. It lies very close to the Polish-German border, and Berlin is the closest large city.
Scenic location
Manowce is the most beautifully located event venue in Poland. Here, it is all about the water, the woods and the remoteness. From the moment you arrive at Manowce, you will instantly know that this is the perfect venue for your wedding. The ceremony and the reception can be held in the gardens next to the shore of the lagoon, with the scenery making a stunning backdrop for your wedding photographs.
Couples looking for history and luxury will find Manowce an ideal mixture of both. The building was designed in the neoclassical style, with wonderful porticos and wall decorations. The interiors are filled with beautiful antiques and paintings and 200-year-old tiled stoves, but also first-class contemporary furniture. The exterior is equally photogenic, with gardens, a fountain and parkland.
Travel and language
It's very easy and cheap to get to Manowce. There are direct flights to Berlin from all major cities in Europe that take only one to three hours and the fares are very reasonable. You can also fly to Berlin from many airports in America and Asia. The venue offers a complimentary shuttle service to and from the Berlin airports – a coach for the guests and a limousine for the couple.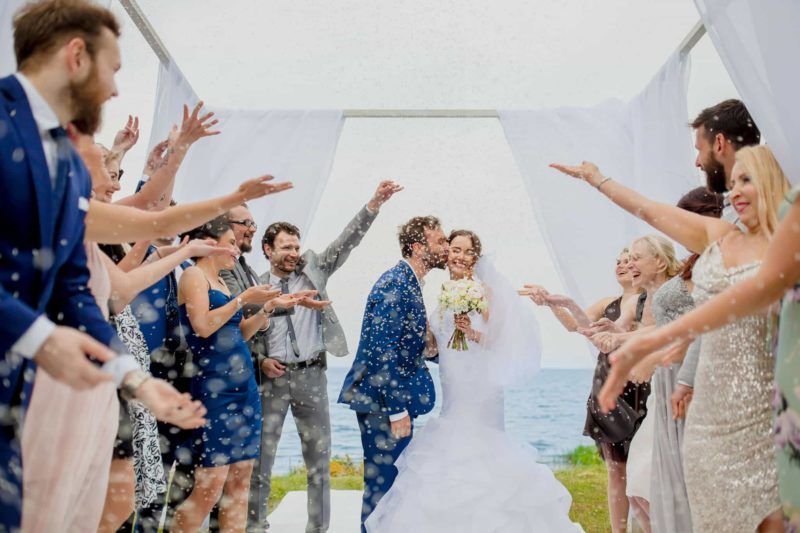 So there is no geographical barrier, and there is no language barrier either. Manowce offers an in-house wedding coordinator who speaks Polish, English and German. Or they can recommend a local wedding planner who speaks one or more of the main European languages, e.g. English, German, French, Spanish, Italian or Russian. They also work with Japanese and Chinese planners based in Central Europe.
Wedding offer
At Manowce, couples can use the in-house wedding coordinator or a local wedding planner who knows the local suppliers. In the latter case, Manowce can recommend a local wedding planner who speaks your language.
Couples can choose from the venue's wedding packages or customize them as they like. The wedding packages are priced in tiers based on the number of people. Each package includes: exclusive venue hire; shuttle for the couple and guests from and to Berlin airport; welcome bag for guests; complete ceremony and reception styling, including floral decorations, a fresh flower bouquet and boutonniere; priest or officiant; recorded music; photographer; keepsake marriage certificate; ring pillow; cake and unlimited soft drinks. It doesn't cover lodging, as guests usually pay for their accommodation.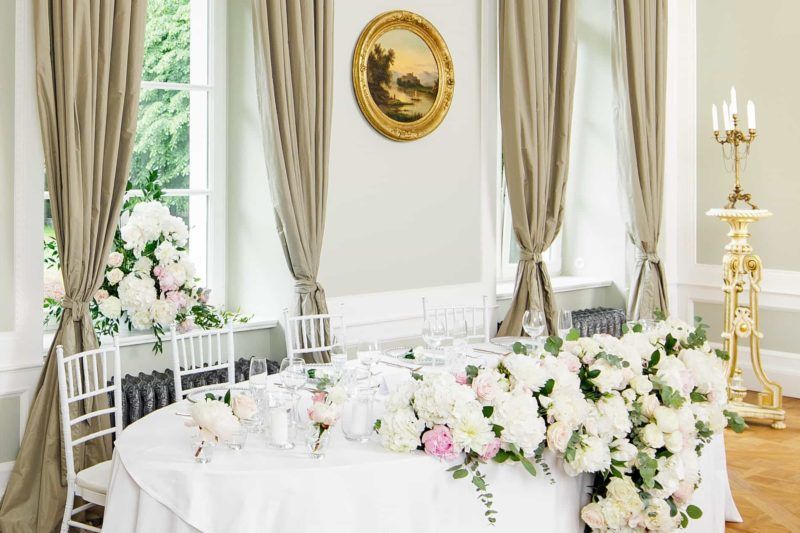 The wedding reception can take place indoors in the historic Great Hall or – in summer – outdoors in a marquee situated close to the shore of the lagoon. For marquee weddings, the Great Hall can serve as the backup location, should it rain heavily on the big day. Manowce has thirteen double bedrooms and three suites for you and your guests, and the experience is quite different from a normal hotel. The bedrooms and suites can accommodate up to 33 guests in total, or 42 including sofa beds and extra beds in some rooms.
They take food very seriously at Manowce, using the finest locally sourced produce from Western Pomerania and often from their own kitchen garden. The catering companies and chefs who work with them have created a selection of menus for you to choose from. However, if you have preferred dining options, they will try to accommodate these with a bespoke package. They cater to any diet, likes and dislikes and most religious observances.
For foreign couples, Manowce can handle all the paperwork and get the necessary permissions from local authorities and churches for them to legally marry in Poland. The palace is licensed for civil ceremonies onsite, or for those who would like a religious ceremony, Manowce can help you to book a local church. They also organize humanist and symbolic ceremonies.
Manowce welcomes weddings of all types and sizes. These can be large parties outdoors for up to 100 guests, or wedding receptions for two, just the eloping couple. Whatever the size of the wedding, Manowce always offers its services on an exclusive-use basis, which means you'll have the palace to yourself.
Honeymoon offer
Destination weddings often turn into a honeymoon for the couple and a little holiday for the guests. Manowce is happy to cater for such an extended stay. If you're looking to entertain yourselves and your guests during the day, then along with swimming in the bay and mushrooming in the woods, Manowce can organise activities such as kayaking, sailing, fishing, cycling, golf, horse riding and shooting.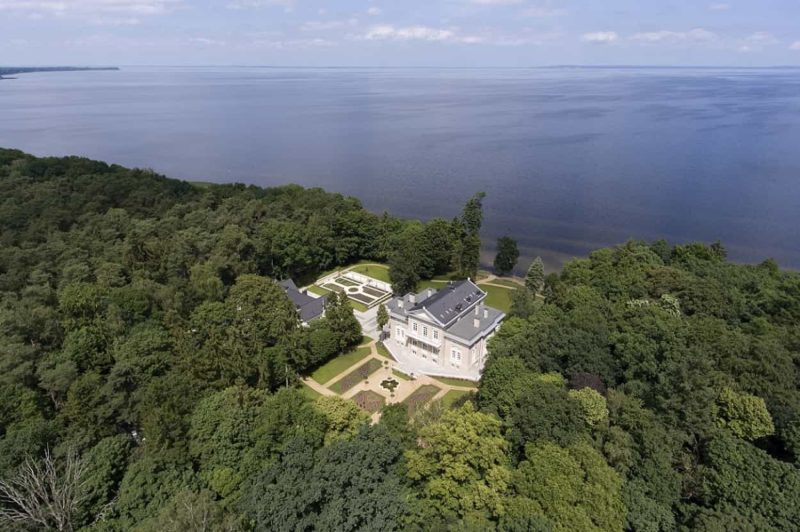 You and your guests in particular may be interested in a one-day excursion to Berlin. Manowce offers various tours depending on your preference. If you enjoy architecture, you should see Berlin's landmarks, like the Brandenburg Gate and the Berlin Television Tower. If you love historic gardens, don't miss the Charlottenburg Palace and Park and especially the Sanssouci Palace and Park in Potsdam. Those interested in modern history can see the Berlin Wall Memorial and Checkpoint Charlie. Guests hunting for unique attractions may want to see the Body Worlds Museum and the famous bust of Nefertiti at the Neues Museum.
If you believe Manowce Palace may be the location for your destination wedding, please contact the venue directly by using the contact form at 5 Star Wedding Luxury Wedding Venue