Home of Luxury LGBTQ+ Weddings
The world's first ever luxury wedding show, Pridelux, catering exclusively to LGBTQ+ couples, launches at Shangri-La, At The Shard, London
September 13th – 14th 2019
Ticket price: £45 to book tickets and to find out more visit https://pridelux.com
Tickets are priced at £45, please use your unique complimentary ticket code that you will receive via email to send to your database of clients and customers, employees or friends and family who you would like to invite to see you at the show.

The launch night will be hosted by gay supermodel and writer Jack Guinness, whose website Queer Bible is a celebration of gay history. Jack says:
"I cannot wait to meet all of the #engayged couples who attend the first ever Pridelux on Friday 13th September, and share this amazing journey with them as they prepare for their wedding day. Pridelux is a major new addition to London's LGBT calendar, and a world first"
This event, tailored specifically to the needs of gay couples will include bridal gowns for a lesbian wedding by Vivienne Westwood, groom-and-groom suits by Gieves & Hawkes, plus a wealth of other premium brands exhibiting collections, products and services that tailor specifically to LGBTQ+ couples, at what is set to be an unforgettable beautifully curated day in the sky.
An array of bespoke and boutique LGBTQ+ wedding specialists will be present, including award-winning florist Jamie Aston bringing the flower power, Benedict Cumberbatch's stylist Joe Wolfe, as well as bespoke jewellers, cake designers, photographers, entertainment specialists and twenty other practitioners in an environment built around gay weddings. Zero sugar gin will be provided by Bloom Gin and Ladurée will be offering macarons in every colour of the rainbow, of course!
The first ever Pridelux Atelier show will take place on September 13th & Saturday 14th at Shangri-La Hotel, At The Shard, London on the 34th floor of London's iconic Shard building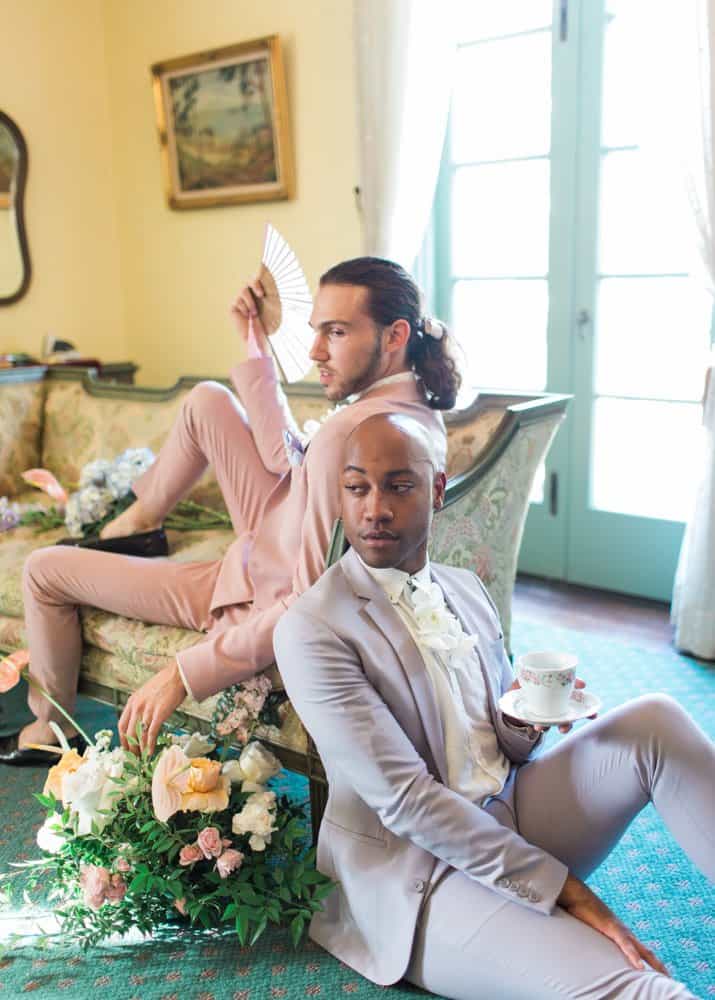 While we're celebrating five years of equal marriage in Britain this year, homophobic attacks are
actually on the rise, and still only 28 countries have marriage equality, Britain arguably has a
global responsibility to offer gay marriage role models. At Pridelux, which hopes to become a
major new annual event and must-attend for gay nearly-weds, 250 #engayged couples will
celebrate their unity, plan their special day, and enjoy sunset drinks together with unparalleled
views across London at this unforgettable LGBTQ+ occasion in Europe's tallest building.
Each luxury brand has been approved according to Pridelux's LGBTQ+ policy, ensuring that all exhibitors not only offer services tailored to the queer community but understand the issues that they face – making this a milestone event and the first of its kind. Kate Lovell, the editor of the Gay Wedding Guide, is a co-founder of Pridelux with James Lord.
The event will be hosted by gay supermodel Jack Guinness who came onboard as soon as he heard about Pridelux, loving the idea of it. Named "Britain's coolest man" by GQ, Jack is the founder of LGBTQ+ website The Queer Bible which celebrates the works and lives of the global queer community.
Jack also has an inside-out knowledge of fashion and lifestyle trends. James Lord, founder of Pridelux says:
"We're thrilled to be working with Jack as he's central to the capital's LGBT culture while also being synonymous with luxury, having worked with some of the world's biggest fashion houses. He is the perfect man to toast nearly-weds at Pridelux"
Shangri-La Hotel, At The Shard, London towers high up in the clouds and boasts a dramatic backdrop of one of the world's most famous cityscapes.
The hotel's event spaces are located 125 metres above ground level and offer unparalleled views of London's landmarks, from Tower Bridge and St Paul's Cathedral, to Tate Modern and The London Eye.
With an elegant sweeping staircase and floor-to-ceiling windows, this hotel is the perfect setting for a dream wedding.
All attendees at Pridelux will be given a very special benefits and discounts package courtesy of Shangri-La Hotel, should couples wish to plan their celebrations there.
THE WORLD'S FINEST WEDDING SHOW
Pridelux Wedding Atelier will be expertly curated, introducing LGBTQ+ couples to creatives and practitioners at the top of their respective games, and offering a wealth of ideas and inspiration at an unsurpassed level to help LGBTQ+ couples plan an unforgettable wedding.

An impressive combination of premium designers, specialists and brands.
The perfect destination for engaged couples from the LGBTQ+ community who are looking for quality, authenticity and unforgettable touches on their special day This wedding experience also celebrates five years of marriage equality in Great Britain Created by luxury wedding atelier experts Bridelux, the world's most respected wedding showcase curators. The team will be on-hand each day to offer their help, expertise and insights.
Attendance is strictly limited to 250 couples. Tickets are available at £45 per person for this wonderful, world first, experiential wedding showcase, including drinks.
Contact [email protected] – for all press and media enquiries.
About the team behind Pridelux
Pridelux is created by Bridelux as a co-venture with Kate Lovell, editor of The Gay Wedding Guide. Bridelux present the world's finest wedding shows, offering exclusive access to the most prestigious global brands.
Hosting their events in luxurious and contemporary settings, their other major annual events include Bridelux Symposium at The Savoy, and Bridelux Atelier at the InterContinental New York Barclay. Pridelux is the world's first LGBT luxury wedding show.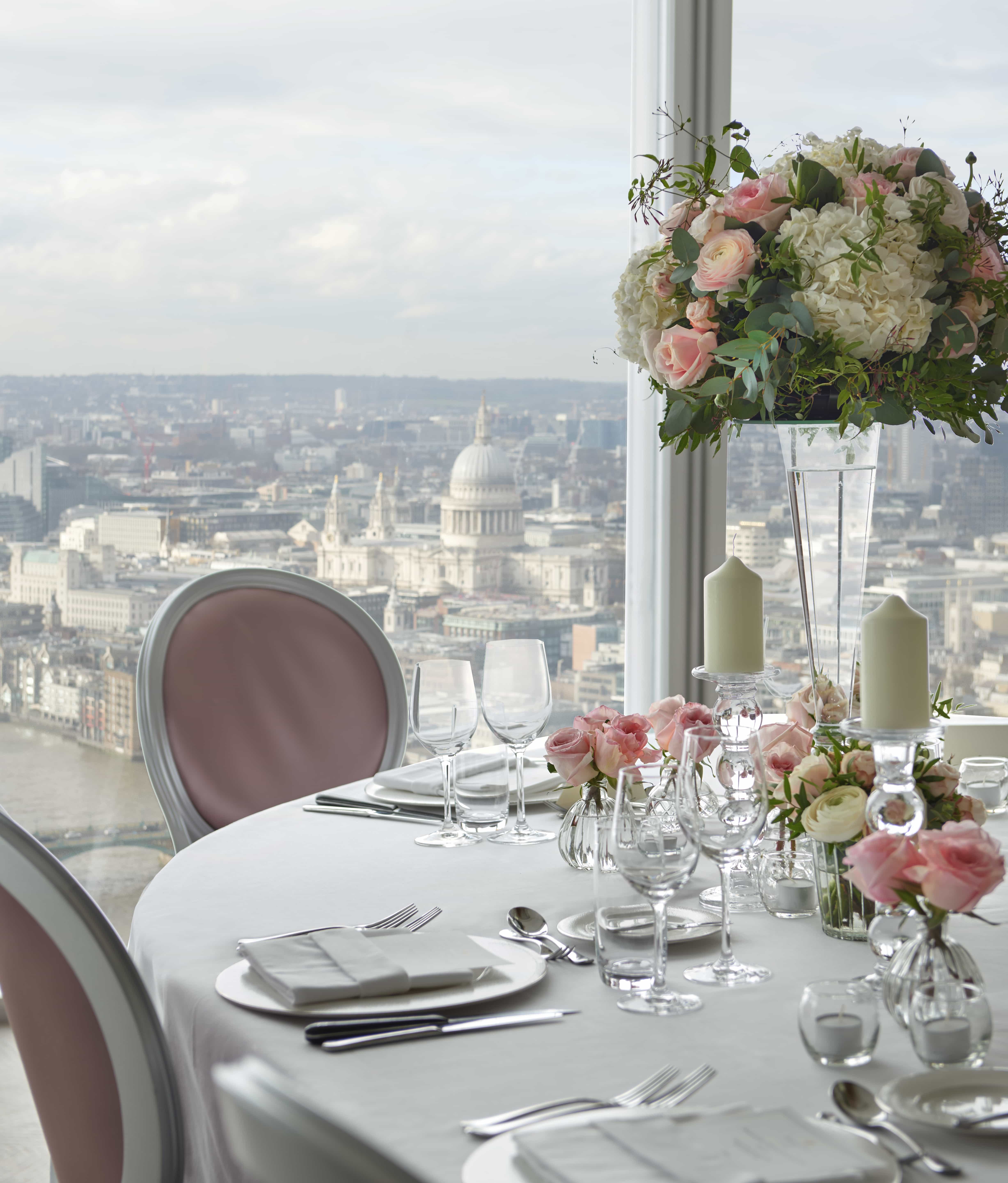 About Shangri-La London, At The Shard
Shangri-La London, At The Shard, London is the capital's highest hotel, located in The Shard, one of the world's most iconic buildings situated in the heart of London Bridge. Set between Borough Market and Bermondsey Street, the hotel is at the centre of London's hottest dining scene.
Whether by foot, boat, road or rail, it connects to world famous landmarks such as St. Paul's Cathedral and Tower Bridge, and to London's main business districts in the City and Canary Wharf.
Shangri-La Hotel, At The Shard, London service has been redefined with a style that feels friendly, warm and genuine, giving guests a truly unique experience of the capital.
EXQUISITE WEDDINGS BEGIN WITH BRIDELUX
Presenting The World's Finest Wedding Shows, giving you exclusive access to the most prestigious global brands. Experience a spectacular selection of elite wedding specialists, hosted in our luxurious and contemporary settings to inspire you to curate your bespoke celebration.
Pridelux is a brand new event but start following the journey on Instagram @prideluxofficial