Daring cuts and handmade embellishments characterise the Berta Milano collection. With never before seen fabrics and original silhouettes, this collection delves deep into luxury couture. All the dresses have a beautifully modern feel, with blended fabrics woven together within designs to create masterpieces. Reminiscent of its namesake, the Milano collection epitomises style, inspired by picturesque landscapes and strong architecture. With hints of wanderlust and carefree abandon, Milano is eye catching and one hundred percent Berta. I've chosen my 5 Star favourite five, but you can find the full collection here.
20-03
With the sweetest twisted armband with flowers entwined and trailing down the arm, I love the delicate detail on this dress. Tiny pretty pink flowers are scattered across the entire design, right down to the full train. I love the way a classic silhouette has been embellished with such intricate and clever detail
20-13
Open backs are a major feature of this collection, and I love this one. With a glittering bodice underneath a heavily patterned overlay, the open back is the perfect contrast. A high neck, long sleeves and a swirling, sparkling pattern combine for a dramatic show stopper.
20-17
Berta are experts in the sheer wedding dress, and this collection has its fair share. This one dazzles with stars and pearls carefully stitched onto a sheer overlay which splits to the waist. A sweet jumpsuit hides underneath with a deep V neckline and more stars to match.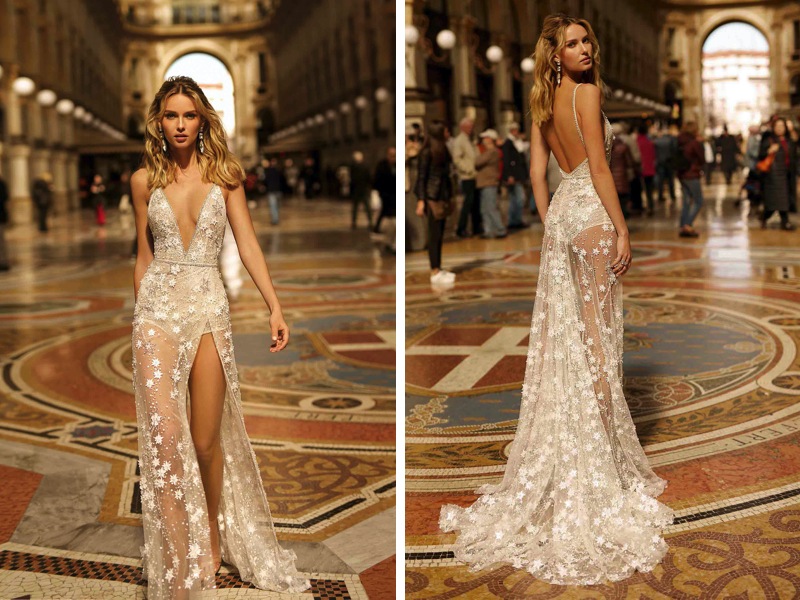 20-20
I adore the classic cut of this silk ballgown, but I love the added touches even more! The sweet ostrich feather swan that sits happily on the waist and the twisted bodice add luxe touches to make this dress something very special. And that train is a simple, chic and indulgent delight.
20-22
Split to the waist, this dress hides a sparkling bodysuit underneath, and with elegant sleeves and feathered cuffs, this one has a little of everything! I love the contrast of sheer neckline and crisp white as well as the puffed shoulders and simple skirt.
Such a gorgeous collection! You can find the full collection here, or pop over to our luxury wedding dresses page for more inspiration.