Perfect Senses Events
---
About
Perfect-Senses are an event planning company based in Phuket, Thailand specialising in weddings and celebrant, UK trained and certified, we are offering a bespoke and personal service.
A husband and wife team. Nigel is British, and Aree is Thai, both professional with years of experience, a vast amount of local knowledge and plenty of common sense.
Our professional team are with you every step of your journey to deliver the perfect event, at the best location, in the right venue, we aim to stimulate all your senses, working with your budgets, timelines and with professionalism.
Professional Celebrant & Wedding Planner
Perfect-Senses offer a full range of event planning and celebrant services including weddings, renewal of wedding vows, baby naming, LBGTQ ceremonies and funeral eulogies throughout Thailand.
We provide a qualified Celebrant and if required a Master of Ceremonies to ensure those memorable milestones in life will be delivered in style.
Our Celebrant is professionally trained, having qualified with the Fellowship of Celebrants in the UK.
What you can expect from our Planners & Celebrant
Nigel Nicholson
First is "Carisma, Professionalism and Reliability".
Nigel also works very closely with other Celebrants and Wedding Planners, including the Hotels around Phuket and when requested other locations.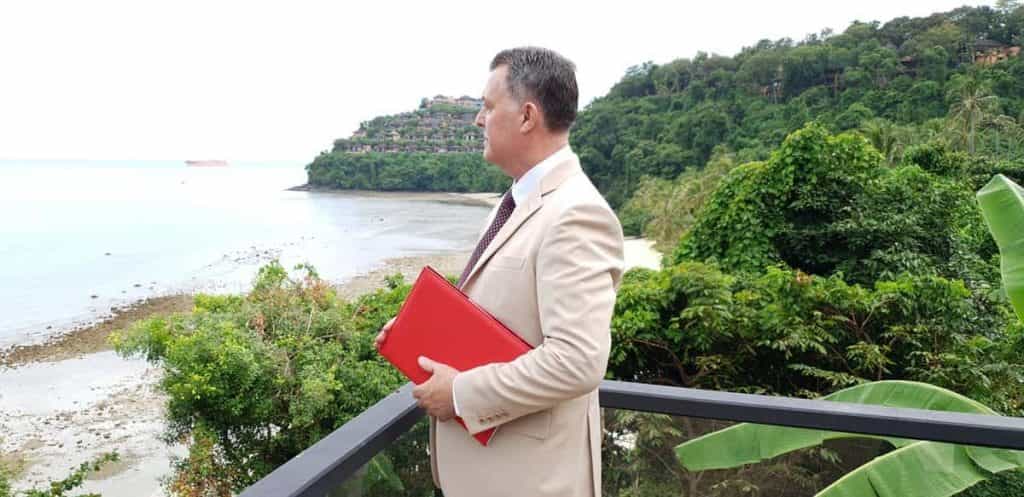 Once you have secured his Wedding Planning, Celebrant or Emcee (Master of Ceremonies) services, Nigel will make contact initially by e-mail to establish an appointment to chat with you online.
The appointment is so that Nigel can find out about both of you and personally connect with you; this is important so he can create his part of your ceremony based on what you have discussed together.
He will also speak with each of you individually; then he can add a little personal touch of romance to the whole ceremony.
This part of the fact finder sessions and is not to be shared until the wedding day, a little surprise for each other on the day, so we hope you can keep a secret.
Things he will want to know.
What type of couple are you, for example, extrovert or reserved, romantic and generous or even pranksters?
What good and bad habits do you each have?
What is your wedding theme? Casual, Beach or Traditional.
What type of entrance you want to make.
What kind of ceremony do you want, some humour, traditional, religious, fun, straightforward or something unique.
The questions can be extensive, but he knows best.
The online sessions may take a couple of appointments; things often change as the big day gets nearer.
On Arrival to Phuket, Nigel will meet with you, so that we are all comfortable with the action plan and schedule, do this right after breakfast on the day after check-in, then you have plenty of time to continue with your busy schedule, and Nigel has enough time to make any last-minute adjustments and prepare for your big day. Subject to his and your busy schedules.
On the day He will arrive early for your ceremony to be sure of no delays due to traffic. Checking the event team and vendors are setting everything as per instructions. Also giving him time to meet with couples and go through the plan of action and calming the nerves as necessary, he likes to have a little chat with the mothers, ensuring everyone will be in the loop and happy.
After the Ceremony Nigel will present to you the "certificate of ceremony", and a copy of one of the readings or your wedding vows, the sand ceremony vase or the finished wedding Knot if requested as part of the ceremony, to keep as a memento of your special day.
Nigel is also an Emcee, Master of Ceremonies, and happy to cover any event.
---
You can find a video of Nigel on YouTube, https://www.youtube.com/channel/UCTl8ekvt5RZI418diXz_Qnw
Call +66 (0)859545999
Call +66 (0)76689688
Email

[email protected]

TWITTER @celebrantphuket
LinkedIn, www.linkedin.com/in/nigel-nicholson-440a7118b
Time to fall in love
Wang and zheng
Promo, Nigel @Cape Panwa
Phuket celebrant Nigel Ni
Love Poem
Contact
88/32 Land and House88
Moo 5, Chaofa West
Phuket 83130
Thailand
Opposite PEA substation on Chaofa west Rd
Hours
7 days a week. Monday -Sunday 9.00 am to 21.00