STYLE CONCEPT Event Solutions
---
About
STYLE CONCEPT Event Solutions is an award-winning boutique wedding and event planning agency located near the Athens Riviera in Greece. We offer bespoke wedding planning, exclusive event design and coordination services that meet the high standards of a five-star event.
We specialize in destination luxury weddings in Greece, whether that is Athens, a fascinating island such as Crete, Mykonos, Santorini, Spetses or a breathtaking location in Peloponnese. Greece is the place where wonderful experiences never end. It's the combination of natural beauty, culture, history, lovely weather, upscale gastronomy and peoples' passion, that makes travelling to Greece for your destination wedding a life-altering experience.
STYLE CONCEPT Event Solutions has been operating since 2005 and our training as well as our interaction with an uncountable number of Greek and International couples allows us to see the uniqueness of each occasion, as no two weddings are alike.
Our philosophy is that weddings should engage all five senses, produce feelings, reveal your personalities, and tell your unique love story so to transform your wedding vision into a reality. We don't just create events with artful settings and deluxe details but we help you make memories that last for a lifetime.
Our deep knowledge of the wedding market and our relationships with the top wedding vendors of Greece give you access to some of the most sought-after wedding professionals ensuring that we provide you with the best. Our process of wedding planning is based on a structured program that identifies your needs and it is customized to fit into your specific requirements aiming for an outstanding result.
We strongly believe that your distinctive event demands first-class management, attentive and creative planning, and coordination services that focus on you exclusively. Respecting your background, customs, culture, values and lifestyle, we infuse them all into your wedding event breathing new life into time-honored traditions.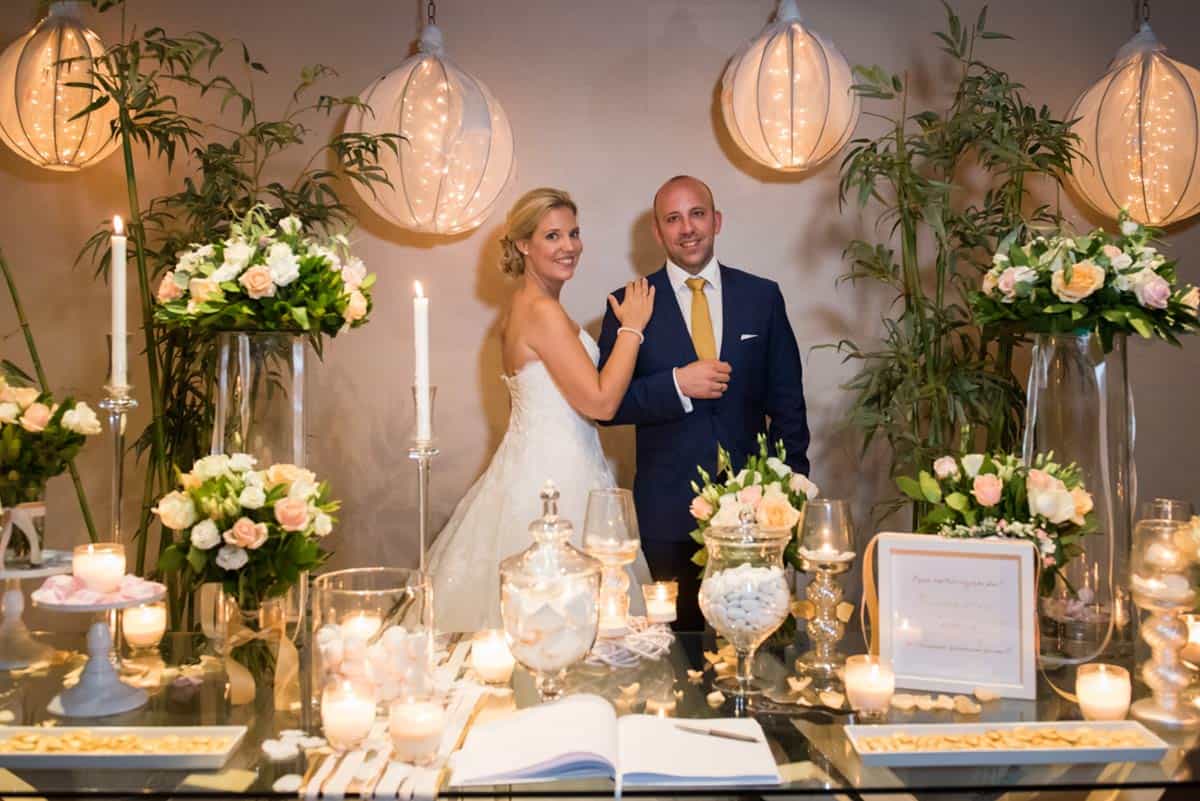 Our wedding planning approach ensures that you get all the attention that you deserve through an one-to-one collaboration which has proven to be effective, inspiring as well as enjoyable so that your event preparation period becomes part of an overall particular and magnificent experience.
The person behind the scenes of STYLE CONCEPT Event Solutions is Nena Papadopoulou, a graduate of the American College of Greece with BA in Arts, also a Certified Wedding Planner and Member of the Association of Bridal Consultants (US).
With STYLE CONCEPT Event Solutions you can expand your senses and emotions and prepare yourself for an amazing stay and celebration that you and your guests will remember forever.
We'd love to hear from you and start planning soon your fabulous event, a once in a lifetime dream wedding in one of the dreamiest places in the world – Greece!
---
FAQ's
1. Is it possible to have a wedding in Greece that is legally recognized in my country and is this something that you handle?
Yes, of course. The weddings that take place in Greece, either religious or civil, are valid throughout the world. We will guide you through the procedure and let you know what legal documents are required from your part in order to issue the marriage license. Since details vary from country to country we will advise you and we will provide assistance at every step, ensuring that we don't only offer you peace of mind but also save you time from your already busy daily schedule.
---
2. Since your agency is based in Athens, can we still hire you for our wedding in another location
Even though we are based at the southern suburbs of Athens near the Athens Riviera, we cover weddings all over Greece. Destination weddings are our field of expertise and we gladly travel to any of the Greek islands, the mainland of Greece or Peloponnese for your fabulous Greek wedding!
---
3. How many years of experience do you have in wedding planning and is there a favourite style of weddings that you represent?
STYLE CONCEPT Event Solutions has been operating since 2005, therefore an experience of 14 years works to the benefit of our couples and distinctive clients. Our creativity never stops and every time we put together our team efforts to produce a wedding concept and design that meet your style, unique personality and premium demands, not to mention the necessary logistics and a variety of points that we handle professionally, quickly and with our couples' best interest at heart.
Whether that is a formal, luxurious, romantic, ethnic, exotic or beach style wedding, we love to add personalized details and distinguished finishing touches that make an enormous impact on the lasting memories of your big day.
---
Additional Information
Omar & Amina Teaser
Wedding Video Emilie & Al
Tatjana & Konstantinos Ma
Lebanese Hungarian Weddin
Contact
54, Digeni street, Voula 16673
Athens
Greece
Features
Destination planner for the Athens Riviera, the Greek islands and Peloponnese. Specialized in destination weddings with couples from all over the world. Cerified planning services.
Reviews

Alexandra & Alessandro
Italy & Australia
Amazing
Organizing our wedding with Nena & Style Concept Event Solutions was an amazing journey! As a couple we knew exactly how we wanted our wedding to be and along with Nena and her ideas we made this day a dream one!! Nena has a massive experience and expertise on what she is doing. And along with her passion and attention to detail she has the ability to transmit you a calmness that you really need while being prepared for such a big event. We would like to thank Nena and her team from the bottom of our hearts for all her amazing work and efforts! We will always remember the preparation of our wedding that led to this fantastic day with fond memories and a lot of love for her! Nena, keep up the great work and for sure we will knock your door for any upcoming events ;) All the best, Alexandra & Alessandro, May 12, 2018- Nasioutzik Estate, Greece
October 2018
Did you find this review helpful?
1
0

Christelle & Sylvain
France
Perfect
Nena is the best wedding planner ever. She brings help and precious advice but she lets the couple free to choose their own wedding. She is always smiling and full of joy, and supportive even when the tasks seem overwhelming. She was welcoming before the event and present throughout the day. We would never have been able to plan an event like our wedding from our country (France) without her. She made every wish come true. Thanks Nena!!! Christelle & Sylvain, July 22, 2017, Island Athens Riviera, Greece.
October 2018
Did you find this review helpful?
1
0

Sophia & Arden
Chicago, USA
Professional
We had to plan our wedding from a different country and I truly didn't have to worry or stress at all because of how professional and prompt Style Concept was! Any concern or question we had was taken care of extremely fast and kindly. When we needed help because we weren't sure of what we wanted, Nena was there and ready to offer her professional advise! The planning process with Style Concept was simple and enjoyable. Everything was perfect on our day and better than I could have ever expected. Thank you! Sophia & Arden, August 20, 2016
October 2018
Did you find this review helpful?
1
0