BeeARTisan Wedding Favours
---
About
BeeARTisan – Exclusive Luxury Wedding Favours - BeeARTisan specialises in creating bespoke, unique keepsake wedding favours with style elegance and beauty.
Personalised with the couple's names, handcrafted solid metal labels in either 9ct Gold, Sterling Silver, Bronze or Copper are placed on stylish small 140g pure honey filled glass jars, finished off with 100% pure silk – in burgundy or soft white –and classic sealing wax. These luxurious and exclusively custom-made favours, mainly created for the top table, can be ordered from BeeARTisan's 'SIGNATURE' Range. One can further customise the label to reflect the colour scheme or the dress choice by adding a semi-precious gem bead from a choice of Natural Baltic Amber, Freshwater rustic shaped Pearl - in ivory, white, silver or deep purple colour - light blue Aquamarine, red fossilized Bamboo or soft white lacey Moonstone. Eclectic samples of work can be viewed at BeeARTisan's webpages.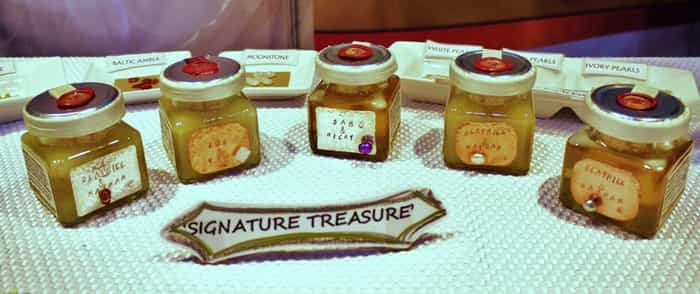 Luxury Paper Card or Genuine Papyrus with Handwritten Calligraphy or Silver-Effect Aluminium or Gold-Effect Brass are the choices of pure materials used to create personalised labels placed on cute 40g pure honey filled glass jars, each is finished off with an Eco-ribbon colour of choice – from Magnificent Ivory, Pure White, Royal Blue, Dark Woodland Green, Ruby Red or Lagoon Turquoise. These unique favours can be ordered from BeeARTisan's 'ARTISAN' Range. Eclectic samples of work can be viewed at BeeARTisan's webpages.
'Love Pots', little terracotta-soft white pots with real moss & a paper rose in white or soft red OR 'Love Boards', romantic little blackboards – that can double up as 'Place Names' – made by BeeARTIsan using FSCertified Pinewood, either in rectangle or heart shape with an intricate finish detail OR 'Love Hearts' romantic metal 3D lace white hearts that come with a choice of Eco-ribbon colour of choice are BeeARTisan's concept compositions and can be ordered from the 'SERENDIPITY' Range. Eclectic samples of work with various personalisation options can be viewed at BeeARTisan's webpages.
Guest Luxury Gift Bags complete the presentation of a favour. BeeARTisan's pursuit for attention to detail inspired the design of its very own stylish art graphic, printed in Luxurious silver tones on each gift bag it conveys an elegant finishing touch along with a message to the guest: 'Your Original Keepsake - Love & Nature Inspired – We Thank You'. The favour is wrapped in quality acid-free tissue paper and each bag is finished off with an Eco-ribbon colour of choice.
For all Weddings that occur during 2012, the Queen's Silver Jubilee year that also coincides with the Olympics, BeeARTisan is making available as an additional option to place a fine quality cotton woven Union Jack, that also depicts a small white heart in the middle, on the Luxury Card or Wood labels. Stylish samples with the Union Jack can be viewed at BeeARTisan's webpages.
-evoke- is BeeARTisan's latest addition of innovation aimed to be used with the 'Love Pots' & 'Love Boards' favours, whereby each can be infused from a choice of pure oil blend essential oils and fragrances with dominant aromas of: 'Orange Blossom' – 'Rosewood' – 'White Rose' – 'Ylang Ylang' – 'Orange' – 'Rosa Damascena' – 'Cinnamon' Or 'Jasmine'. More details at BeeARTisan's webpages.
Since all orders are custom made in the UK one can mix and match the ranges. Sufficient advance order time is requested to allow for the hand creation of the favours. BeeARTisan always welcomes enquiries for variations in creating a beautiful keepsake favour at [email protected]
BeeARTisan pledges its alliance to embracing art, beauty and style, through the use of Natural and Fine Quality Materials. The continuous enthusiasm for creating and sharing quality and innovation becomes evident throughout the meticulously created ranges that are powerful stamps of elegance.
Contact
Woodlands Kiln Road, Great Missenden
Buckinghamshire, England HP169DG
United Kingdom