Wedding Flowers Phuket
---
About
Wedding Flowers Phuket is owned and run by Supparin or more commonly known by her nickname Toom. Her passion is flowers and over the last 6 years, she has gained invaluable experience as a Wedding Flower Florist in Phuket with a strong professional team in Support. She is also an Experienced Wedding Planner with Unique Phuket Wedding Planners, and this experience, that has helped her understand Wedding Flowers and their importance to a Wedding from many different aspects.
---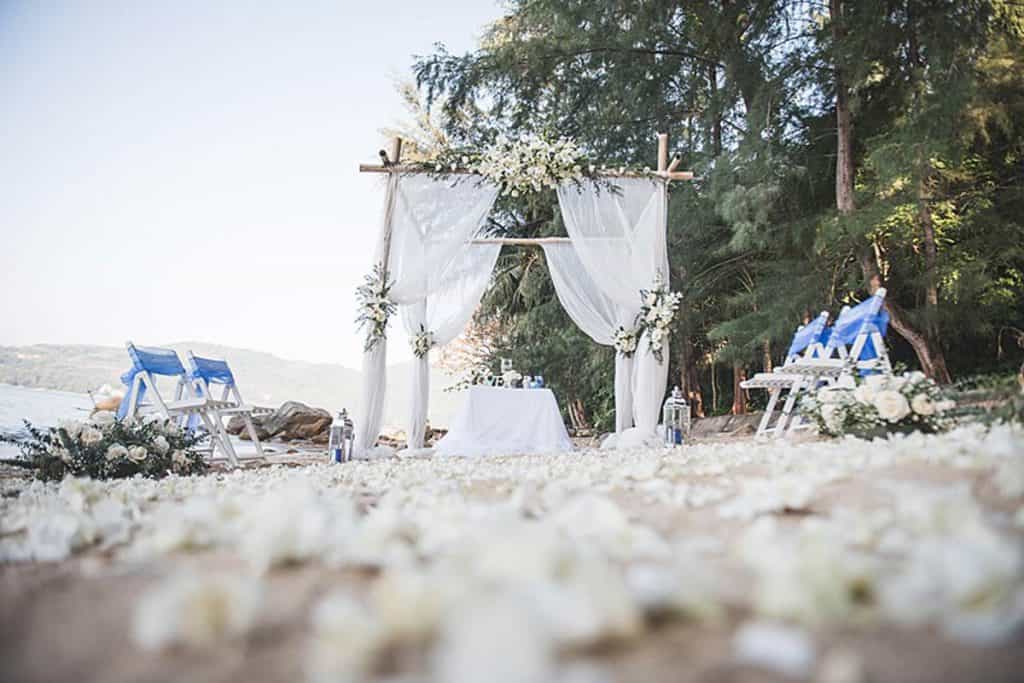 ---
Stunning, simple & elegant flowers is Supparin's trademark and reputation in Phuket and any design is possible. With established links to flower suppliers in Phuket and further afield allows for any design and flower possible for that perfect Wedding Flower setup, bridal bouquet, wedding reception flower centrepiece and flowers decoration.
Creative & Passionate about her work, Supparin with no detail missed will ensure a beautiful flower design and set up for your special day in Phuket.
Wedding of Brook & Daniel 29th July 2017, Villa Aye, Kamala. Phuket.
Kailey & Daniel Wedding V
Viktoriya & Clifford 9th
Wedding Video Jennet and
Wedding Video Jacklyn & A
Contact
79/57 Moo6. Wichit Songkran Road, Soi Namtok
Kathu
Phuket 83120
Thailand
Features
Features
Creative
Passionate
No detail missed
Beautiful flower design
Reviews

Sally
United Kingdom
Dream
PURPLE DREAM WEDDING Thank you Toom's (Supparin) amazing team for a memorable day on 11.11.2017 at a private villa near Kamala Beach. From ceremony set up, decoration, selection of flowers for the bouquets, wedding flower arch to rose pedals on the aisle, Toom and her team are very professional and have tailor-made our wedding exactly how we wanted (and beyond our expectations) within our budget. Toom is very talented in selection of flowers and color combinations and had made my wedding day very special with my favorite colors. Overall we are very impressed with the amazing service and we highly recommend Wedding Flowers Phuket to anyone planning to have their special day in Thailand. Thank you! Dada
July 2019
Did you find this review helpful?
0
0

Claudia
United Kingdom
Perfect
"Toom made our day beautiful. We live in Texas and selected our flower arrangements via email. We were very nervous while planning a ceremony abroad, but Toom took it above and beyond. My bouquet was everything I dreamed of and my (now) husband's corsage matched perfectly! Toom also arranged for a fresh rose petal shower after our ceremony, which was the icing on the cake. I've attached an image showing how beautiful it looked and how happy and special Toom made us. Highly recommended service!!! Thank you, Toom!
July 2019
Did you find this review helpful?
0
0

Mrs Tailor
USA
Gorgeous
"Toom and her team recently organized the flowers for our wedding and we could not have asked for anything more! Despite the numerous pictures and emails full of detailed requests I had sent – Toom was able to make everything EVEN better than we had ever imagined: our gorgeous arch, beautiful bouquets, fun colourful centrepieces, everything was all absolutely perfect! Planning a wedding from abroad was really difficult at times, but Toom and her Team were always professional and easy to work with with - She came to meetings prepared with photos that I had sent, had ideas and alternatives of how to stay within our budget and was always prompt with email responses. She really cared about our happiness and for that, our day was (and looked) perfect. We can't thank or recommend her services enough.
July 2019
Did you find this review helpful?
0
0