Pino Coduti Photography
---
About
Pino Coduti is an award-winning wedding and portrait photographer, a member of some of the most important photographers associations that select for experience, merit and talent, the best wedding photographers in the world.
With over 25 years of experience and hundreds of weddings photographed in the most beautiful Italian locations, Pino has transformed the dreams of his clients in his passion: the result is a very high "level of satisfaction".
His unique style allows him to switch between portrait and photojournalism with the intent to create every time a real work of art.
Looking at his pictures you can see a constant inspiration for the great beauty of Italian art, from painting to architecture, to design and luxury fashion. His goal is to capture the spontaneity and emotions of the couple and merge them with the light and the unique colors of Italian landscapes in a magical and extraordinary atmosphere.
Pino Coduti lives in Puglia, one of the most beautiful regions of Southern Italy, where he established his studio, but he realizes his work anywhere in Italy and abroad.
He says: "I love to tell of precious, refined, unique stories: love stories. Unrepeatable moments to browse, share and treasure in time."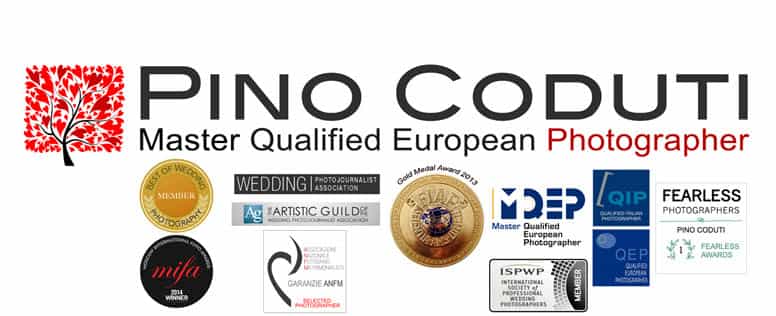 Contact
Lucera, Italy Via N. Battaglia, 63
Apulia
Italy
Hours
Mon-Fri: 9: 00-13: 00 /pom.17:00-20:30 Saturday: 9: 00-13: 00 --- Montesilvano (PESCARA) -Abruzzo - 328 9732082 for appointment
Reviews

Eve
Extraordinary
Pino Coduti is above all a wonderful person together with his team are extraordinary. We chose him because his photos are works of art, I recommend him to all future spouses!
October 2018
Did you find this review helpful?
0
0