Le Rêve
---
About
Le Rêve Agency was founded in 2010 and since then arranges for their couples fairytale wedding in dream locations both in Italy and abroad.
Event organization is not only a job, but a passion of a young female team with high-level skills, artistic soul and spirit of innovation, always in search of beauty to create new and unique events.
Elegance and simplicity are the particularities of all Le Rêve Events, aspects then it is able to provide you with a highly personalized service.
---
---
Thanks to Le Rêve the event will speak about you, it will be impressed in your memory for the rest of your life.
Le Rêve was born in Rome and has specialized since the beginning in design and realization of the multi-cultural wedding, Catholic as well as Jewish or mixed.
The knowledge of the Jewish world and its memory allows Le Rêve to create something special according to Jewish culture and always in line with the ancient traditions. Not only weddings but also Bat/Bar Mitzvah, Hennà party, Mishmarà and Mikvè.
The wedding day is an alchemy of emotions, images, fragrances and sensations that we carry with us forever. In that day are enclosed dreams, desires, plans of a lifetime.
Le Rêve accompanies couple with passion and professionalism taking care of every single detail to realize a unique special event that speaks of you.
---
---
Allow to live only the best of the weddings and its organization, is the mission of Le Rêve, by your side with passion and professionalism to ensure you will realize your dream.
Look at ordinary things in an extraordinary way is what fascinates me, from which I find inspiration. An innate predisposition to some extent and a great job on the other, which made me more and more imperfect and out of the scheme.
I founded Le Reve in 2010 promising myself that no challenge was too big and no details too small, that I wouldn't fall in the rhetoric and into banality, that I wouldn't let myself overwhelm.
I forced my eyes not to be easily fooled just by the appearance and, above all, I never stopped to "steal" with my eyes and in respectful silence from those who know more than me, because every day is a good day to learn something new.
---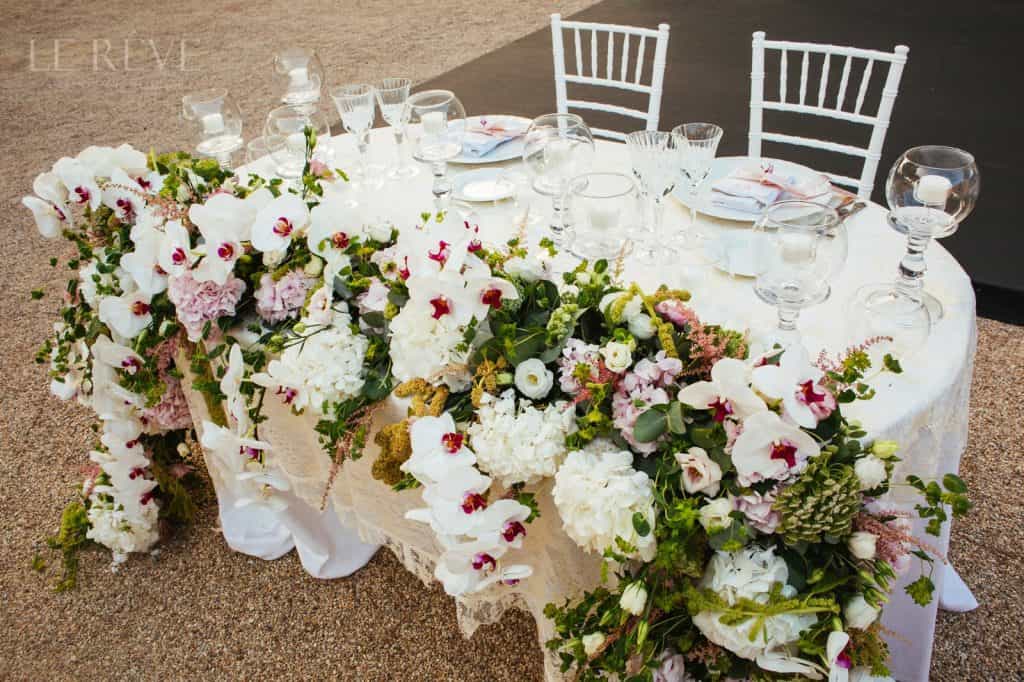 ---
In my job has never fully arrived and if you stop being curious is lagging behind or, even worse, you stop. This is a creative world made of feelings and passions, of colours and perfumes, of dedication and perseverance, but more than anything else is made of people, which we often forget, in work and in life.
We sell what we are and what we have learned, so in this small description of me not dwell on how important it is to create the event you want, meet your dream and make it real: this is and remains a certainty.
Writing about ourselves is a tricky thing so this time I use words of a bride that are closely linked and that, in a nice message after her wedding has enclosed in a simple phrase her thinking of me: "my wedding planner is different", and I'm proud of it.
---
Additional Information
Matrimonio indiano a Villa Aurelia Roma | Le Rêve Agenzia Wedding Planner Roma
Wedding Planner Le Rêve E
Laura & Julien Mariage ju
Le Rêve: un anno di voi e
Contact
Via Monte delle Piche, 31
Rome, Lazio 00148
Italy
Features
Jewish wedding
Interfaith wedding
Indian wedding
Muslim Wedding
Catholic wedding
bar bat mitzvah
Hours
Mon - Sun : 8.00 am - 8.00 pp
Reviews

Ylenia e Alain
Geneva, Switzerland
La vita è bella in Rome with Le Rêve
Elisa has quickly understood how to capture our tastes and our desires. On this basis, she has suggested a church in the popular Trastevere district that delighted our hearts at first glance (and those of our guests). In addition, Elisa has taken the time to assist us for a whole weekend to choose the reception place. We chose the very roman and forever charming Relais Appia Antica. At each of our stays in Rome, Elisa took us to her team of talented service providers (photographer, florist, catering, etc.), with whom we have personalized our big day. Each time, Elisa made us benefit from her long experience and her knowledge. Our wedding was a ***DREAM*** ... Confettata, candybar, lights, flowers, music, and bonbonniere, everything was chosen and enhanced with good taste and precision. Elisa has an undeniable talent and clearly deserves her success!
November 2017
Did you find this review helpful?
1
0

Jessica Contento
München
WEDDING
An agency which is working with passion for every little detail - just to make your big day unforgettable !!! Recommendable
October 2017
Did you find this review helpful?
1
0

David
United Kingdom
Amazing
Le Reve is amazing!! They planned our destination wedding in Rome, Italy with people attending from the US, Brasil, Italy and Switzerland, and they executed flawlessly. They helped us find dozens of excellent vendors and they managed the whole process. I highly recommend them!
October 2017
Did you find this review helpful?
1
0