Orsett Hall Hotel, Spa & Restaurant
---
About
Imagine your Wedding Day in your own private country house, coupled with serenity, peacefulness and personal service. Orsett Hall is a beautiful Georgian styled Hotel set in 12 acres of landscaped gardens in the Essex countryside within easy reach of the M25 and only 40 minutes from Central London. With every luxury you can imagine in one location, Orsett Hall is the perfect venue for your Wedding.
Offering superb facilities including lavish bridal suites, spacious banqueting rooms for 30-450 guests, an exquisite Wedding Chapel, 56 luxurious bedrooms, stunning state-of-the-art Kukana Spa, Hair Salon, beautiful bridal boutique, an exquisite Garden Brasserie and relaxing Café Sartoria, Orsett Hall has everything you need for that special day.
---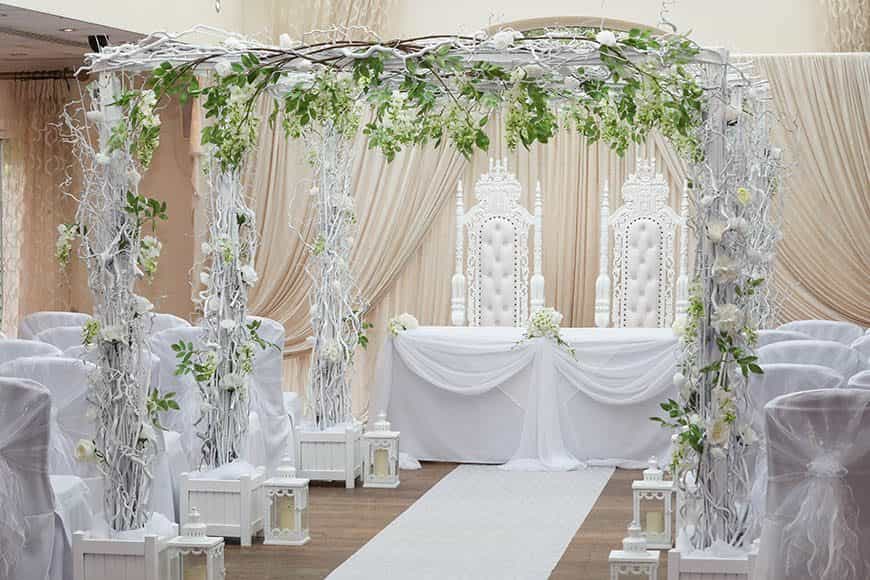 ---
Our award-winning Head Chef Robert Pearce has created some mouth-watering Wedding Menus. The style of food we offer our Bride and Grooms at Orsett Hall is traditionally English but the Chefs are very accommodating if the Bride and Groom have a special request. Orsett Hall can supply flexible catering options that allow our Wedding couples to decide on every detail of their Wedding Breakfast including a pre-wedding tasting.
Here at Orsett Hall, we know that a Wedding is all about traditions, your individuality, heritage and culture and we understand some couples wish to use their own caterers and that it is often difficult to find a venue that allows this, it is part of our Customer Service to acknowledge and understand this and the fact that everyone is different but equally as important
---
---
Orsett Hall understands this issue and has put together a venue only package for that reason. We have close partnerships with self-catering experts and local suppliers and together we discuss the happy couple's needs, to help create that magical day whatever their cultural background or religion.
The Orsett Hall Wedding Chapel is an unreligious ceremony Chapel which is simply decorated with shades of pastel white. The beams are also in white and covered in beautiful white flowers that add to the special atmosphere. Inside, there is a private interview room for the Bride and Groom.
The Chapel has traditional seating and a large balcony where additional guests can be seated or live music can be played. It enables us to offer happy couples somewhere a little 'different' for their Wedding Ceremony. There is a lovely pathway from the main Hotel to the Chapel and if the weather is unkind we drive the bride the short distance. No other venue in Essex has anything like our Wedding Chapel and it is one of unique selling points that attracts so many couples to have their Wedding here. Outside there are private landscaped grounds leading to the various function suites.
---
Additional Information
Venue Type: Stately Home & Mansion
Venue Capacity: 450 Guests
Evening Entertainment: Allows
Accommodation: 56 Bedrooms including 5 Bridal Suites
Dining Options: Wedding Breakfast, Wedding Buffet, Outside Catering
Swimming Pool Spa Pool
Fitness Center Gym within Kukana Spa
Spa Orsett Hall has its very own Spa on site within the Sartoria building called Kukana Spa. It is a privately-owned, beautiful, contemporary, boutique-style spa offering many different treatments and packages in its 6 Treatment Rooms and 4 Nail Bars.
Orsett Hall open new £4 million Sartoria Wing
Contact
Restaurant & Spa, Prince Charles Avenue, Orsett,
Essex, England RM16 3HS
United Kingdom
Situated in beautiful countryside within easy access of the M25 in Essex and only 40 minutes from Central London.
Hours
Our residents staying overnight, can use the Spa facilities (spa pool, sauna, steam room and jacuzzi) as below: Monday - Saturday: 7.00am - 9.00am and 6.00pm - 9.00pm Sunday: 8.00am - 10.00am and 5.00pm - 7.00pm