Boscolo Exedra Roma
---
About
During the XIX century, the famous Italian architect Gaetano Koch built two twin palaces overlooking the majestic Piazza Della Repubblica also known as Esedra, as the Romans used to call it because of its semicircular shape. Today one of these neoclassical beauties is called Boscolo Exedra Roma. Cleverly redesigned for Boscolo by Maurizio Papiri and Adam D. Tihany, it celebrates Rome and its timeless beauty.
With its unique balance of contemporary and classical elegance, Boscolo Exedra Roma is the place where history and modernity meet.
Featuring 238 rooms, the property offers a wide range of accommodations from the refined neoclassical suites to the rooms part of the Clementino, the ancient granary once a Vatican's property still showcasing its authentic charm. With the business centre suspended over ancient Roman excavations and the breathtaking view over the Diocletian baths will make guests will feel part of the Eternal City's sweeping history, surrounded by art.
Life at Boscolo Exedra is inspired by the Capital's dolce vita. Everything reminds you of the Italian lifestyle which is about enjoying life, from the various hip dining venues to the Exedra Fusion Spa offering exclusive beauty treatments. The day starts at the Breakfast Room "La Frusta", where guests can enjoy a rich breakfast with a breathtaking view of the Piazza and Santa Maria Degli Angeli e Dei Martiri, feeling like in a Federico Fellini's movie. The extravagant Liberty Hall hosts the Lobby Bar, with a cosy atmosphere perfect for grabbing an aperitive or chilling while reading a newspaper.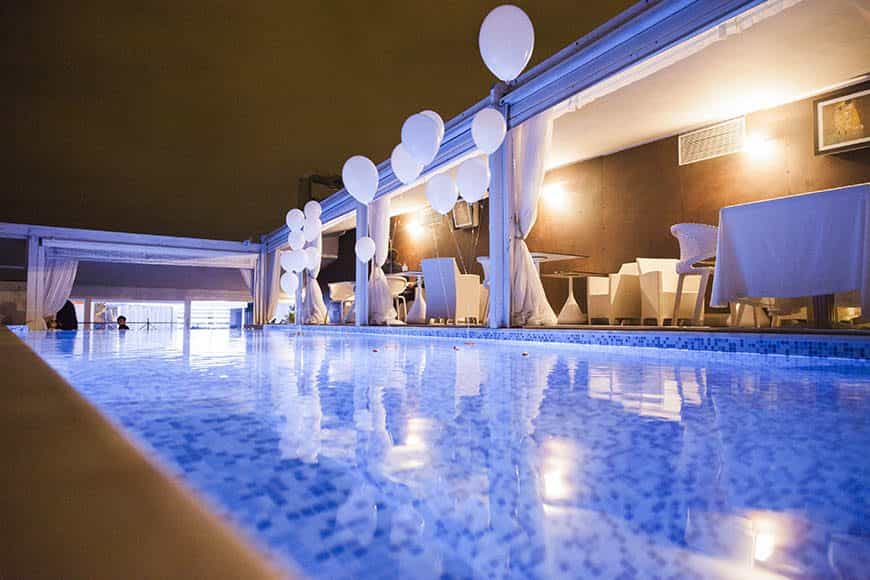 The Tazio Restaurant & Gallery Bar features iconic photos from Italian photographer Tazio Secchiaroli, one of the most popular "paparazzi" during the 60s and 70s; this is the right spot for a drink or light snack under the white marble portico overlooking the magnificent Esedra square. It is ideal for any occasion, from an informal business meeting to a fancy dinner with a twist of innovation and creativity.
The Posh Bar & Restaurant serves healthy breakfasts, cocktails and seafood by the pool: sipping a drink watching the sun setting over the city is a unique experience.
The Terrace, featuring a stunning view of the city, is also the perfect location for any kind of events.
---
Additional Information
Venue Type: 5 Star Luxury
Venue Capacity: Events up to 180
Accommodation: 238 rooms including 12 junior suites, 8 executive suites, 2 presidential suites.
Dining Options: A spectacular gastronomical offering able to satisfy the most demanding of palates. Guests may choose between the Lobby Bar, the Tazio Champagne Bar, the Post Bar & Restaurant, the Tazio Gallery Bar & Restaurant and the La Frusta Breakfast Room.
Swimming Pool Outdoor Swimming Pool
Spa Exedra Fusion Spa is an authentic tailor of wellness where you can dedicate your time to relaxing and invigorating moments for the body, free your mind and feed your spirit with pure well-being.
Contact
Piazza della Repubblica, 47 - 00185
Rome, Lazio
Italy
Features
Concierge service
Room service 24/24
Parking & Valet service
Butler service (on request)
Babysitting (on request)
Limousine service (on request)
Flower arrangements (on request)
Guided tours (on request)
SPA & Fitness centre
Outdoor Pool