The Gritti Palace – Luxury Collection Hotel
---
About
The Gritti Palace is an exceptional venue for a special day. Upon arrival at The Gritti Palace guests step into a slice of Venetian history; this 15th-century noble Palazzo and luxury hotel since 1895 is a true emblem of Venice that has been magnificently restored to its former grandeur.
From the artistic design of its signature suites and iconic terraces to its elegant social areas and intimate Blu Mediterraneo SPA by Acqua di Parma, brand emblematic of the most refined Italian style, The Gritti Palace is where history and culture meet with renewed Venetian style on the Grand Canal.
---
---
Royalty, celebrities and dignitaries have for centuries gathered in the hotel's Salone Gritti to celebrate life's special moments while in Venice.
Whether you are organizing an intimate cocktail party, a formal social gathering or a fête extraordinaire, the generous proportions of this gracious, 120-square-meter salon with its vaulted-ceiling, stunning Murano glass chandeliers and antique mirrors make a stunningly dramatic backdrop for any event.
An alternative venue for private celebrations is the spectacular 250-square-metre terrace of the Redentore Terrazza Suite, perched high on the hotel's roof. This is the perfect spot for cocktails, sit-down dinners or intimate parties. Its unequalled views of Venice and the Grand Canal make this versatile al-fresco space unique in the city.
Stretching along the waterfront, The Gritti Palace's famous terrace is an unmatched setting for prestigious celebrations and weddings, its design recalling that of a private yacht. The spectacular views of the Grand Canal and Venice's finest monuments make a remarkable context. The Gritti Terrace may cater for wedding banquets of up to 80 guests
Club del Doge Restaurant's ground floor corner position affords glorious canal views from both sides, a magical visual complement to celebratory gatherings. Here well- dressed tables with stylish china, fine crystal and fresh flowers are set against a backdrop of flocked walls adorned with fine brocades, gilded mirrors, polished hand-crafted terrazzo floors, and original, still-life oil paintings, making this indoor space an exceptional setting for both intimate wedding parties and prestigious celebrations of up to 100 guests.
---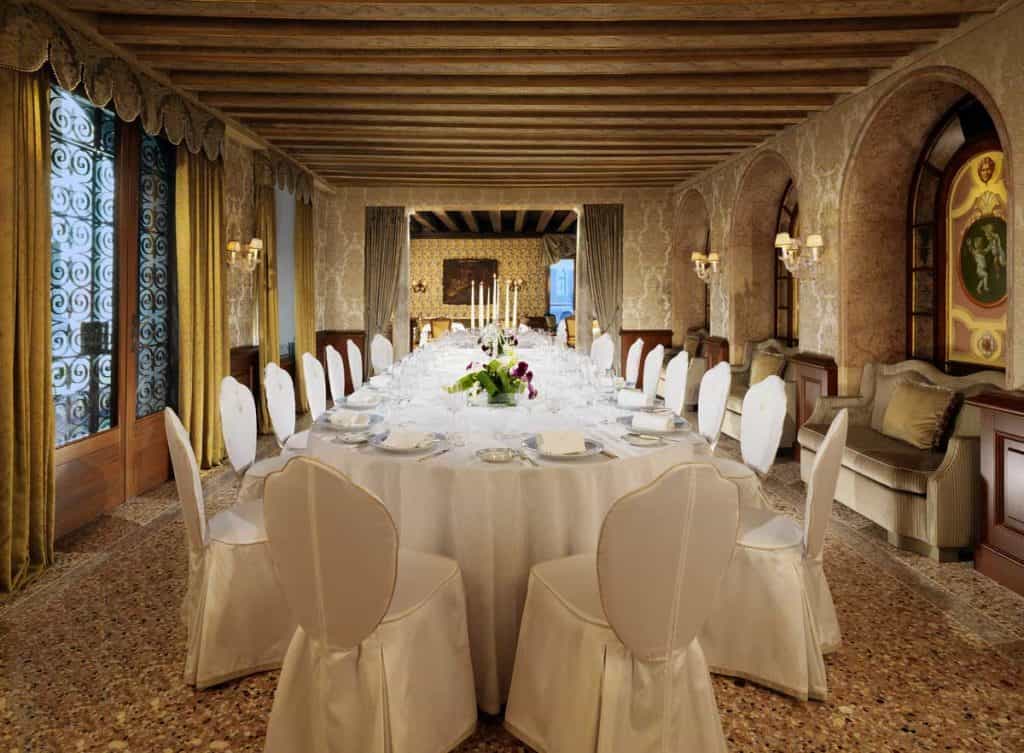 ---
Situated on the ground floor next to Club del Doge, the elegant Sala Pisani exudes a truly Venetian aura. In this private dining space that looks onto the Rio Delle Ostreghe canal, restored hand-painted beamed ceilings, brocade-covered walls and polished hand-crafted terrazzo flooring create a warm atmosphere in which to celebrate with a long table banquet for up to 35 guests.
Catering in all venues is covered by the Gritti Palace kitchen and includes everything from a selection of exquisite Venetian-style canapés to a banquet reflecting Italy's fine gastronomic traditions.
Under the guidance of Executive Chef Daniele Turco fresh, local ingredients are skillfully combined turning each culinary proposal into a journey of discovery. And when it comes to priming glasses for a celebratory toast, there is an excellent range of fine vintage champagnes or wines to select from the historic cellar.
To help you plan exactly the occasion you envisage an experienced events team is available to assist with floral designs, decorations, music and lighting.
Reflecting Venice's rich and varied history, and inspired by some of The Gritti Palace's past occupants, the hotel's ten Signature Suites offer spectacular views of the Grand Canal or the charming Campo Santa Maria del Giglio through their spacious windows. All accommodations combine highly polished antiques and historically inspired fabrics to create romantic retreats for wedding nights or honeymoons.
And when it comes to pampering, a blissful sanctuary awaits at the Acqua di Parma - Blu Mediterraneo SPA. The bespoke treatments are designed to offer the ultimate in relaxation and wellbeing, before or after guests say "I do".
MAIN VENUE FEATURES
For centuries royalty, celebrities and dignitaries have chosen the Salone Gritti to celebrate life's special moments while in Venice. Glass chandeliers from the nearby island of Murano crown the walls of this gracious, 120-square-metre salon. Walls are adorned with precious paintings and antique mirrors, while a grand marble fireplace contributes to creating a stunningly dramatic backdrop for your wedding.
---
Additional Information
Venue Type: Luxury Italian Place Hotel. The majestic Gritti Palace is where history and culture are met with renewed Venetian style
Venue Capacity: Salone Gritti 117m² = 95 Guest Explorer's Library 67m² = 40 Guest Terrazza Redentore - Suite Terrace 280m² = 80 Guests Club del Doge Terrace 100m² =100 Guests Club del Doge Restaurant - Indoor 72m² = 100 Guest Sala Pisani 49m² = 35 Guest
Accommodation: In the Presidential Suite that bears his name, Ernest Hemingway, who considered The Gritti Palace his home in Venice during the late 1940's and early 1950's, composed many passages of his novel "Across the River …
Dining Options: Indulge in the culinary excellence at the Restaurant Club del Doge and Bar Longhi.
Fitness Center Guests of The Gritti Palace may enjoy our beautiful fitness facility. Peaceful and spacious, it features an excellent selection of high-tech cardio fitness equipment by Technogym.
Spa the Acqua di Parma Blu Mediterraneo Spa at the iconic The Gritti Palace Hotel in Venice
The Gritti Palace. A Luxury Collection Hotel, Venice. Virtual Tour
Contact
Campo S.M. del Giglio 246
Venice, Veneto
Italy