The Wallace Collection
---
About
A Wallace Collection Wedding Celebration grants you a taste of old-world glamour whilst giving you the opportunity to unleash your creative flair in transforming the house's former sculpture garden into a Wedding Breakfast to remember.
Nestled amongst the stylish boutiques and chic bistros of Marylebone, the Wallace Collection is an exquisite setting for your special day. At the heart of high society in the eighteenth-century, Hertford House has played host to the great and the good of London's elite for over 200 years – now you have the chance to add your own story to its illustrious history.
---
---
Ascend the Grand Staircase to the silk and gilt adorned galleries, where your family and friends will celebrate with sumptuous drinks and canapes.
Add a touch of romance, with the dulcet tones of a harp or baby grand as your guests revel alongside priceless artworks and furniture once owned by Marie Antoinette and favoured by the Sun King of France. Before your guests arrive you and your bridal party have the opportunity to arrange a private photo shoot throughout the elegant Drawing Room Suite.
Continue your celebrations in the Hertford family's former Sculpture Garden. With its soaring glass roof, marble floor and magnificent urns, the Courtyard is ideal for a dinner dance. Whether a summer or a winter wedding, this dramatic space suits any style and taste. After a sumptuous dinner, party the night away beneath the stars and glittering glass roof. Hertford House is yours for the evening.
If you are planning to relive the moment you said 'I do' at your wedding celebration, the Great Gallery exudes opulence. Surrounded by the most celebrated masterpieces in the collection, a symbolic ceremony will be a memorable start to your evening celebrations.
Handpicked Suppliers
Our trusted suppliers will work closely with you to ensure that your special evening is delivered to the highest standards. Whatever your style, your dedicated Wedding Coordinator will advise on a suitable selection of suppliers to create an evening that reflects the couple you are.
Hertford House; a picture perfect setting
Collected over five generations of one family, the museum is home to one of the world's finest collections of Old Master paintings and French decorative arts. The vast majority of artwork within the collection was acquired across London and Paris between 1800 and 1872. The 4th Marquess of Hertford was arguably the greatest collector, but both his father, the 3rd Marquess and his illegitimate son and heir, Sir Richard Wallace, made distinctive and extensive contributions.
---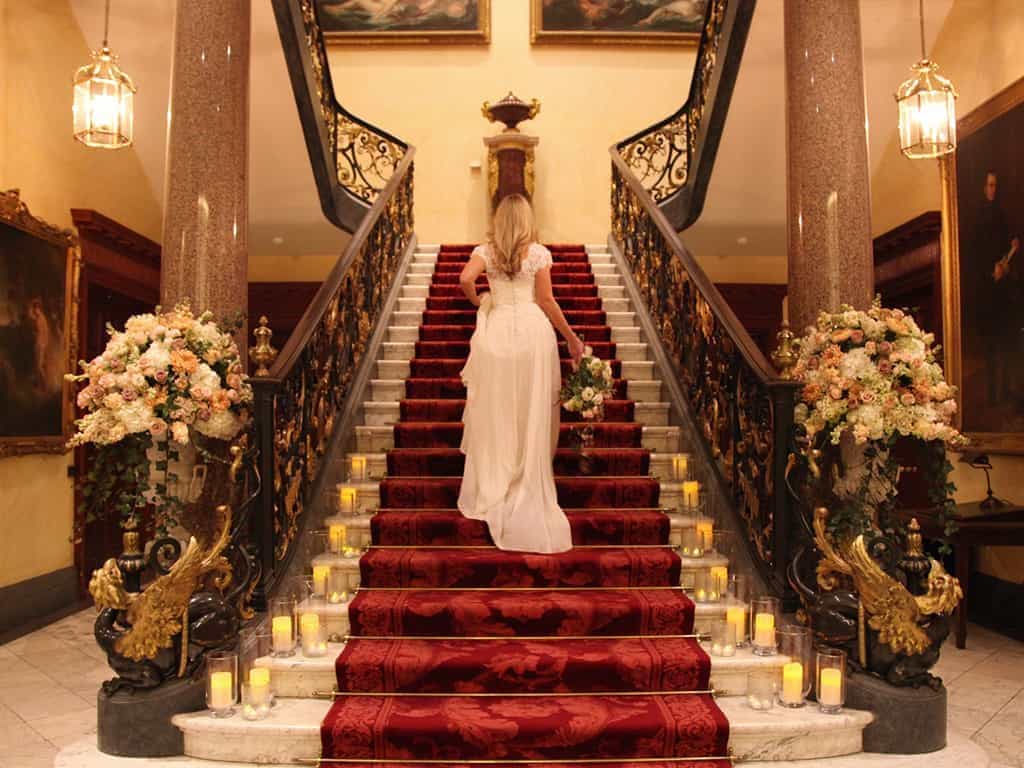 ---
The museum is known above all for its magnificent French 18th-century paintings such as Fragonard's The Swing, furniture, porcelain and sculpture, which are unrivalled in quantity and quality. In 1897 the collection was bequeathed to the British nation in Sir Richard's honour by his widow Lady Wallace. Her final wish was that it should be kept together, unmixed with any other Wallace Collection objects.
Hertford House opened to the public as a museum in 1900. Today, it uniquely represents the personal tastes of one family and their generous gift to the nation.
---
Additional Information
Venue Type: An 18th Century Townhouse and National Museum, located in the heart of London amongst the chic boutiques of Marylebone Village and a stone's throw from Selfridges. 
Venue Capacity: With a variety of rooms and party formats on offer to create your perfect wedding celebration, the Wallace Collection can host an intimate gathering for 10 guests through to a dinner dance for 140 or an after party for up to 250. 
Evening Entertainment: Bookable via Prelude Entertainment or Sternberg Clarke; extended licence on application until 1am 
Dining Options: An exquisite range of galleries available for dinners for up to 50 guests;  Up to 140 can dine and dance in the stunning glazed Courtyard;  Or treat 120 guests to dinner in the Great Gallery, then up to 250 to an after party in the Courtyard. 
Exclusive Use: Yes 
Contact
The Wallace Collection, Hertford House
Manchester Square
London, England W1U 3BN 
United Kingdom
Reviews

Lydia & Steve
United Kingdom
It has been a real pleasure to work with you both
Thank you so much for a spectacular evening. It all worked perfectly and we absolutely had the most amazing evening. Our guests loved it. Thank you for all your hard work over the last year in getting it all together.
January 2018
Did you find this review helpful?
1
0

Gary & Geraldine
United Kingdom
The most memorable occasion
Thank you for helping to make our wedding reception the most wonderful and memorable occasion ever! We have received such wonderful feedback it is a credit to you all.
January 2018
Did you find this review helpful?
1
0