Ambassador Band
---
About
Ambassador band are a multi award winning wedding and event showband of the highest quality. Consisting of some of the most talented and entertaining musicians on the current music scene, Ambassador can guarantee to deliver an outstanding and unparalleled performance at every show, which will guarantee to impress any audience.
---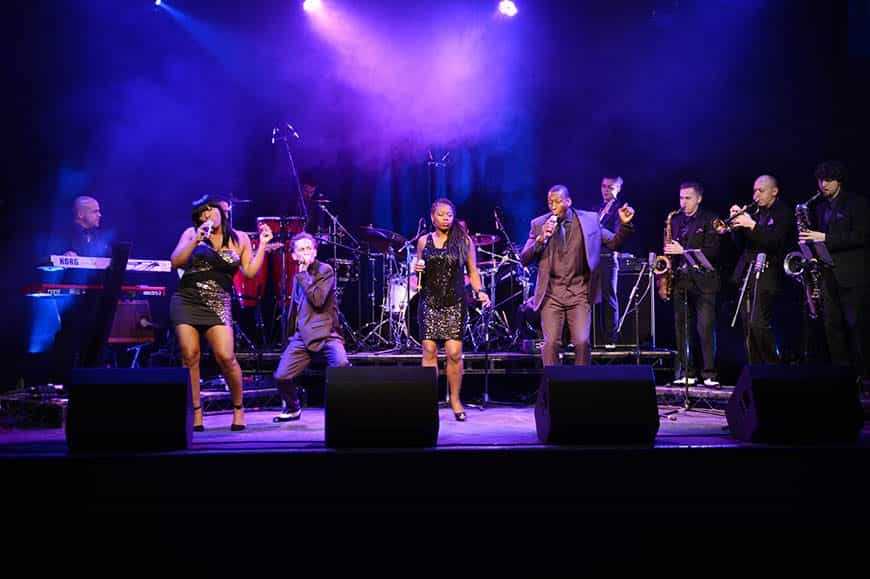 ---
With over 12 years experience performing together, the band is a highly tight unit. This experience ensures that every possible requirement is met, creating seamless and memorable entertainment for you on your special day.
Available from a 7 to 15 piece line up, Ambassador perform an eclectic mix of Funk, Soul, Motown, Club classics and Pop, providing a musical journey fit for any occasion.
We hope you enjoy our video below. Please do note that this was recorded 100% live and not a pre-recorded studio version of the audio – what you see is what you get.
Over the past few years Ambassador has built up a reputation as being the best wedding and party band around and have flawlessly entertained audiences and clients throughout the UK, France, Spain, Dubai, The Maldives, Morocco and Israel to name just a few.
---
---
The Ambassador Band members are all active within the upper echelons of the music session world and we can now bring them to your wedding at an affordable price. Ambassador's boys and girls have performed with artistes such as Adele, Year and Years, Maxi Priest, The Brand New Heavies, Soul ll Soul, Shalamar, Plan B, Larry Graham, Eliza Doolittle, Terence Trent D'Arby, Mike Skinner, Jools Holland Big band and The Miles Davis band to name a few.
Ambassador as a band have appeared on BBC 1 Television and have played for an elite list of past clients, including The Moroccan Royal Family, The Beckhams, Gordon Ramsey, Manchester City Football Club, The Ambassador of Azerbaijan....the list goes on.
For more information and video please visit our website or get get in touch for a friendly chat to see how we can help make your wedding day beyond amazing!
Contact
238 Worplesdon Road
Surrey, England GU2 9UY
United Kingdom
Reviews

Ruth and Avi
London
Ambassador band was simply amazing!!
Ambassador band was simply amazing and the perfect band for our central London Jewish wedding. So many guests kept telling me how the band was killing it and how impressive it was that they could get 100 people on the dance floor to Hora to Simon Tov and Mazel Tov one minute and then have them rocking out to funk and disco tunes the next. The dance floor was packed the entire night and at 1AM a whole bunch of us jumped up on stage and did some impromptu performance and it was just incredible. Geoff was a pleasure to work with from the first interactions all the way to the night of the party. Ruth and Avi, Jewish wedding at The Bloomsbury Ballroom in London – 12th April 2015
June 2017
Did you find this review helpful?
0
0

Sandy and David
Interlaken, Switzerland
This band is amazing, invincible and wonderful, I LOVE them!!!
Ambassador band is just amazing, incredible and wonderful!!! I love them! The music was perfect, everybody was dancing and having fun the whole night. They know to make ambiance and the sound of the music was great. Geoff the Band leader did a great job in advanced to explain everything to me and to take time to organize everything well. The band was always watching at me to fulfill my wishes during the evening, They are flexible, lovely characters and I book them immediately again!" Sandy and David, Jewish wedding at Jungfrau Grand Hotel, Interlaken Switzerland – 10th October 2015
June 2017
Did you find this review helpful?
0
0

Ghalia Jalanbo
The Maldives
You guys were a blast and made it so wonderful!!
We were very lucky to have you join us celebrate, and I am so glad you were able to make it so last minute. You guys were a blast and made it so wonderful and fun for us all!! You rocked it! Thank you! Hope to see you all again soon!! Kind Regards Ghalia, Party in The Maldives – 30th January 2016
June 2017
Did you find this review helpful?
0
0