Arte Cinematica Destination Wedding Documentaries
---
About
We are Kostas and Aris. Humble visual storytellers, sharing a common everlasting passion and knowledge for photography and motion pictures, as well as for music and poetry. Our pictures and films focus on people and sheer emotion. We aim at creating a precious visual legacy for you and your family, that will be kept alive throughout the years.
Each person is unique. Each couple has a unique love story. We love traveling, meeting new people, telling new stories. We believe that documenting a wedding is all about capturing, in a timeless manner, the true love between two people, as well as all the pure emotions that arise throughout the special day. We get strongly involved in the creative process to deliver you something that is unique, fresh and elegant, and at the same time something that you and your family will cherish throughout the years to come.
---
---
We are both proficient in photography and cinematography and we believe that both arts are complementary, interlaced, and equally important to tell a story, especially in documentary work. It is essential to have wedding pictures that share the same type of artistic style and character as your wedding film. This makes the whole documentary work more cohesive and enhances the narrative process as a whole, making it feel stronger.
---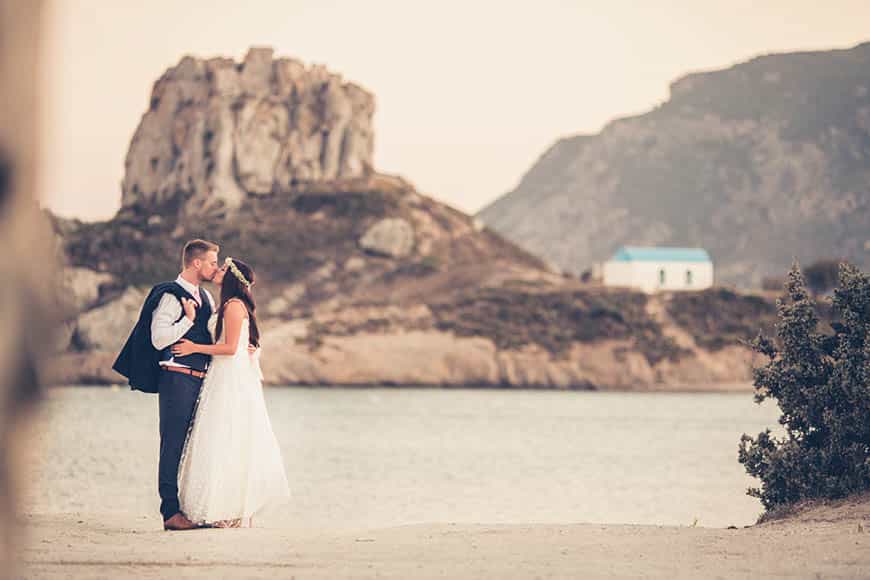 ---
We are lovers of simplicity. Simple is beautiful and less is more, as is often said. If a story is authentic, it is told from the heart. We love to hear more details about you and your couple. Everything is important and plays a role in the context of the story. Connecting with you, building a true relationship based in mutual trust and eventually even becoming friends with you is a crucial part of the process. This enables you, your friends and family to feel more relaxed on your special day and, at the same time, this helps us being unobtrusive and discreet while working.
In order to ensure the quality of our work, and to provide a more exclusive service, we accept to book only a limited number of weddings throughout the year. We are based in Athens, Greece, but we are available to travel anywhere in the world to document your greatest moments. Let's make your special day unique for the years to come, together.
Myrto & Tasos Spetses Same Day Edit
Dancing till infinity
1000 cranes for Sebastian
Trailer Harris Maria
Contact
Didotou 26
10682
Athens
Greece
Additional Locations
London
London, England
United Kingdom
Reviews

Maria
Amazing Photos!
Kostas, Aris, We wanted to send you a little message to thank you so much for all the work you both did at our wedding. The photos are absolutely amazing. It is truly wonderful how you managed to capture the complete feeling of the entire weekend, from the beach party the day before, the island atmosphere, the beauty of the wedding day, and of course the energy of the wedding party. We truly enjoyed working with you both, and can honestly say again that working with you was fantastic. It was really like you fit in as part of the family and I am sure this is what allows you both to create a photo with feeling. All of our guests congratulated us many times on how impressed they were with your style and how you approached the day and this was truly great for us to hear from them. We are so happy we selected Arte Cinematica and wouldn't have changed a thing. Can't wait to see you again in the future for some more photos. A HUGE THANK YOU FROM THE BOTTOM OF HEARTS.
November 2017
Did you find this review helpful?
0
0

Periklis
We would recommend them without hesitation
We booked Arte Cinematica for our wedding and our daughter's christening in Syros on September 2017. From the first meeting we realised that they understood the concept of our celebratory weekend completely and we chose them with no hesitation. Both Aris and Kostas are nice people to work with, they managed to take amazing photos and videos without us even realizing their presence during the ceremonies and the parties. They even went over the top, and they shot the pre-party although this was not part of our original deal. We would recommend them without hesitation
November 2017
Did you find this review helpful?
0
0

Athina Gantiraga
The Best Ever!!
They are the best ever! I thoroughly recommend them for any special occasion! Very talented and very professional! Me kleista ta matia. What makes them special is the emotional involvment in every project.
November 2017
Did you find this review helpful?
0
0