Awesome Caribbean Weddings
---
About
Discover our beautiful island of Saint Lucia and let her inspire you to select your perfect destination wedding venue.
Saint Lucia is the perfect destination for your unique wedding, reception and honeymoon. This lush tropical island has the best the Caribbean has to offer with some of the most stunning ceremony venues in the world. Whether eloping or planning a wedding for 150 of your closest family and friends, we have venues to suit. We have been organising Caribbean Weddings in Saint Lucia since 1999 and we LOVE it!
---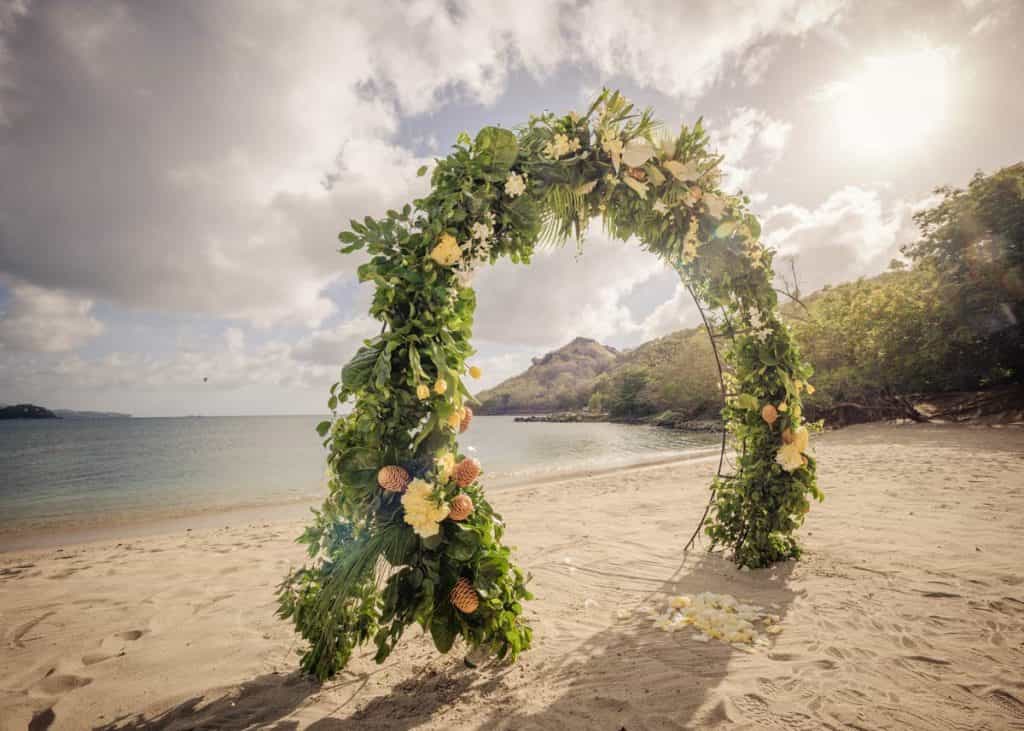 ---
Getting married in the Caribbean is a departure from a traditional wedding back home in more ways than a simple change of surroundings. Unexpectedly, what with all the constraints of doing it at home, holding your wedding in Saint Lucia can in fact be a release. You can arrange it in any way you like and do not have to worry about mom/sister/aunts expectations if you do not want to. You can use the wonderful natural setting as a backdrop for any fantasy or adventure you'd care to choose. There are just a few local regulations to cope with, and we will guide you smoothly through those, and then you can be married on the beach at sunset, or at a waterfall, or in a luxury villa, or with a dramatic mountain backdrop if you want. You can sail away in a yacht, or speed off in a convertible sports car, or take a magical ride in a horse and carriage.
The emphasis is on quality not quantity, you will never feel like you are on a conveyor belt with several other couples, all getting married on the same day at the same location.
Together, we will design and create an unforgettable experience that truly embraces the beauty of your love story and the beauty of the surroundings on your wedding day. We believe that every couple is unique, therefore we do not offer cookie-cutter packages, as many resorts do. Instead we create and personalise your day so that it expresses your wishes and personalities. Your personal planner at Awesome Caribbean Weddings will arrange everything with creativity and flair, and according to your specific requirements.
---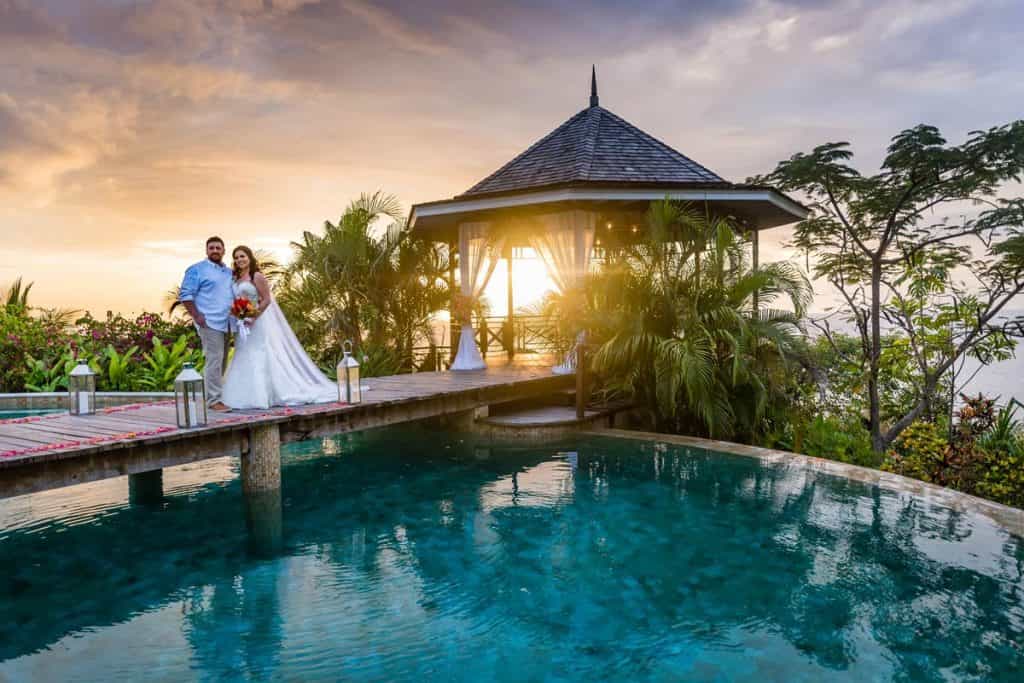 ---
Our company is ideal for couples looking for a venue outside of a hotel environment or for something more original than the standard marriage package offered by a traditional resort. Your experienced wedding planner will assist you with personalising every aspect of your dream wedding, down to the very last detail, including liaising with the top florists, photographers, caterers, bands, DJs and other vendors that suit your vision and requirements. Together, we will devise the wedding master plan that maps out all the little details, from ceremony music to favours and everything in between, and all within your budget.
As a result, the planning process is lengthy and detailed. Over the years we have developed a brilliant planning system that makes the wedding planning process as simple as possible for each couple. We take care of every detail so all you have to do is ENJOY and RELAX!
Awesome Caribbean Weddings organise weddings only in Saint Lucia, enabling us to offer our in-depth knowledge of the island to fit your ideas to reality, and of course we can oversee the whole event. We restrict our order-book to one wedding on any given day, or even week depending on the size of the group, so you know that you will have our undivided attention.
---
Additional Information
Tessa & Aaron Piton View Wedding
Linda & Mike - Villa Susa
Amanda & Brett Private Be
Awesome Caribbean Wedding
Awesome Caribbean Wedding
Eboni & Suresh
Amanda & Jon Richard
Contact
Gardenia Drive, Bonne Terre, Gros Islet
Saint Lucia
The Caribbean
Reviews

Josefine Allain
United States
So grateful for Michele and her team!
Michele helped create the most romantic and personal wedding for us at Villa Susanna in June 2019. As a bride I was nervous attempting to plan a wedding in a country and a venue that I had never been too, especially since I had a very particular vision of what I wanted (and didn't want). From day one Michele was super easy to talk and eased my fears. She listened to all my crazy visions and helped guide me when I didn't have something exactly figured out. Everything from the cake, to the table settings, the flower decor and the personalized drinks turned out perfectly. My husband (yay) and I could not have asked for a better experience. We had initially planned on getting married at a farm in upstate New York but we are so happy we took a chance and went with Michele and her incredible team. The natural beauty of Villa Susanna and the creative eye of Michele and her team made it an absolute story book wedding backdrop and an unforgettable day.
July 2019
Did you find this review helpful?
0
0

Morgan
Canada
Forever grateful to Awesome Caribbean Weddings!
Words can't even describe how grateful we are for Michele and the Awesome Caribbean Weddings team. From the very first correspondence with Michele we knew we were in great hands. Everything was so organized and laid out in a way that made the whole planning process very fun and relaxed. Michele was so responsive in her emails and always had great suggestions without ever loosing our own vision for our day. As for our big day, Michele made sure every detail was perfect and our day was more than we could have ever imagined. The whole day Chris and I just kept turning to each other and saying how amazing everything was and how great of a job Michele and the team had done. The whole day was worry free and more than we could have hope for. Everything went seamlessly. Awesome Caribbean Weddings whole team was phenomenal. From the hair and makeup artists, our photographer Daniel, the Officiant, the catering company….everyone did a phenomenal job. All of our family and friends also commented how great of a time they had and how flawless the day was for them as well. At the end of the night Michele approached us to let us know that our private car had arrived and that she had already packed all of our personal décor, belongings from the day, marriage certificate, bouquet ect. She had literally thought of every little detail and made our day so perfect from the beginning to end. We would recommended Awesome Caribbean Weddings again and again to any couple planning a destination wedding. Michele and her team will forever be in our memories of one of the greatest days of our lives. Thank you Michele and Awesome Caribbean Wedding's!! We are forever grateful to you all.
June 2019
Did you find this review helpful?
0
0

whitney Johnston
oregon
BEST DAY EVER
We cannot say enough good things about Awesome Caribbean Weddings! After having a difficult time booking our wedding with sandals, Fanella made all of my wedding dreams come true! We stayed at the sandals resort and saw many weddings. None of them came close to what she set up for us. The flowers were beautiful and she was able to capture exactly what I wanted in a wedding from just a few photos. Everything was perfectly arranged for us and I had zero stress the day of. The ceremony was perfect and she really payed attention to all the details going out of her to way to make sure we had everything we wanted. I am so happy we chose Awesome Caribbean Weddings to plan our special day!
May 2019
Did you find this review helpful?
0
0