La Corte Dei Papi Relais Spa & Restaurant
---
About
Situated just a few kilometers from Cortona in Tuscany, in a small valley surrounded by rolling hills, la Corte dei Papi is an oasis of peace and tranquility, a country residence dating back to the 1700's where long-standing tradition and luxury are brought together to offer our guests a wonderful Tuscan experience for the most important day of their life.
A beautifully stocked garden, rich with flowers including olive and pine trees, a large swimming pool with sun loungers and fresh towels, an excellent restaurant and warm and genuine Tuscan hospitality.
---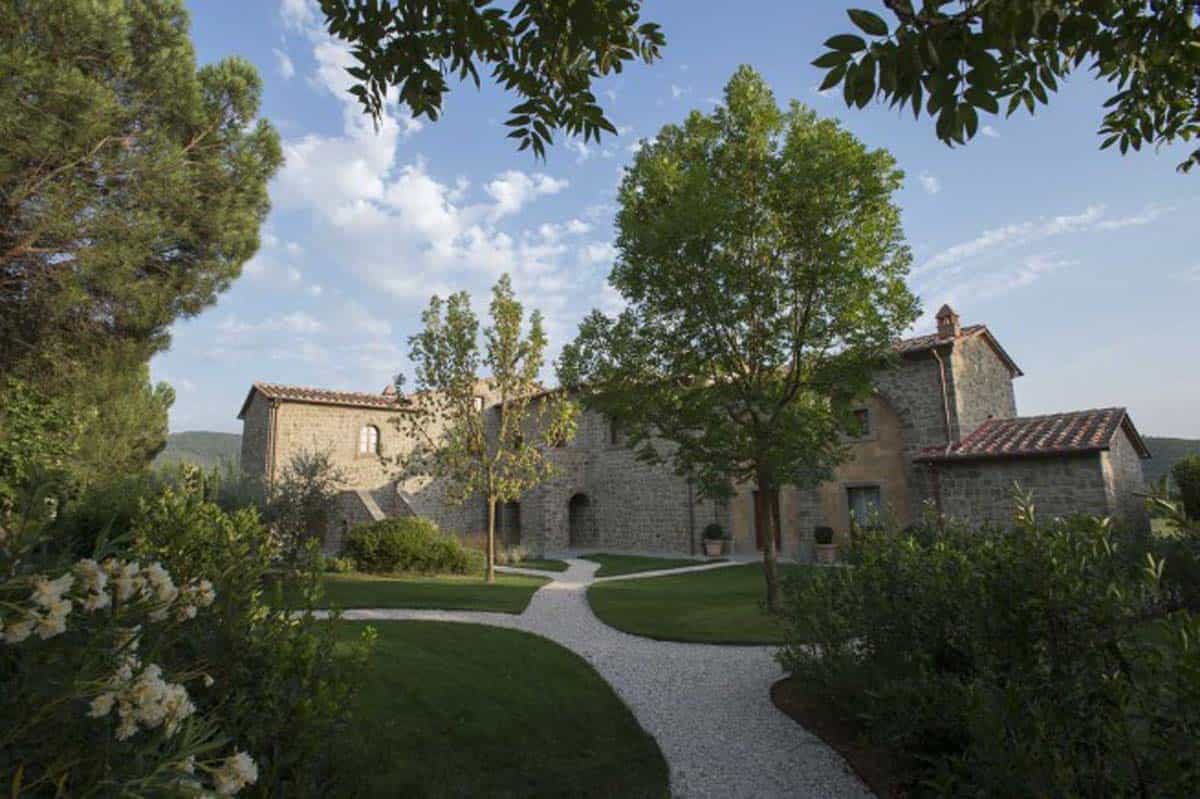 ---
The professionalism of our staff, the attention to details tailored to your needs, the fine food, the elegance and intimacy of Relais La Corte dei Papi will ensure that your wedding day will be unforgettable.
We will be at your complete disposal in finding suppliers as experienced wedding planners, hairdresser, make-up artist, florist, photographer, transportation for clients, activities during your stay.
---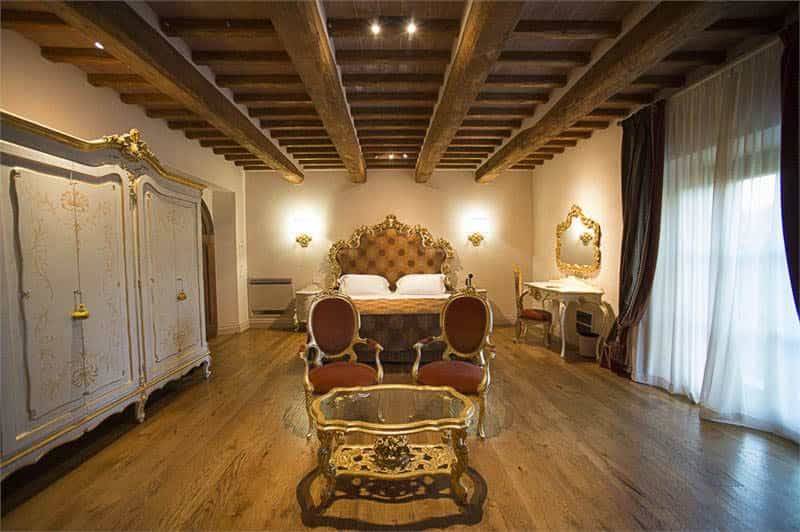 ---
For the most comfortable experience, we require the exclusivity of the Villa. The exclusivity consists of accommodation in all our 15 rooms, breakfast for all the guests, the free usage of our common areas, like our gardens for a romantic wedding blessing ceremony, our pool, our romantic outdoor Restaurant, our elegant renaissance handmade decorated indoor Wedding room etc.
---
---
Very elegant and spacious Rooms, furnished with elegance and style, king size beds, exposed wooden beams. The interior design is a perfect combination of the original rural style.
Our wonderful Spa Suites are a new innovative concept of well-being devoted to the comfort and exclusive privacy of our customers, each one with a luxury private spa equipped with Turkish bath, four multi-sensory showers, aromatherapy, chromotherapy and music therapy, a wide Jacuzzi and a relaxing area for a total sensory experience, super king size beds, elegant parquet floors, private garden with a magical view of the vineyards, and the green hills surrounding the property.
---
---
The Restaurant recreates the delicate flavours of genuine Tuscan dishes with a modern twist. Every ingredient is selected for its quality, freshness and flavour; this creates a memorable experience throughout your meal. Everything is daily freshly produced by our chefs including bread, pasta, desserts & wedding cakes. We'd love to meet your needs and create your perfect Menu for the most special day of your life.
---
---
Relais La Corte dei Papi is situated between the beautiful hills that surround the famous historical Etruscan town of Cortona, the fame of which has been further enhanced by the writer Frances Mayer in her book "Under the Tuscan Sun".
Guests will be delightful experience the beauty of Florence, only 1 hour away by car or train; the Wine region with the historical towns of Montepulciano and Montalcino renowned around the world for the incomparable Nobile and Brunello wines ( just 30 minutes driving from the property).
One hour driving from the historic towns of Siena and San Gimignano and the beautiful untouched countryside of the Chianti region.
---
Additional Information
Venue Type: Late 17th Century Residence, restored with love and respect by David Papi and his mother Gabriella. The original features have been maintained and well preserved.
Venue Capacity: 30 people in double occupancy ( with the possibility to add 12 extra beds in our Suites for a maximum capacity of 45 people ). Exclusive use.
Other Features: Outdoor Restaurant Capacity : 150 people exclusive use. Indoor Restaurant Capacity : 150 people exclusive use. Swimming Pool: Outdoor swimming pool.
The Court of the Popes - Cortona
Contact
Via La Dogana 12 - 52040 Cortona - Loc. Pergo
Arezzo, Tuscany
Italy
Reviews

Eleanor
UK
Our Dream Wedding
A pearl in the heart of Tuscany. David and all his team are totally devoted to ensuring you have a wonderful, relaxing and memorable stay in this beautiful, family-run, boutique hotel. The attention to detail in the decor is only matched by the attention to detail in the service. We visited Tuscany in August 2016 to find a venue for our wedding the following year. David's beautiful hotel was the first place we visited and we fell in love with it straight away. We should have just put our feet up and relaxed by the pool after that, as none of the other venues could compare or ticked so many boxes. Our only concern was whether the service, on the occasion of our wedding, would be as we hoped. No need to worry, every one of our guests had a fantastic time and we all reminisce with fondness on our dream wedding weekend at the Relais La Corte dei Papi. There were three generations in our party and everyone's needs were met. Nothing was too much trouble. The kids (young and old) had fun frolicking in the pool and beautiful gardens. The food and wine was superb and show cased the best of Italian cuisine and vineyards. Every room is beautiful with a clever mix of rustic and modern conveniences, the bridal suite and deluxe, executive rooms are breathtaking! You won't want to leave your suite as you enjoy the huge spa showers with music, aromatherapy steam treatments, mood enhancing lighting and beautiful jacuzzi baths, big enough for a family of four. The beds are divine and all unique with sumptuous soft linens and furnishings. David is the most hard-working, dedicated hotel owner we have ever met and it is without any hesitation that we recommend highly that you treat yourself to a dream vacation at the Relais La Corte Dei Papi. Thank you David for our dream wedding!
October 2019
Did you find this review helpful?
0
0

Paul
UK
Wonderful corner of Tuscany
We were looking for a place to spend a week in full relaxation; we were pursuing the dream of breaking away from the frenzy and succeeding in stopping the time, setting every single moment of peace. All this and much more we found it in this wonderful corner of Tuscany, pampered by courtesy, professionalism and, precisely, the heart of people who live their work all over, giving the guests the feeling of being at home, with all the comforts you may wish for. For the first time professionalism, expertise, and customer satisfaction are leading to the tranquility of the location. Your heart will have to know it, giving you space, if you like, the great communication skills of David and your mom; tell the story of the relay, give a touch of poetry to the excellence! Thanks to all Paul,
September 2017
Did you find this review helpful?
1
0