LOVIÙ EVENTS
---
About
It's essential planning the wedding day and paying specific attention to every single detail to guarantee result and success.
Planning weddings, we give value to our clients' choices; we are used to support them in the creation of a project that may reflect their story, their style and themselves.
We will realize with you any event that may represent your love story, suggesting choices in line with your style and your desires, looking after your guests and delighting them at the same time, and above all, making fascinating and magic the atmosphere you will always remember.
The legendary Sicily is the most original and the most coveted destination in Mediterranean to get married. It's an isle with an artistic and cultural heritage unparalleled anywhere in the world, with its extraordinary landscape, its mild climate and its unrivalled cuisine.
Among the hills have settled suggestive historic houses, medieval castles, ancient "bagli" and abbeys, typical restaurants and rustic locations in which sealing your promise. Furthermore, ancient tunas factories, charming cities, sumptuous baroque villas and amazing seventeenth-century palaces.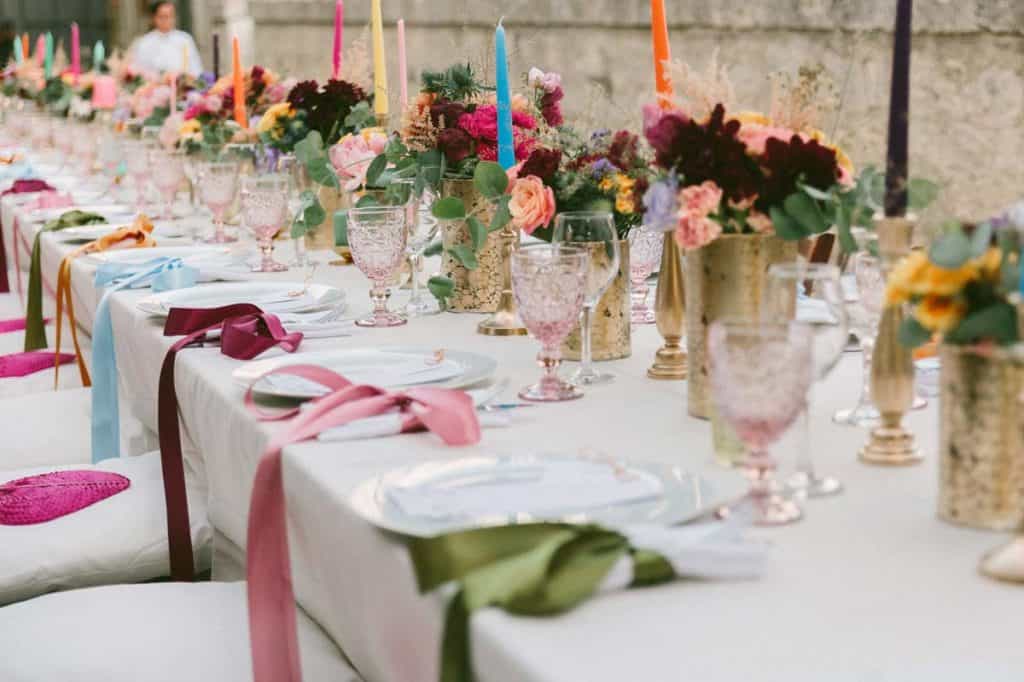 The eternal beauty of these places will create a perfect atmosphere to get an unforgettable wedding. Our mission is realizing a ceremony that satisfies as best we can your desires, organizing every single detail with care and professionalism.
You only have to desire it and your dream will come true.
After doing first moves, that is selecting the ideal location and examining every perspective with our suppliers, we will plan a custom-made wedding to completely satisfy your dreams, because no event is like another one.
---
Additional Information
Inspirational Bohemian Wedding
Marry me in Sicily
Reviews

Allie.
United Kingdom
Fantastic job
We are so happy to recommend Loviu Events and Laura! We worked with Laura, who is the face of the company, for around 11 months to plan our perfect wedding in Sicily. From the moment we first spoke, we knew Laura was the person we needed to help us achieve our dream wedding. Laura is a wonderful person and a pleasure to work with. She is extremely patient, brings lots of good ideas and suggestions, and she has an extensive network of contacts that can provide any additional service one might think of. Laura is highly responsive to questions and enquiries - we were in contact with her via WhatsApp from the very early stages, and she is such a warm and kind person that we felt as if we had known her a long time before we finally met each other. In the lead up to the wedding, Laura was on top of every detail. She instantly grasped what kind of wedding we were hoping to organise, and she worked very hard on our behalf to secure a fair price whenever she could. We felt so comfortable with her preparations for the wedding that we managed to have a week of holiday beforehand. Laura never forgot anything and together with her team she was able to deliver on everything we asked without stress or headaches. On the wedding day itself, Laura and her team were extremely professional - we sent them ideas and inspiration that they quickly turned from concepts into reality. They were totally independent and allowed us to maximise our time with our friends and family so that none of us had to do any last minute preparations. They arrived early in the morning and stayed until very late at night, always to make sure that everything was as we had asked for. There is nothing that we could ask more of Laura and Loviu and we can only say thank you to them again for all their fantastic work and friendship.
November 2018
Did you find this review helpful?
0
0

Christine
United Kingdom
Amazing
When planning our Sicilian wedding this summer, I initially felt overwhelmed with knowing where to start. As a non-traveler who had definitely never been to Sicily, I wasn't sure how to go about finding folks to best represent us on what I knew would be a wonderful but possibly stressful day. I found Laura of Loviù Events on Instagram and was instantly drawn to her style. I messaged her and she responding quickly, promising that our day would be perfect even if I planned every moment sight unseen from over 6,000 miles away. Laura suggested vendors she trusted and she helped me coordinate it all; promising that I would love each of them and be so happy with their services. By the time we arrived in Sicily, everything was prepared and ready for us with no stress. The day was as wonderful as I had hoped with only a few minor hitches. Laura is incredibly kind and has a true passion for what she does. From the moment I started emailing with her to the last hug as we parted after the wedding, I knew that Laura was trying to ensure the best day possible for us. We will always remember our wedding in Sicily fondly and we thank Laura for helping us to execute it.
November 2018
Did you find this review helpful?
0
0

Anna.
United Kingdom
Amazing
I found Loviu Events on Instagram. It was definitly the best choice. Laura is incredible, very patient, she realised an amazing job. My wedding was exactly like in my dreams and even better. And it was not easy because I live in France but Laura managed everything at the perfection. The design was spectacular, the staff on top (hairdresser, flower designer, videomaker, photographer..she gave me the best advices). I really could enjoy every minute of my wedding because of her. For me and all my guest every single details was perfect. She followed all my request. She also managed the budget very well. I would definitly recommend Laura and Loviu Event. I would like to share what one of her client said about Laura: <<Hi Anna, wow . Laura from Loviuevents made our day not only beautiful (flowers, decoration, candles...) but also made it totally relaxed, as she managed everything behind the senses. In one sentence: Don't you worry
November 2018
Did you find this review helpful?
0
0