Villa Macakizi Bodrum
---
About
Villa Macakizi Bodrum is a contemporary seaside chic private villa on the Turquoise Turkish Riviera for those travelers who are searching for a sophisticated leisure place and unique privacy. Located in a sheltered cove with deep blue waters and pine-covered hills, Villa Macakizi welcome guests into a stylish property offering butler personalize hospitality service.
With its own private beachfront spot, guests can experience an oasis of peace and lush greenery with exclusive retreat features. The secluded Villa Macakizi is made up of ten brightly decorated guests' rooms, each with its own terrace or balcony overlooking the serene waters of Paradise Bay.
---
---
Created by Rome based architect Fabrizia Frezza, the interiors are inspired by the sunny inviting atmosphere of the Mediterranean Riviera. The decor of the rooms is enriched by the beautiful hand-painted floor tiles in subtle patterns made by Italians artisans, linen from fabric specialist Loro Piana and custom-made furniture's.
For guests to revitalize body and mind experience the exclusive treatments at the Spa or for a workout in the state of the art fitness center.
The privileged location of Villa Macakizi on the secluded shores of Paradise bay, offer privacy and an opportunity for guests to enjoy leisure activities where the sun and the sea are the main attractions. From the infinity pool to the private beach, be pampered while you relax on the water`s edge.
---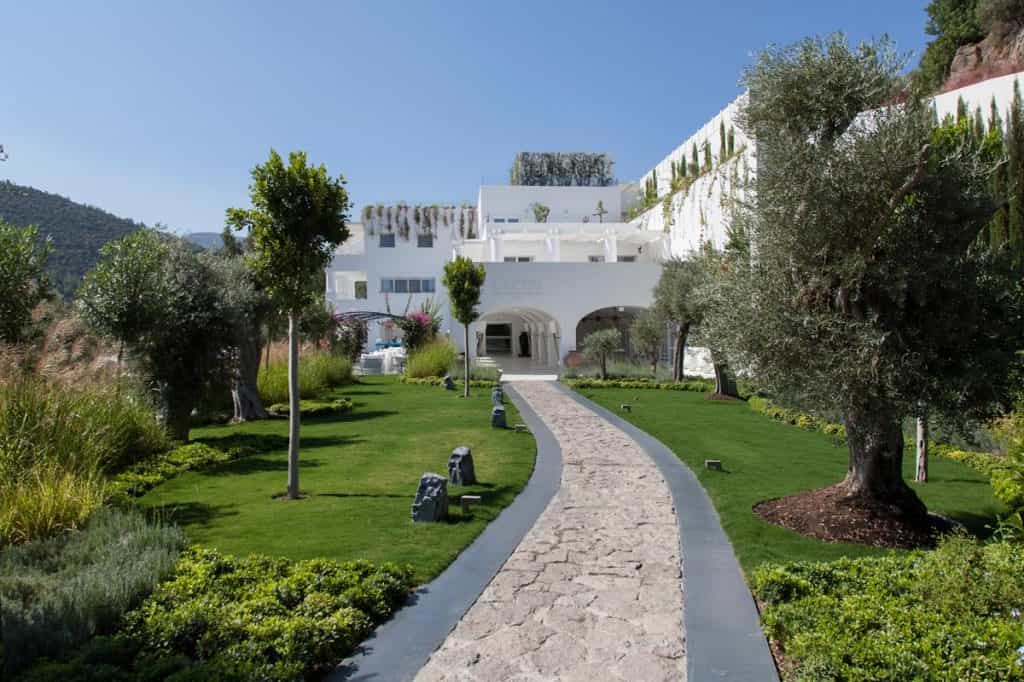 ---
Villa Macakizi offers exclusive Butler service with a personalized dining experience centered on the flavors of the Mediterranean influence and superlative seafood. Leisurely meals and snacks are enjoyed in a scenic outdoor setting, where guests are welcome to dine on the property sunny terrace, under the shade of a sunbed on the beachfront or a lounger at poolside.
For a relaxing cocktail, patrons may soak up the sea views by the pool or in the open-air lounge while sipping a crafted cocktail or a crisp white wine from a local produce farm.
Combine an amazing experience with the ease of planning whether yours is a small wedding ceremony, or an elaborate weekend celebration filling the entire Villa with your friends and family. The experienced team will assist you in every moment and with details to create a special memorable dream.
---
Additional Information
Venue Type: Villa Maçakızı Bodrum is a sophisticated private villa on the Turquoise Turkish Riviera for travelers in search of luxurious leisure and unique privacy.
Venue Capacity: 400 max with sit down
Accommodation: Villamacakizi has 10 spacious, luxurious rooms and suites, all with seaside view to make your stay unforgettable
Dining Options: Chef in dining
Swimming Pool You can enjoy your day in the blue palette colored infinity pool
Fitness Center The Fitness area is equipped with Techno Gymequipment and air-conditioned. Personalized fitness programs by professional instructors and training programs are also available, price upon request
Spa 2 Massage rooms, 2 Turkish baths ,sauna, outdoorrecreation area & swing bed. Our experienced therapists meet the personal needs of your bodyand mind in an ideal environment. Therapy offers opportunities to review.
Contact
Göltürkbükü Mahallesi 316 Sokak No: 10/1 48400 Mu
Bodrum
Turkey