Marco Ficili
---
About
A never-ending surprise…a great emotion! This is how I describe my passion for photography. A relationship born when I was a boy and never ended. It captivated me so much that it has become my job. I love true photography that tells without cheating, that reproduces the magic of a gaze or a heartbreaking landscape.
I have always taken advantage of any chance to travel and go explore Europe. I have taken plenty of pictures, I have met various photographic souls, discovered various viewpoints, numerous lights and atmospheres. I have unconsciously absorbed their being, and all of this has become Marco Ficili today.
---
---
I like to think that my wedding photographic style is unique, just like a strong feeling, an emotion. I realize wedding photography services anywhere in Italy and particularly in Sicily: in Ragusa, which is now famous thanks to the stories of the Inspector Montalbano, created by the Sicilian writer Andrea Camilleri. In the antique land of Siracusa and Ortigia and in the magic atmosphere of Taormina, or in the natural paradise of the Aeolian Islands.
Elegance and sincerity: this is my recipe for a special photographic service of your wedding. My clients love my photography services as they stand out for their spontaneous and at the same time evoking style. And I love my clients since they can distinguish, they can appreciate and choose what really moves them. Did I get any awards? Some, the right ones for an excellent résumé!
Why choose Marco Ficili for your Wedding?
Your wedding day is unique. It is made of extraordinary feelings. Telling the story of your big day requires our long-standing experience. We have been creating wedding photographic services for more than 15 years. We've photographed more than 1000 weddings in many different locations: churches, castles, luxurious and aristocratic villas, or a large and beautiful lawned garden facing a lake, immersed in the countryside, walking on the soft white snow up in the mountain, on the black lava stone of Mount Etna, on the beach in Taormina, inside a cave of an old sanctuary, in a thousand-year-old monastery, by the Greek theatre in Taormina, or in the magic Aeolian Islands.
---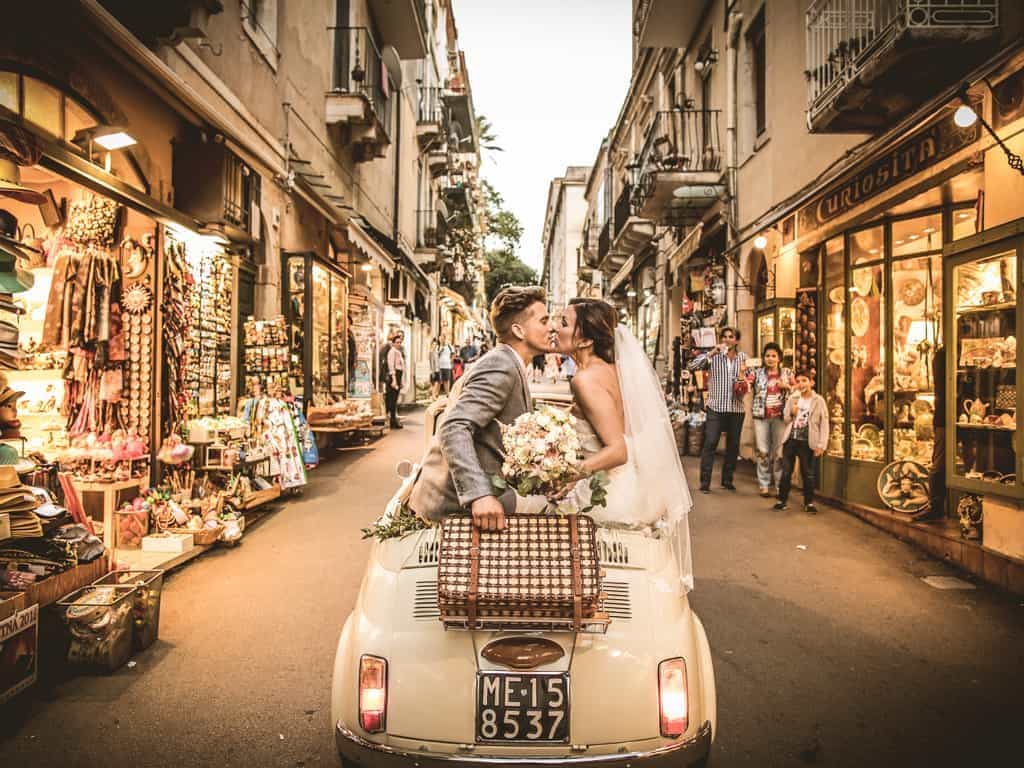 ---
I had the pleasure of meeting many couples coming from all over the world, with different culture and traditions, but they all agree on one thing: "Italy is beautiful. It is the country of love and romanticism, but Sicily gave us a strong emotion. We felt at home in Sicily. Happy, in love and full of energy, we soon understood that Sicily was the right place for our love, for our wedding day."
I've received many "thank you" emails from our clients, who were very happy about our staff and how we described their wedding day, with tact and poetic sensitivity.
---
Additional Information
Wedding Photographer Taormina – Love is in the air, Noah and Naom
Fotografo matrimonio Sici
Matrimonio Cefalù - Ti am
Lovely wedding in Villa A
Matrimonio Taormina Chies
Contact
Catania (Sicily) - Via Grotte Bianche, 150
Sicily 95128
Italy
Reviews

michelle
Manchester
Exceptional and more...
Marco is not only an exceptional photographer, he is much more. Careful, polite, discreet, reassuring: qualities that are evident in every single photo taken.
May 2019
Thank you Michelle
Did you find this review helpful?
0
0