Grand Hotel via Veneto
---
About
The Hotel is nestled in the "dolce vita" street, popular worldwide because every corner recalls many memories, pieces of history and myths.
The facades are just the first and most apparent evidence of the perfect union of olden and modern times, manifested at the highest level just as you cross the threshold of the Hotel: the Ruhlmann style is redesigned in a modern way in all furniture and details; a film of water flows on the crystal ceiling pervading the whole lobby with natural light; countless original works of art by Picasso, Dalí, de Chirico, Guttuso, Burri, Carrà, Marino, Miró, Nespolo, Rabarama, Rotella and Schifano decorate the Hotel and rooms walls.
---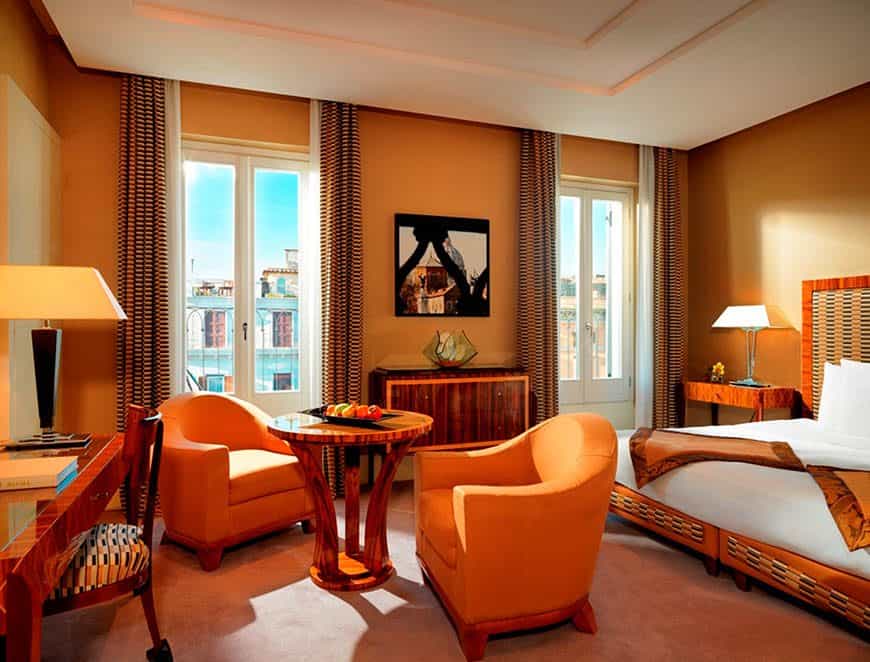 ---
The staff of Grand hotel via Veneto anticipate the needs of the newlyweds, providing, with discretion, a tailor-made service, always aimed to create a perfect and unforgettable day of your wedding.
Among the many exclusive and fascinating places in the Hotel, the 500 sqm large Royal Suite stands out, with over 200 sqm of terrace overlooking Porta Pinciana, Rome and the surrounding countryside, stretching from via Veneto to and beyond Villa Borghese gardens; from the terrace you enter an open-air hydromassage area; the Royal Suite has also a private hammam and its furniture is absolutely of great value: exclusive "Hermès" armchairs, tapestry of "Rubelli" sofas, mahogany pieces of furniture, wall fabric.
---
---
• MAGNOLIA RESTAURANT: open for dinner and private events. It boasts a spectacular entrance, with water flowing over the walls covered in hand-grooved black marble. Inside the restaurant, the finely painted golden walls and the exquisitely selected parquet enhance its arched dining rooms. The Chef Franco Madama "paintings" are unique dishes blending tastes and colours in order to arouse deep emotions; the live music entertainment of the "The Mag Room" makes the dinner an unforgettable experience.
TIME RESTAURANT & WINE BAR: open all day. It is located on the ground floor near the lobby and is a business meeting place for Guests and a trendy spot for locals having lunch or taking a drink. Time Restaurant & Wine Bar is renowned for its Italian specialties.
SUMMERTIME SKY BAR & GRILL: open during summer and private events. Guests may live an exclusive culinary experience into a relaxing atmosphere, while the sun is fading all over the city during the sunset.
Spa & Fitness
AQVA City Spa is an exclusive health club with over 500 sqm, it offers six treatment rooms, each with ergonomic heated beds and marble showers with private hammam. Before and after the treatments, Guests may enjoy a relaxation area with music and color-therapy, a vitality pool with 4 chaise longues equipped with hydromassage facilities, a polychrome marble hammam, an emotional shower, a sauna and a gym.
---
Additional Information
Venue Type: This hotel offers luxury in the true sense of the word, with superb, retro-style guest rooms and a collection of more than 500 original paintings on display"
Venue Capacity: Ruhlmann: A private space of 75 sq. m. that can host up to 70 people in theatre-style. Burri : Meeting room of 22 sq. m. that can host up to 10 people, perfect for a board meeting or as office. Sala de Chirico: A private room of 25 sq. m. that c
Spa AQVA is the suggestive City Spa of Grand Hotel Via Veneto: a sophisticated wellness corner of over 500 sq.m, where the body can be treated in an enchantment of beneficial vapor, fragrances and colors.
Contact
Via Veneto, 155
Rome, Lazio 00187
Italy
Features
Accommodation
Event Planner
Bridal Suite
Civil License
Music License
Outside Photography
Bridal dressing room
Reviews

Daniel
Excellent
We were staying here on our honeymoon. It's a beautiful hotel with modern features and amenities right near the Villa Borghese. Rooms were elegant and spacious (especially by European hotel standards) with nice bed, bathroom, robes, etc. We found the staff and concierge to be extremely helpful in checking us in, helping us make plans/reservations, and taking care of any requests we had. They also put a nice bottle of prosecco (in an ice bucket) in our room when they found out it was our honeymoon. The complimentary breakfast was a very nice way to start the day.
November 2017
Did you find this review helpful?
0
0