St Nicolas Bay Resort Hotel & Villas and Thalassa Villas Luxury Villas
---
About
St Nicolas Bay Resort Hotel & Villas and Thalassa Villas Luxury Villas on the Waterfront
The resort is ideally situated in a secluded beach front location, a short distance of one mile from the trendy summer resort of Aghios Nikolaos. This picturesque fishing port with many shops, boutiques, café, bars and restaurants on the seafront is one of the very fashionable hot spots of Crete.
The St Nicolas Bay is an escape to an oasis of elegant style and flair where you can relax in a calm and peaceful atmosphere. With spectacular views of the Gulf of Mirabello bay, the rooms and suites offer modern and spacious interiors with large terraces or balconies with magnificent views. Some of the exclusive Junior and Executive Suites and Thalassa Villas have their own seawater swimming pool, heated in early and late season months. Begin the day with a delicious breakfast served on the terrace and enjoy the freshness of the sea breeze, the flower-filled garden and the gentle sun.
---
---
At lunch time, savour excellent Mediterranean cuisine at the Blue Bay beach restaurant. Enjoy the delicacies of Sushi and Far East Cuisine at the fine dining Minotaure Restaurant by the pool or for a more relaxed experience in a charming Greek atmosphere, taste the Cretan dishes and the excellent seafood at the Greek Kafenion on the beach. Pamper yourself at the Poseidon Spa by Elemis, Cinq Mondes, Algoane offering a truly relaxing and revitalising experience designed to indulge and balance your senses.

WEDDINGS & HONEYMOONS:
Spectacular Weddings arranged to perfection is a speciality of the St. Nicolas Bay Resort Hotel & Villas for many years. The idyllic beachfront location of the Hotel, the intimate and private atmosphere and the beautiful gardens and natural surroundings are making the St. Nicolas Bay Resort Hotel & Villas the ideal spot for weddings.
All Civil Weddings at the St. Nicolas Bay Resort Hotel & Villas are officiated by the Mayor of Aghios Nikolaos. Orthodox Religion Weddings at the Hotel's Private Chapel. The wedding can take place in romantic spots within the Hotel grounds or at the seclusion of the private terrace garden of an Executive Suite Private Pool.
Our wedding coordinator will arrange to perfection the wedding ceremony and all additional services needed like wedding cocktail and Wedding Dinner in private venue exclusive for the wedding reception.
---
---
Exciting Honeymoon Packages are offered with different options of Honeymoon Suites.

THE WEDDING OF YOUR DREAMS IN THE HOTEL OF YOUR DREAMS
Celebrate your wedding on Crete at the St. Nicolas Bay Hotel on the terrace of our beachside chapel. Say 'I do' in this dreamy location with the blue waters of the Cretan Sea glinting in the background.
Our sumptuous Honeymoon Suite is sheer elegance with an exceptional personal service and attention to detail. The spacious terrace next to the pool, the intimate atmosphere and the luxury all combine to create memories of your Crete honeymoon that will stay with you forever.
---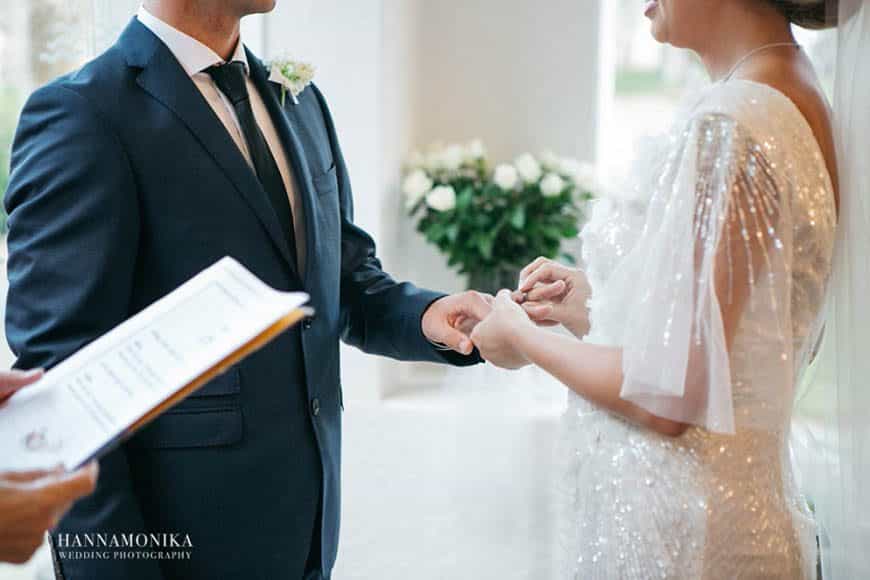 ---
Celebrations are tailor-made whether a couple is planning a romantic wedding or a festive family celebration. St. Nicolas Bay Resort Hotel has at your disposal the expert service team dedicated to providing couples with personalised attention to meet any special requests.
The St Nicolas Bay offers a number of fascinating outdoor venues for the wedding of your dreams for just the two of you or for your friends and relatives. Culinary options alongside your choice of music, the services of a professional photographer or a fireworks display can also be arranged on request. Flowers for all occasions and wedding table decorations are ensured by our expert florist to tailor made particular requirements.
LIFE IS A COLLECTION OF EXPERIENCES. LET US BE YOUR GUIDE
---
Additional Information
Accommodation: ROOMS & SUITES Designed residences all with great sea views and most with Private infinity Pools.
Dining Options: The new Labyrinthos restaurant veranda offers an excellent view of the pool and surroundings. Dine under the stars on the terrace of the Beachfront Kafenion Restaurant or Minotaure by the Pool Fine Dining Restaurant.
Exclusive Use: Yes
Swimming Pool Luxury outdoor pool
Fitness Center St. Nicolas Bay Hotel Fitness Center offers: • A state of the art gym • Cybex and Techno gym machines • Gent's & Ladies changing rooms • Showers and lockers
Spa Poseidon Spa at the St. Nicolas Bay Hotel in Crete represents our efforts to create a truly relaxing and revitalising experience designed to pamper your and meet all your senses.
Crete | St Nicolas Bay Resort Hotel & Villas
Contact
Thessi Nissi, 72100 Ag. Nikolaos
Crete
Greece
The St. Nicolas Bay Resort Hotel & Villas is ideally located in a secluded beach-front setting and only one mile from the town centre of Aghios Nikolaos the cosmopolitan Summer Resort in Crete.
Reviews

J0anneH73
Tynmouth, UK
Outstanding Wedding Venue
When my husband and I started to plan our wedding we decided we'd like to get married abroad – an outdoor location in the sun and somewhere in easy travelling distance from the UK. We began to search for 'luxury wedding hotels' online and discovered St Nicolas Bay Resort Hotel in Crete. We decided to take a trip to Aghios Nikolaos so we could visit the hotel for ourselves to see if it was what we were looking for. My husband and I arranged to meet with Yiannis and Maria who were both very helpful and gave us a guided tour. We visited the hotel during the day but as we wanted to get married at sunset, Yiannis suggested we visit again in the evening when the look of the hotel and atmosphere would be completely different. We took his advice and within minutes of visiting the hotel for a second time, we were sold. The hotel looked absolutely stunning in the evening – various outdoor areas of the hotel were lit up [including the sea] and we just knew it would be the perfect venue for our wedding. We returned home feeling very happy and started to plan our wedding. I spent quite a lot of time speaking with and emailing Maria who was very helpful indeed. I had a lot of questions for her and if any brides- to-be are reading this review, you'll appreciate that it's very difficult trying to envisage what things will look like when you live in a different country and haven't had the opportunity of seeing what the hotel looks like when dressed for a wedding. The wedding date soon came around and my husband and I flew out to Crete to spend 10 days at the hotel before the ceremony. We had a few discussions with Yiannis and Maria prior to the wedding but they ensured they didn't take up too much of our time as they had everything covered. They made everything so easy for us. We'd booked Graham Hodgetts, a local photographer in Crete and Pat, a local hairdresser with a salon overlooking the lake. Both did a great job and we'd highly recommend them both. Our wedding day was absolutely fantastic. We had our wedding ceremony on the decking area next to the hotel's chapel overlooking the sea, followed by a drinks reception at the Bonatsa Jetty Bar and our wedding reception at the Greek Kafenion. The whole area looked breathtaking. The tables were dressed beautifully, the fairy lights were shining in the trees and the food looked and tasted amazing. We'd hired some Greek dancers for a little later in the evening and before we knew it we were into the early hours of the morning and our big day was over. Although we'd already been upgraded to a room with a private pool prior to the wedding, we were upgraded again to the honeymoon villa which was just the perfect ending to a perfect day. It was spacious and beautifully positioned overlooking the sea. I cannot stress enough how impressed we were with several members of the team who helped us throughout our stay. We'd like to give a special mention to the head chef who met with us prior to the wedding to devise our buffet menu. He really exceeded our expectations and the presentation and quality of the food was outstanding. Thanks also to Nikos, the front of house manager who was very efficient and helped us with several arrangements and not forgetting Michael, who has to be the best barman in Crete! He was so friendly and "couldn't wait to meet the 70 Geordies" who were attending our wedding! Most of all, I'd like to say a big thank you to Yiannis and Maria who are a fantastic team. Maria is extremely efficient and is a brilliant wedding planner. Yiannis practically lives at the hotel and was present throughout our wedding celebrations to ensure everything was running smoothly, is incredibly helpful and goes above and beyond to ensure that everything is just perfect during your stay. We cannot praise them highly enough and nothing was too much trouble for them. I appreciate this review is rather lengthy, however we thought it may be helpful to those who are considering getting married here. My husband and I would have no hesitation in recommending St Nicolas Bay as a wedding venue and we look forward to visiting again. Trust us, you will not be disappointed!
November 2017
Did you find this review helpful?
0
0