Upper House Hayfield
---
About
Upper House is a historic castellated fortress set within the tranquil and intimate surroundings of 30 ares of private woodland. Standing alone on the magnificent mountain of Kinder Scout in the Peak District National Park.
The sweeping driveway to the front of the property drops away to a breathtaking view of Kinder Reservoir. These incredible surroundings create a truly outstanding backdrop for your special day.
Wrapped around a stunning central courtyard, Upper House comprises a Medieval Banqueting Hall, an original Inn, gardens & luxurious accommodation for up to 28 guests. It's long history is the truly fascinating, Upper House was the secret hideaway of the biggest industrialists, politicians, royals, authors and intellectuals from the the turn of the 20th Century, & later was where Agatha Christie came to devise her legendary plots.
---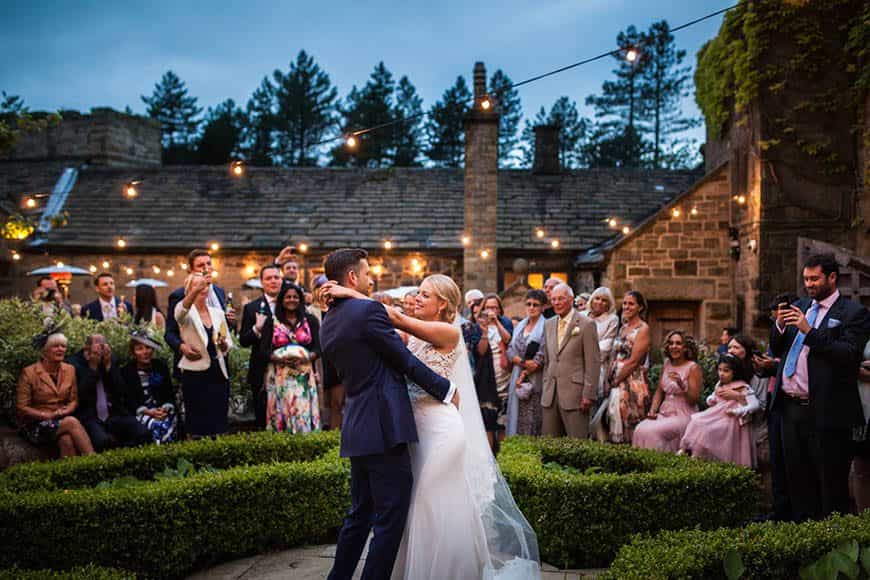 ---
Isolated in the 6,000 acre Kinder Estate in the North West of the Peak District in Derbyshire, Upper House feels a world away from anywhere. However the house is conveniently located from all amenities.
The house is just 45 minutes drive from Manchester City Centre and Airport; 28 miles from Sheffield and 50 miles from Chester.
This venue has been described as one off Britain's hidden treasures & one of the wedding industry's best kept secrets.
Upper House believe that one day of celebrations is not enough to make the most of this wonderful venue. The venue offers full weekend events for you and your guests to create unforgettable memories in a truly stunning setting.
The House has accommodation for 28 resident guests, for a three day retreat with your close family and friends. The beautiful venue is located in the heart of Britain, nestled within the mountain side and surrounded by the breath taking views of Kinder Scout, in the Peak District National Park.
---
---
These magnificent surroundings provide a tranquil setting for your day, with plentiful scenic backdrops for prefect wedding photo opportunities.
Upper House hosts twelve exclusive events per year. Each and every Bride and Groom receives a bespoke service from the venue owners Nicola and Georgia. From the moment you book the venue, your Upper House wedding journey starts. Nicola and Georgia are onsite to meet to you throughout the weeks months leading up to your day, meaning you can meet your suppliers and show your friends and family around before the celebrations start.
Upper House pride themselves in offering a truly bespoke wedding offering to each and every Bride and Groom. You will enjoy your dedicated in house event specialist, to help create a truly personal day for you and your guests. Our brides can choose where they wish to marry, dine and party. We offer the option of two award winning caterers that serve tailor made menus to suit the party, occasion and event.
Upper House is the prefect setting for a truly memorable wedding. Enjoy a full and vibrant weekend of festivities with your closest friends and family and really make the most of this outstanding venue.
---
Additional Information
Venue Type: Upper House is an exclusive wedding venue, that stands alone on the magnificent Kinder Scout in the Peak District National Park.
Venue Capacity: INTIMATE - 20-44 Guests - 1 Night Catered Wedding Event From £9,000 BESPOKE - 20-130 Guests - 2 Night Bespoke Wedding £15,500 CONCIERGE - 40-130 Guests - 40-130 Guests 3 Night Fully Packaged Wedding - £POA
Evening Entertainment: We offer a wide range of catering, services and activities. This allows you to create a bespoke package where you can do as much or as little as you desire.
Accommodation: 12 sumptuous bedrooms sleeping a total of 28 guests.
Other Features: Stylish Raj marquees look great in the Courtyard and can be hired alongside a vintage custom built tea pod to serve a selection of teas. Easily converted to a champagne bar later on, for the perfect English summer experience.
Dining Options: Catering tailored for your event using the region's top suppliers and locally sourced ingredients wherever possible. Our recommended caterers can provide a range of options to suit all styles of event.
Contact
Kinder Road, Hayfield
Derbyshire, England SK22 2LJ
United Kingdom