Whether at home or at a luxurious destination resort, the hottest of the last year's weddings have seen a continuation of the classic, vintage style with a 1950s, or perhaps Gatsby-inspired vibe. Gradually, unconventionality and bright, bold colour is beginning to seep through in beautiful, individual weddings that are all about the bride and groom's unique story. Yasmine talks us through the key elements to the perfect wedding.
What wedding trends have you witnessed in 2014? How do you anticipate these will change in 2015?
Weddings in 2014 have seen a definite shift from the classic 'all white' to a more eclectic mix of colours.  Modern couples no longer feel the symbolic white theme is fitting with their situation and as a result we have seen a burst of romantic hues, predominantly soft pinks but also deeper and more opulent choices such as chocolate box purple.
Cakes have also made a 'big' comeback this year.  For the last few years we have seen a trend in couples wanting a more understated approach to their 'cut the cake' moment with many opting for just one simple tier, or a luxurious but minimalist Valerie Patisserie style chocolate Gateaux. However, with cake designers such as Rosalind Miller, Peggy Porschen and Elizabeth's Cake Emporium becoming more and more creative, 2014 saw the return of indulgence and couples wanting the cake to be a main focus again. Tier upon tier of colourful, detailed icing with meticulously sculpted accessories are a taste of things to come for the new season.
Bridesmaid couture was noticeably more quirky and stylish this year.  Gone are the days when a bride has all her girls in matching apricot taffeta.  Instead, brides are recognising that mismatched bridesmaids in their own choice of dress not only look more beautiful as a whole but also keep everyone in the wedding party happy.
As for bridal fashion, influence from movies such as The Great Gatsby have seen strong art deco themes – lots of metallic headresses and floral crowns.  The alternative to headresses are dramatic veils – lengths of delicately embroidered vintage lace pinned around the crown of the head.  Brides are increasingly going for that striking look which is so representative of strong women today.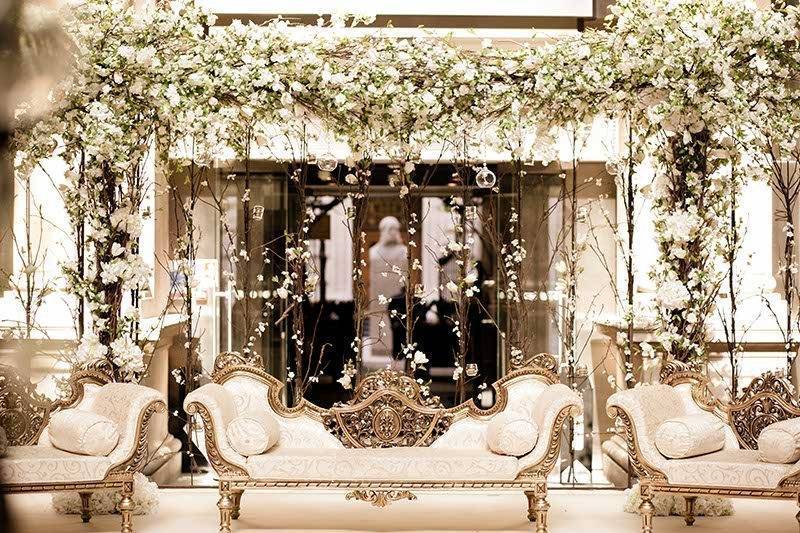 As for the upcoming 2015 wedding season, what colour schemes, flowers & decor are trending and anticipated to be popular? What's hot and what's not?
2015 is a year for more colour, more stunning brides and sophisticated themes that guests can all join in with.  Couples are viewing their wedding more and more like a professional event, indulging their guests with elements of surprise, personal touches and an overall memorable experience.
As with the cakes – wedding decor is taking on the same bigger is better approach.  Delicate subtlety is being replaced with beautiful stylish statements. Large romantic blooms such as Hydrangeas, Hyacinths and Orchids are being set amongst ethereal colour palettes of green and aquamarine.  Food is being served Italian style, in abundance.  Not one but two main courses can be followed by a themed buffet incorporating decor and floral arrangements and ending in a spectacular array of desserts.
This year bridal couture returned to 1950's elegance with a strong focus on off-the-shoulder decolletage.  For those less daring, 'high illusion' necklines returned with flattering collars being added to delicate lace.  High fashion saw an influx of crop top wedding gowns and revealing keyhole cut outs whilst new colors from many of our favorite dress designers saw catwalks flooded with dusky blue, grey and mint green fabrics.
Are high net worth individuals interested in 'Designer Weddings'? If so, which brands are people currently hunting for in terms of venues, hotels and other intricate details?
It is very much down to personal taste and whilst we have many high net worth readers, they are not always after a so called 'designer' wedding.  Many prefer to combine premium quality with individual touches.  Obviously, big budgets allow couples a greater choice in terms of planning their perfect wedding day.  For most in this category, a wedding planner is essential.  Not only does it give them access to some of the world's top wedding suppliers but it allows the bride and groom the luxury of planning without the stress. Mark Niemerko, By Bruce Russell and Scarlet Events are a few London's leading men when it comes to wedding planning, known for their impeccable taste and attention to detail.  In terms of venues, wealthy couples know the world is their oyster.
A large portion  of our readers opt for stunning locations such as a fairytale villa overlooking Lake Garda or an entire five star hotel on a beach in Ibiza.  In contrast, others are taking advantage of their private grounds and creating their own little candlelit wonderlands with marquees imported from India by companies such as The Raj Tent Club.  Rings and dresses are another aspect that the average bride usually has to work into a budget but if money is no object then top dress designers such as Jenny Packham and Caroline Castigliano are the go to's.  Other brides have their own private designer to create something completely bespoke.  No expense is spared on wedding jewellery with leading brands such as Graff and Harry Winston being favourites or for many wealthy couples, the re-design of a vintage heirloom is a common practice.
As for honeymoons, what are people generally going for? Are there any up-and-coming destinations/experiences?

When couples book their honeymoon, it is their one opportunity to book a trip of a lifetime. Destinations such as Africa and the Caribbean are still as popular as ever.  The chance to experience the big five in back-to-nature surroundings and luxury game lodges will never tire. Similarly, the unrivalled beaches of the Caribbean will always prove to be a big pull amongst couples who want ultimate relaxation.
There are new trends emerging however and this is particularly noticeable amongst the more affluent and well travelled. Excessive lifestyles back at home are seeing wealthy honeymooners just wanting to 'get away from it all'. Searching for the most remote of the remote, has meant that places like Vamizi Island in Mozambique have become a much sought after hideaway.
Spa retreats in themselves are not enough for today's discerning honeymooner who also want a holistic location steeped in positive energy – Gaia Retreat in Byron Bay is one such destination luring tired couples to it's unique spot on the most easterly point of Australia.
Other up and coming honeymoon destinations for 2015 include:
The Middle East – predominantly the picturesque desert destination of Oman.
Vietnam – for it's rise in luxury resorts but still surprisingly quiet beaches.
Sri Lanka – for its endless deserted beaches combined with rich culture from ancient ruins and vibrant city life.
Leave this field empty