Weddings in China
Highlife Asia Group has unveiled Destination Jet Weddings packages to the Chinese market today alongside preferred partner AVICUS Group.
The official event at Shanghai Hongqiao Private Jet Terminal included wedding couples and selected VIP guests to celebrate this unique launch to Chinese consumers looking for a luxury wedding experience.
Highlife Asia Weddings growing presence in China comes at a time when Chinese consumers are demanding more from their wedding. As large banquets in hotels become the norm, wealthy brides and grooms look to further afield for a 'one of a kind' designer wedding. Jet lifestyle is aggressively growing in the China market and with no other high-end wedding service provider offering this product; Highlife Asia Weddings are ushering in a new era for bespoke weddings.
The success of the launch echoes the growth of the estimated 84 billion Yuan a year wedding market in China, and emphasizes the changing tastes of the nouveau riche Chinese. Often educated overseas and well travelled, the modern Chinese bride and groom look to have unique weddings that go beyond the Mainland border. 
With Chinese hospitality based on treating friends and family on special occasions, one of a kind glamorous affairs that incorporated overseas experiences are at the top of engaged couples agenda. The past two years have shown Highlife Asia Weddings, the Shanghai based luxury wedding planner that Chinese consumers are creating two and three part occasions that include weddings on exotic beaches in South East Asia or castles in Europe before a return to China for a traditional banquet with hundreds of guests, and even a honeymoon to another exotic destination.
"The expectations of an affluent Chinese wedding party are vastly different from their western counterparts" said Mark Byrne, CEO of the Highlife Asia Group. "It's a chance to wow family and friends and put on a bigger and better wedding than any before, as well as opening up the world for family members who may not yet have much global experience.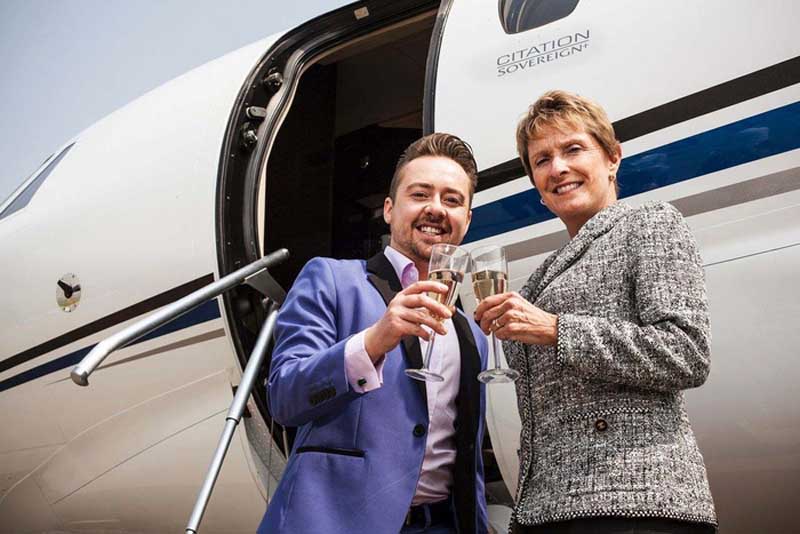 Despite most under 30's having independent travel know-how, we find newly engaged Chinese couples are unsure where to start when it comes to an overseas wedding, which is where we step in.  With our jet partner AVICUS Group providing the travel, having access to exclusive properties and our bi-lingual Wedding Planners assisting couples every step of the way from destination choice and couture wedding designers to handling legalities and visa issues, Highlife Asia Weddings works hard to make Chinese wedding dreams come to reality" enthused Mr. Byrne.
Private jet travel can consume a large part of any bridal party budget, but its value over cost is undeniable. Mr Byrne added "Even if you are travelling in first class on a commercial airline, you are still subject to the same queues, delays and operational decisions as anyone in economy." With access to local airfields and private terminals at larger hubs, private jet travel give the flexibility of time with no queues at check in or immigration, a departure of your choosing, no delays and often getting you closer to your final destination with smaller airports accommodating private but not commercial jets.
The cost of a lead in jet-set destination wedding is more affordable than many consumers realize. Highlife Asia Weddings puts its 20 years experience in the wedding, entertainment and aviation industry into unique wedding packages starting at only 68,888RMB per person, based on a party of 26 travelers travelling to many South East Asian island, 5 nights at a 5* hotel, luxury wedding ceremony, designer Wedding gown for the bride and many more amazing items to the list.
"With the uniqueness and bespoke nature of our private jet destination weddings, it means on average we can only create 12 magical events a year, ensuring all our resources are focused on creating outstanding weddings for each happy couple" said Mr. Byrne.