Have you thought about a pre-wedding pick-me-up for the delicate skin on your face? Taking care of your skin is essential for preparing the perfect base for wedding day make up. Writer Beth Mills ropes in her mum to try out some hot new beauty industry must-haves, perfect for pampering bride, and mother-thereof, in the run up to looking beautiful on the big day.
As a long time devotee of clean skincare brand REN, I was chomping at the bit (along with many other beauty writers, I should imagine) to take their two most recent products for a spin; the already award-winning Flash Rinse One Minute Facial, and the new "Keep Young and Beautiful" Instant Firming Beauty Shot. One of my favourite little luxuries in life is spending some time lavishing a little TLC on my skin. Doing my nails, exfoliating and moisturising my hands, or rejuventating the delicate skin on my face and neck is just my way of winding down. Some people go for a run, others read a book; I apply a face mask.
Naturally, when I got my hands on some samples of the new REN products to review I was keen to try them out straightaway, but it occurred to me that my review would be more useful, across the board, if I roped in a second guinea pig: enter my mum! Mum has never been into skincare in the way I am, and she visibly winces when I feed my addiction. "I ran out of face wash!" I cry, or "It was on offer!" But, ever supportive of the vital scientific research being carried out by brave pioneers like me, she agreed to try them out with me. I'm 28 and my mum is 62, and our skin types are quite different, so it seemed like a great basis for conducting the trial, plus it was just a fun thing for us to do together.
About REN:
If you don't know REN already, you need to. They have one of the most extensive ranges of products, catering for almost all skin types, available in the clean (i.e. free from: parabens, sulphates, petrochemicals and other skin drying and environmentally unfriendly ingredients) skincare market. I have difficult skin; in the summer I have the typical "combination skin" issues of oily t-zone and sun dried cheeks (what works for tomatoes doesn't work for faces, as it turns out) and I swear by the REN Clarimatte range. However, from October until whenever winter finally decides to buzz off, I suffer (and I mean suffer) from sensitive and dry skin.
My skin splits, chaps, flakes, stings, and raises up in red blotches in odd places (like the top of my right foot. Why!) and I discovered a few years ago that products with harsher ingredients – and you'd be surprised about which highstreet ranges contain these elements – might be absolutely fine for those lucky so-and-sos with naturally resilient and smooth skin, but they turn me into a scaly reptile. It ain't pretty. But enough about my heartbreaking struggle to find good moisturiser and back to REN: in short, I know first hand the value of splashing out a little on skincare and REN is one of my essential expenses.
The Test:
First up we tried the Flash Rinse Facial. According to the directions the blue, textured gel is first to be massaged into the face and neck in circular movements to gently exfoliate and buff away dead skin cells. The facial contains water-activated vitamin C, which starts to work when you massage the face again with wet hands. We both noticed a light tingling sensation when we did this, which isn't unpleasant but my mum did comment that she didn't like the smell of the product so was probably quite keen to wash it off. Rinsing thoroughly and then patting our faces dry with clean towels we both stood peering into mirrors and rotating our chins to examine every inch of skin.
Immediately we both felt our skin was softer, smoother, and firmer but not – crucially – tighter; I hate a tight feeling on my face that I usually associate with excessive dryness. Since my skin is drier than mum's I was particularly aware that I didn't feel the need to slather on moisturiser as soon as my face had dried, which I usually do after washing my face. The flash facial is a really nice product, which is gently and not corrosively exfoliating at first, and then satisfyingly tingly when mixed with water, making you feel as though it really is working away at rejuvenating your face with a shot of vitamin C. Price wise, retailing at £32.00 it's on the upper end of bathroom cabinet staples, but since it's designed to be used a couple of times a week, the 75ml tube would likely last a while. A great thing to keep in the drawer for the days your face needs a little injection of energy.
After waiting twenty minutes or so we were ready to try the beauty shot. I obviously get my investigative streak from my mum because she requested that, in the interest of science, I apply the product to only one half of her face so we can really see the results! (This is exactly the same method by which I test out anti-cellulite creams – one thigh at a time… Like mother like daughter). Wearing a white coat and goggles I meticulously applied the velvety cream to the right side of my mum's face and massaged it in until dry. I applied it across my whole face and neck.
Personally, at 28, I am probably not the right market for the Keep Young and Beautiful range, but I liked the way it felt on my face. I felt the result was a very smooth and matte skin surface, and the perfect base for make up without becoming too laden down with moisturiser. My mum wasn't overly convinced by the results, but I noticed a difference. The right side of her face looked brighter, "glowier", and the redness was reduced. As a further treat I also applied one of my current favourites, REN BB cream, and she was impressed with the results of that. It is a light, satin finish tinted cream which evens out skin tone and disguises dark circles without being cakey or drying out the skin. The beauty shot, as well as a Keep Young and Beautiful eye cream and serum, is available from renskincare.com for £36.00.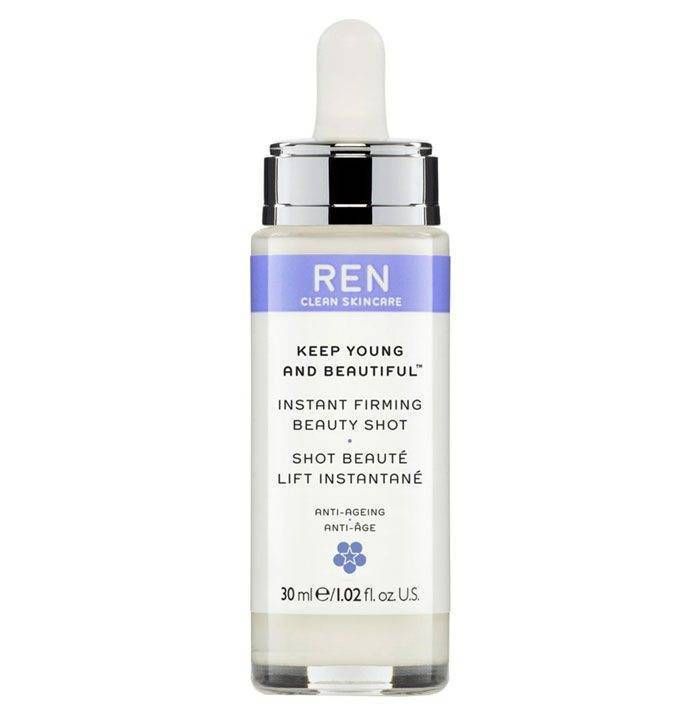 Of the two, we both felt that the Flash Rinse Facial was the most effective product for our skin types. I can see it becoming one of my favourite luxury products for occasional use, and even though I don't think I've quite converted my mum into being a beauty addict like me, I think she'll be raiding my supplies from time to time. I'm also keen to keep trying the beauty shot, especially on special occasions before applying make up, because the smoothing effect was great.
Written by Beth  Mills – 5 Star Weddings
Leave this field empty