We had such a wonderful stay at the boutique five star South Place Hotel in the City of London. Cool and chic, this is a unique hotel, and as we entered, we were greeted with a feast for the senses! A gorgeous scent for the nose, fun music for the ears and a beautiful hanging aeroplane light installation for the eyes –  what a welcome!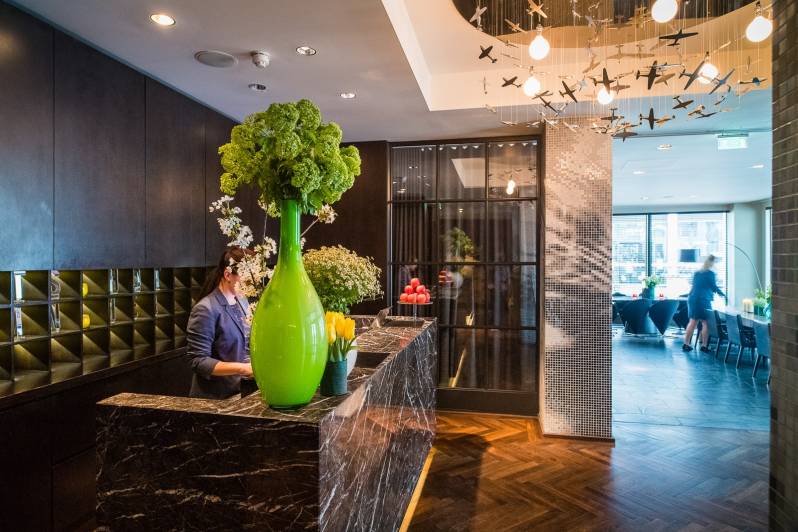 The art didn't stop there, with fun and quirky pieces dotted round the hotel. Fresh flowers and a flickering fire were complimented by sculptures and statues and fabulous design which makes this hotel a lovely, individual place.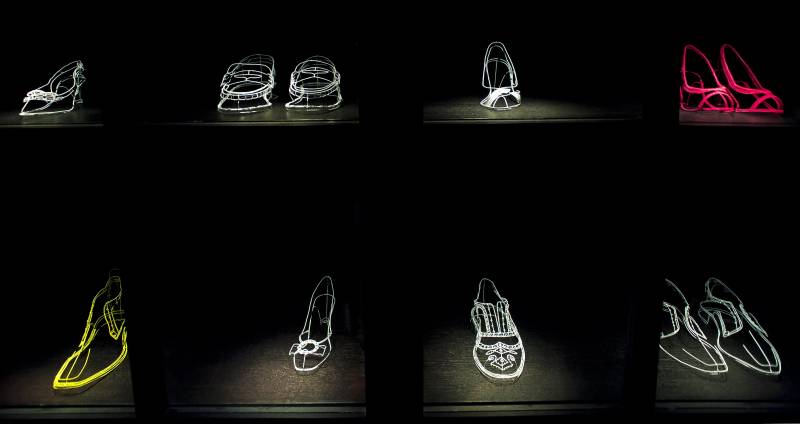 The room
We were shown to our room by Will – a bright and modern room with huge windows looking out over the city – perfect for just stopping for a moment and taking a breath as you gaze over London. The bathroom was exquisite; beautifully lit with dark grey tiles and little alcoves for the toiletries – there's so much thought that's gone into the design which makes it so relaxing.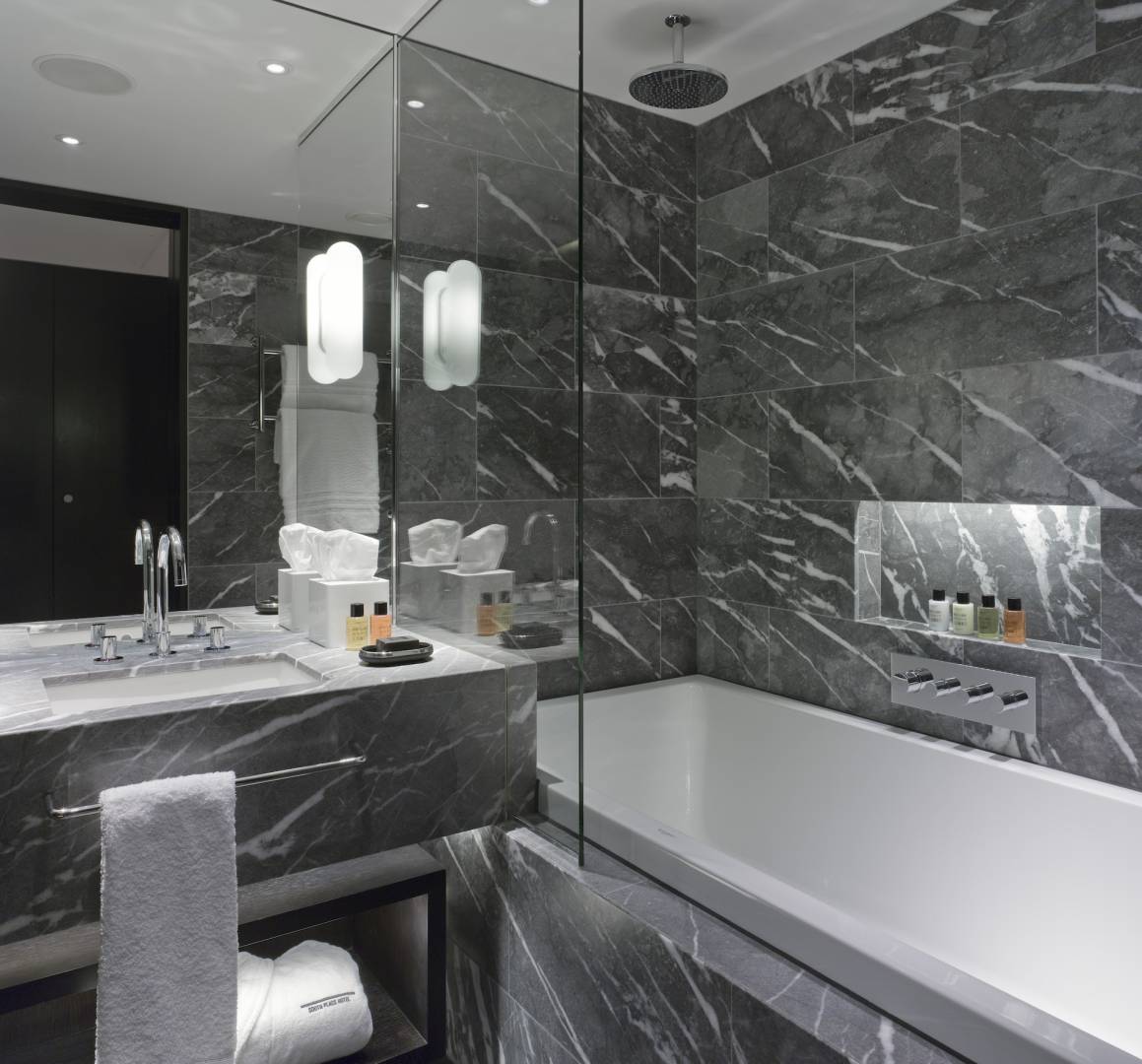 The hotel has 80 rooms and around 200 members of staff, but as we explored this fabulous place it became obvious that they don't just 'work' there; it's clear that this is THEIR hotel. They evidently love it and are passionate, friendly and invested in your stay being the best it possibly can be.
We stopped at the gorgeous cocktail bar to have a little peek at what was on offer. With fresh lavender, dried limes and more, the presentation of the drinks was exquisite and we enjoyed the beautiful summer vibes and stylish ambience.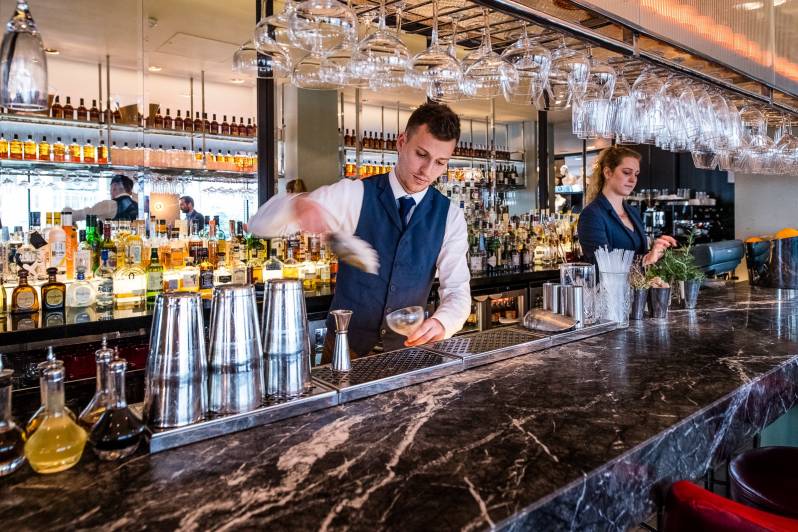 Dinner
Dinner was served at the South Place Chop House – a grill with a brilliantly British menu. Our waitress, Agnes was superb; lovely and attentive without being overwhelming, and so friendly! She challenged us to guess her accent, and was shocked when we got it right. (If you happen to find yourself in a similar situation, Hungarian is a wise guess 😉 )
The restaurant was buzzing, even at 6pm when we ate as our young daughter joined us. Late night at the Chop House sees a DJ appear, bringing a different vibe to the place. Cocktails were served from the glamourous cocktail bar – so beautifully presented, and nearly too good to drink! Strawberry for me and a coffee cocktail for my husband – refreshing and sublime.
We thoroughly enjoyed dinner; my crabcake starter was the best crabcake I have ever eaten, and my husband would definitely say the same about his pork chop main. The food was fresh, expertly cooked and beautifully presented. There's a great choice on the menu; your standard grill menu, but at its best. And those triple cooked chips…
Turn down
Dessert was delicious, we enjoyed sticky toffee pudding and a perfect white chocolate mousse before having another little wander and heading back to our room, which had been turned down for us. And it simply took my breath away. Almost as if they knew our anniversary was just that week, rose petals were arranged in a heart on the bed – on the softest duvet ever.
Breakfast
A relaxed atmosphere accompanied our breakfast the next morning with more friendly members of staff happily serving us and almost anticipating our every need. Avocado on sourdough with poached eggs, a full English and porridge and pancakes for our little family before I left my daughter and husband for a 90 minute Thai massage. South Place has a treatment room alongside a sauna, steam room and gym. By no means a full spa, but ideal for a small hotel. It was divine, a wonderful break from the real world and such a treat to just relax and chill out in the quiet by myself for a while.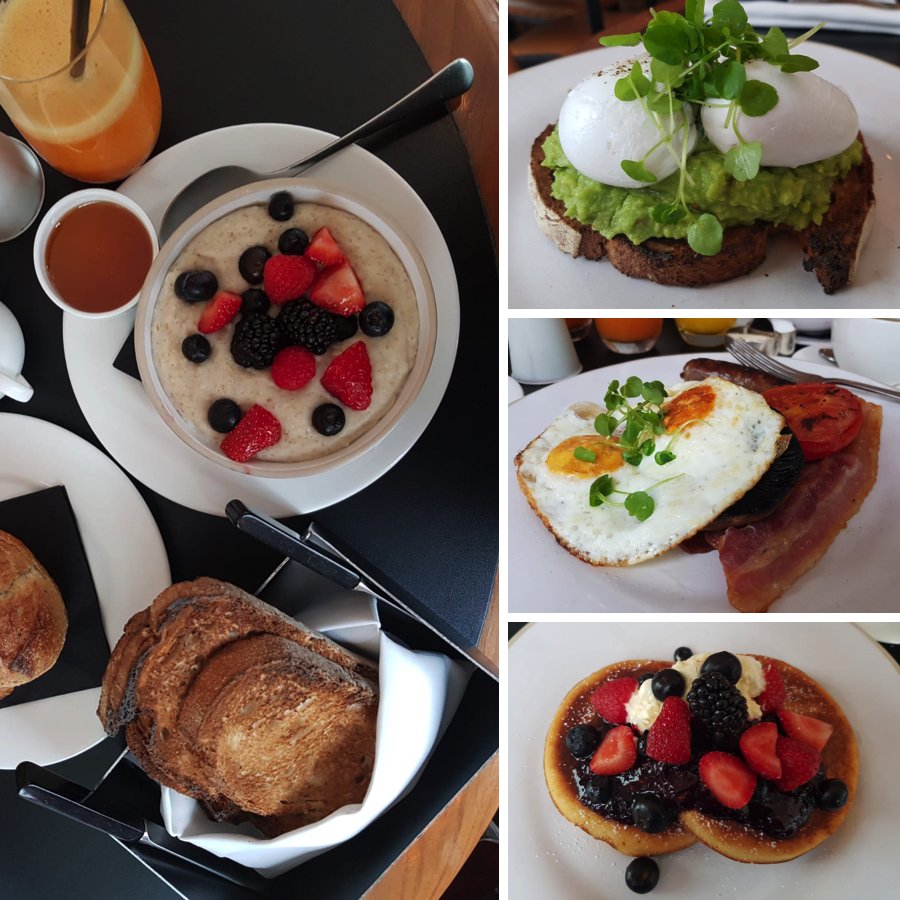 Weddings at South Place Hotel
I caught up with Will again, who had shown us to our room the previous day, to see what South Place has to offer in the way of weddings. They have a range of rooms and can cater for large or smaller weddings. The focus is heavily on design, and each room is themed, named after a movie character and taking on the style of that person. It's so fun, I loved looking round the different rooms. Peel is named after The Avengers' heroine, Emma Peel (the 1960s adventure television series, not the Marvel movies!), and has silver birch trees lining the room; Kuryakin is named after Illya Kuryakin from 1960's spy series 'The Man from U.N.C.L.E' and is painted red, with red leather chairs; and then there's the Secret Garden. With a retractable ceiling, this room brings a beautiful garden right into the heart of London. Roses hang from the ceiling, the floor is paved like a terrace and green leafy plants spring from every planter. This is such a sweet room! Catering for up to 80 guests, this room is perfect for a hidden tropical celebration!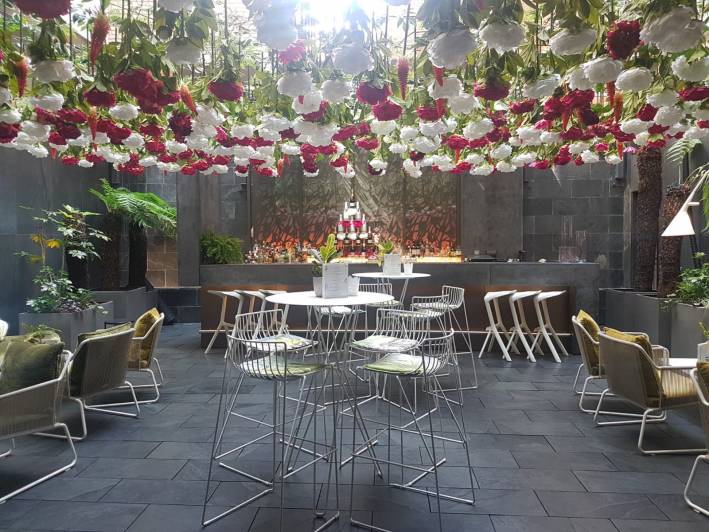 If you're thinking of celebrating your wedding at South Place Hotel, it's handy to know that they're licensed for civil ceremonies so you can enjoy your whole day there. You can even book out the entire first floor for exclusive use if you're planning a big party. They can cater for up to 200 guests.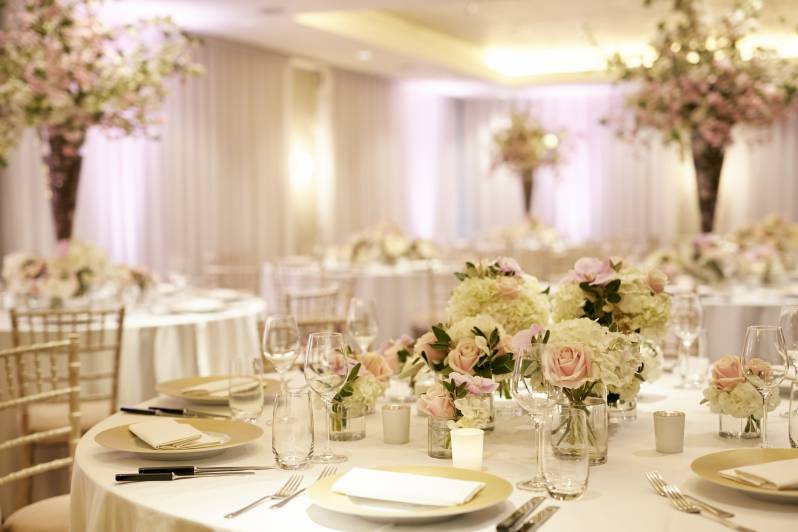 Their largest rooms combined are Purdey and Steed, with floor to ceiling windows and a neutral décor, ideal to bring your chosen theme or colour palette into. You can have your ceremony in here, or a wedding breakfast for up to 100 guests, or evening reception for up to 200.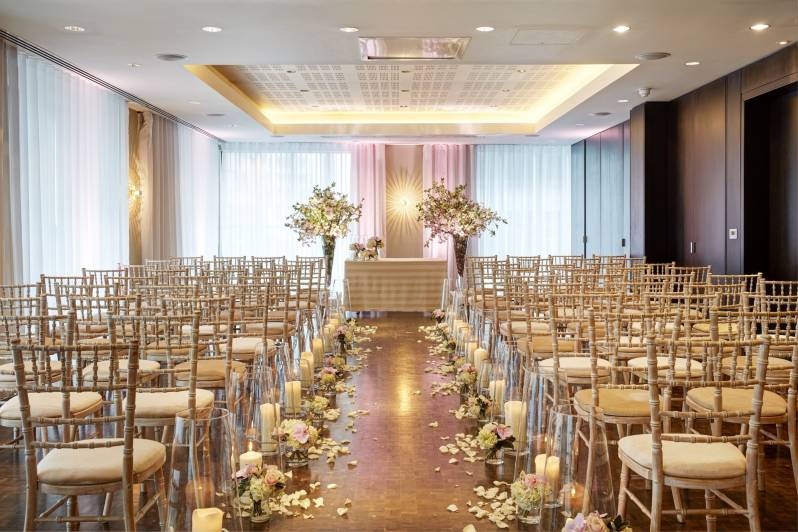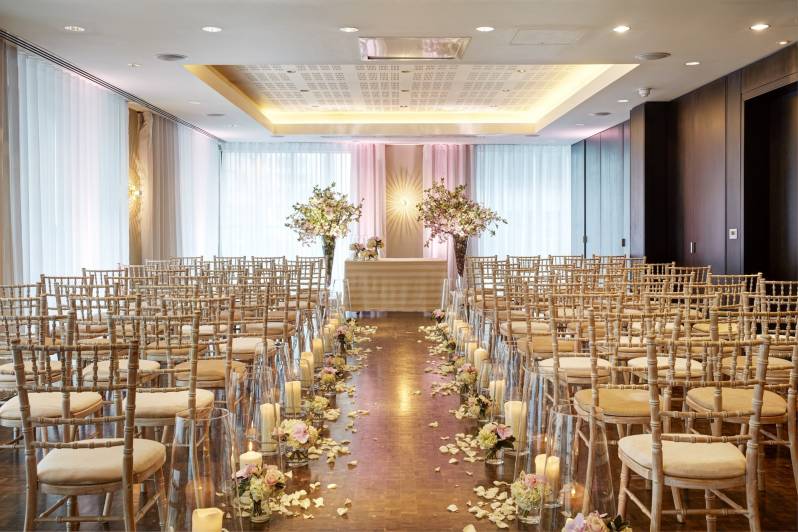 Peel and Kurykan are both perfect for a small dinner, seating 20 guests round a cosy, friendly banqueting table.
With the feel of a luxurious club room, Solo seats 20 for dinner and up to 25 for drinks and games – the dining table becomes the billiards table! This is the perfect boys night retreat – but the room can open up onto Le Chiffre, a speakeasy style bar, for a drinks reception for up to 100.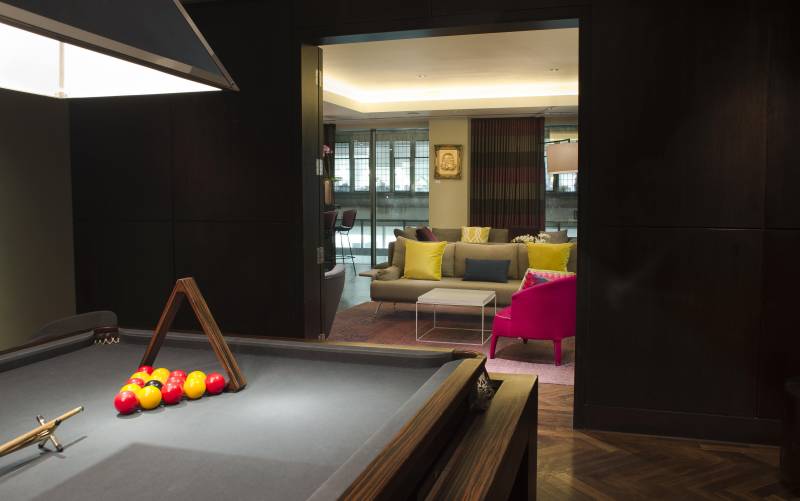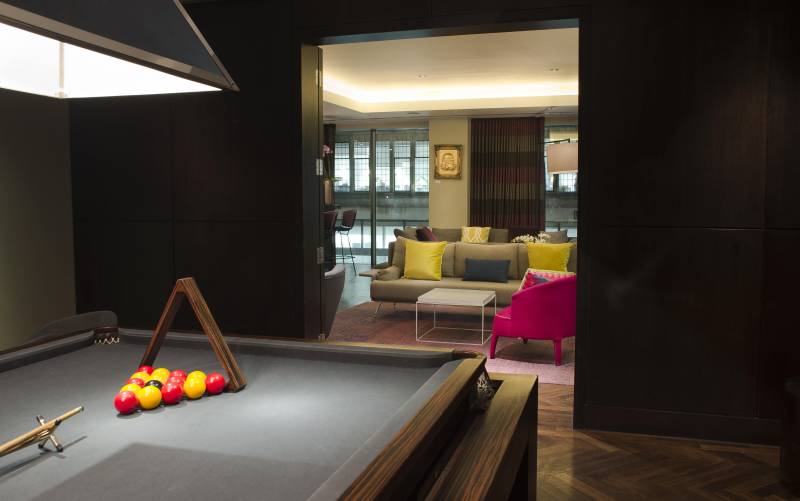 We loved our stay at South Place Hotel. With a strong focus on design, a passionate staff team and exquisite food, it's clear to see why it's a favourite for A listers. We can't wait to go back!
Thanks for having us!
3 South Place, London, EC2M 2AF, United Kingdom
T +44(0)20 3503 0000   F +44(0)20 3503 0777   E [email protected]