For honeymooners in search of green getaways, the travel experts at Luxury Link have recommended a trio of some of the world's most eco-friendly lodges nestled in the most diverse landscapes across the world.  With a new 'signature escape' available through Luxury Link, each property offers conscientious travellers a relaxing getaway in the heart of nature. 
Nestled in some of the most diverse landscapes across the world, this collection boasts a trio of secluded retreats each built with luxury and sustainability in mind. From a romantic eco-lodge on its own private island, a solar-powered sanctuary in a national park and a remote luxury beach camp, travellers can take advantage of inviting deals and experience an eco-friendly stay at each property.
1. East Lombok, Indonesia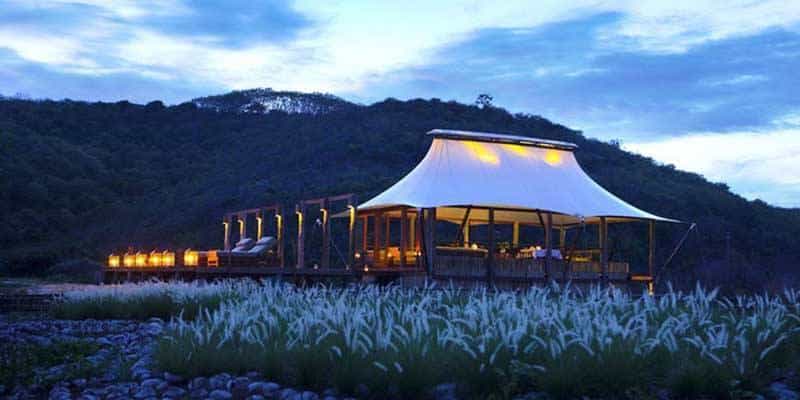 Hidden in a secluded cove, Jeeva Beloam beach camp allows visitors to escape life's every day stresses to one of the world's few untouched places. With just eleven Beruga Pantai (villas), each handmade using recycled wood and bamboo, and featuring a private covered terrace and oversized daybed, guests can enjoy unfettered views over pristine white sand beaches while basking in rustic isolation. Situated off the main power grid, the beach camp embraces its local resources and uses solar power to provide energy to the camp, while fresh water is supplied through rain catchment basins leaving guests secure in the knowledge of a low-environmental impact for the ultimate eco getaway.   
2. Puntarenas, Costa Rica
This solar-powered sanctuary hidden in the heart of Piedras Blancas National Park is accessible only by boat and offers an intimate ambiance and romantic charm to all holidaymakers. Sheltered by the surrounding rainforest, nature lovers and eco-tourists can fully recharge in one of the most biologically diverse destinations in the world, while enjoying a variety of adventure activities and wellness rituals. 
3. Granada Isletas, Nicaragua
Situated on a secluded islet off the shores of Granada, Jicaro Island Ecolodge offers peace, privacy and tranquility in a picturesque setting overlooking Lake Nicaragua and Mombacho Volcano. Each of the nine Casitas are hand-built entirely from timber reclaimed from trees struck down by hurricane Felix, reflecting the resort's intention of marrying luxury with care for nature and the local community. Guests can explore this romantic island with days spent kayaking along lily-lined canals and zip-lining through the Mombacho Nature Reserve, as well as nights spent dining under the stars on the resort's private floating deck.