Castell Son Claret
---
About
Mallorca the other way - Castell Son Claret merges pure nature, relaxing luxury, culinary delights and privacy to create the perfect setting for a real home-away-from-home experience. Just outside the village of Es Capdellà and only 25 minutes from Palma city center, the hotel offers 41 elegant suites and rooms.
Surrounded by Moorish gardens and their alluring scents of flowers, suites and rooms are of contemporary design, many featuring terraces or have a private pool. Castell Son Claret is located within 326 acres of unspoiled countryside at the foot of the UNIESCO protected" La Tramuntana "Mountains. It is also home to "Zaranda", the only two Michelin starred restaurant on the Balearic Islands, and "Olivera", where guests dine on the tranquil terrace.
The gardens provide the ingredients to the Castell cocktails served with a good story. "Bellesa de Claret" is the interpretation of an unrivalled spa experience – nature, personalized and professional treatments, soul and a smile!
A romantic wedding in Castell Son Claret is an unforgettable experience. In the historic buildings and on the grounds of the castle the bride and groom can celebrate a festive wedding with their guests, like a dream come true. Romantic courtyards and terraces are ready for a brilliant party. Idyllic outdoor areas invite you to look at the starry sky or the dramatic backdrop of the Tramuntana Mountains.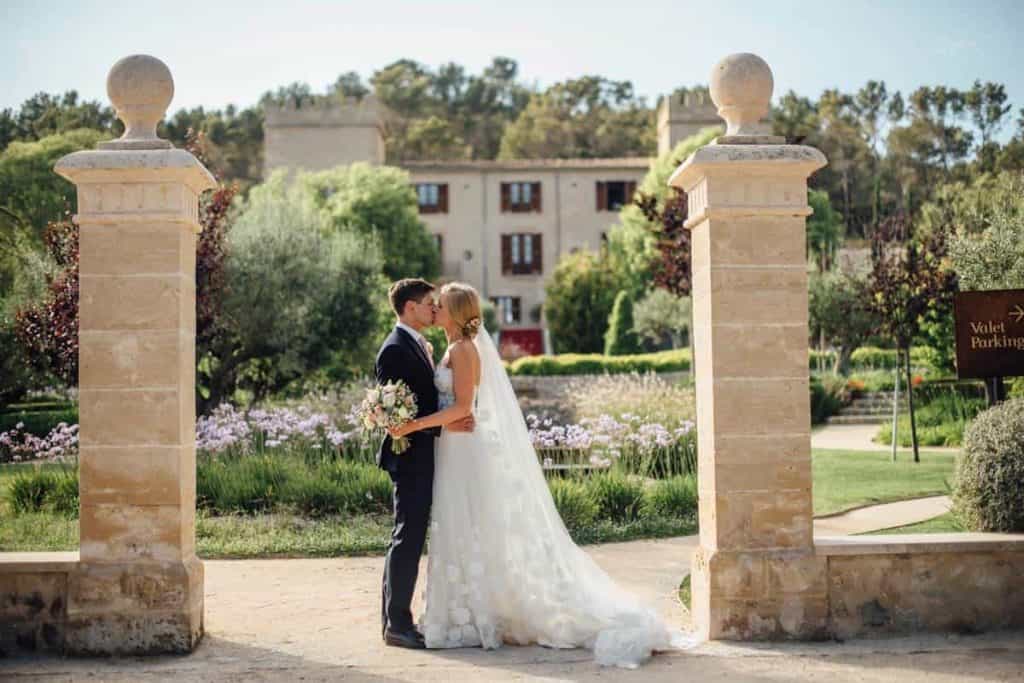 Apart from the hosts, the heart of every successful event is perfect service and an exquisite selection of culinary creations from the kitchen of celebrity chef Fernando P. Arellano. To make your wedding a unique, intimate and personalized event, Castell Son Claret should be booked in exclusivity. Invite your guests to your own castle!
The ceremony
There are many ways to tie the knot at Castell. If you want to be married in the Catholic faith, the ceremony can be performed in a Catholic church nearby. As a non-resident, you simply need to provide the Nihil Obstat from your local diocese, signed by your bishop, to be married in a Spanish parish. Protestant, Jewish or Orthodox weddings can also be performed in a sacred location. If you have already had a civil or church ceremony, a Blessing can be performed in the magical Castell grounds by our Master of Service. As this ceremony has no civil or legal obligations, it is also a fantastic way for couples to renew their vows.
Flower & decoration
Unless you are making your own arrangements, our Event Organiser, Mar Miralles with Team will be delighted to help you organise all aspects of your special day. Whether you feel inspired by the colours of the luscious Castell gardens or, if you have a very specific theme in mind – we can recommend the best Mallorcan floral designers to create a stunning display: from the all-important bridal bouquet and button holes to centre pieces for your reception and all other floral decorations. Prices on request.
Music & light
A celebration wouldn't be complete without a party. If you want to dance into the night, we can arrange an authentic Spanish guitar group, a band or a DJ, as you wish. We can also take care of the lighting for you. Prices on request.
According to the local law, outdoor music permission can been granted until 00:00h am and is subject to council approval.
Photographer
For memories to treasure for ever, we'll happily recommend a professional photographerand/or video operator to capture your special occasion. Prices on request
---
Additional Information
Venue Type: Luxury Boutique Hotel surrounded by pure unspoilt nature:
Venue Capacity: 120 Guests
Accommodation: Full Hotel, 38 Rooms & Suites
Exclusive Use: Why just dream of a fairy tale wedding in a castle, when your wish can become true? The wedding couples who tie the knot here gain exclusive access to the entire Castell, complete with all 38 suites and rooms.
Swimming Pool The west-facing pool area beyond the Castell lawn can be reserved exclusively for your ceremony, a cocktail reception or a BBQ at sun set. It can also be used for a delightful brunch with a capacity of 70 persons.
Spa BELLESA DE CLARET Luxury Spa
Castell son Claret - The Arrival Experience
FIESTA EN MALLORCA
Castell Son Claret Weddin
Best Restaurants Mallorca
Contact
Castell Son Claret
Carretera Es Capdellà, km 1.7
Mallorca
Spain
Features
The historic courtyards and palatial terraces offer an unrivalled romantic setting for your wedding.
A 2 Michelin-starred Mediterranean feast will delight your senses and wow your guests.
Pure unspoilt Mallorcan nature, an idyllic panorama of the Serra de Tramuntana and unique nights under the stars.
Reviews

Lou H
Yorkshire
WEDDING VENUE OF THE YEAR
The wedding venue of the year! I was lucky enough to stay here for my god daughters wedding and wow! the staff were amazing - the suite I was in 116 had a massive terrace over looking the gardens and hills the room was bliss and the bathroom with Ren products and every need was catered for. again..the staff were so efficient in every way to make the wedding two day extravaganza such fun. The food was out of this world. Thank you.
October 2018
Did you find this review helpful?
0
0