Belli Momenti
---
About
Aris Papachristou founder of Belli Momenti, runs it bearing a greater philosophy of exclusiveness and luxury in mind.
He takes your trust very seriously - it is after all the cornerstone of his philosophy -proposing ideas that you feel comfortable around, and go out of his way to excite you with new concepts and proposals.
However, the most important service that he will provide to you, will be the security to have someone at your side with plenty of experience!
---
---
About Belli Momenti
Belli Momenti is a full - service wedding planning and design company specializing in luxurious, elegant, boho, eco friendly or traditional weddings both on Corfu and Paxos islands in Greece.
Our concern is to fulfill your desires and also give you the best quality as far as it concerns the services and the characteristic aesthetic, which makes us rather special.
Today Aris Papachristou as leader Wedding Planner & Celebrant for Symbolic Ceremonies together with his precious Corfu wedding planners in cooperation with a group of top professionals, provides each couple with services of wedding planning, according to their special requests.
We are looking forward to inspiring you and create together your beautiful wedding in Corfu island or in Paxos island, Greece. We take pride in knowing both Corfu and Paxos islands wedding market, better than anyone. The only thing missing out is you!
---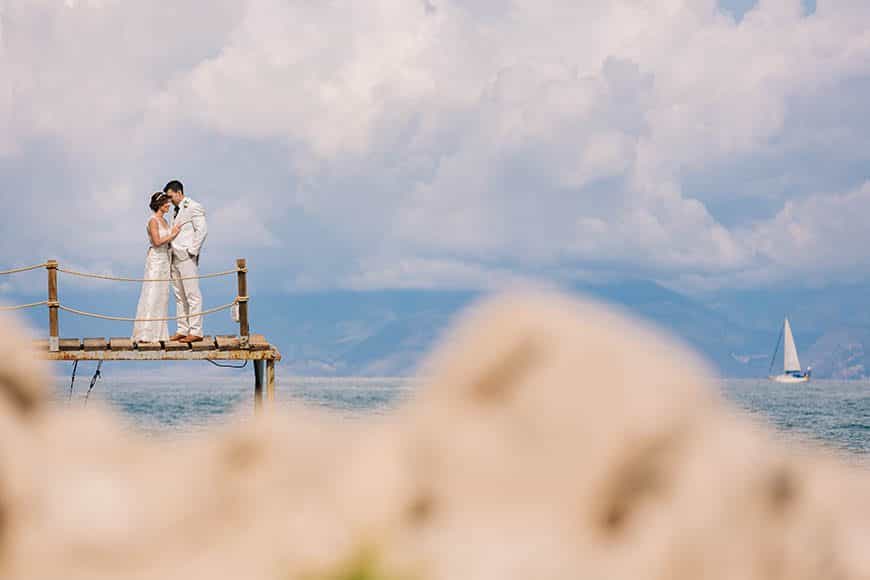 ---
About Corfu
Corfu, it's a unique Greek island that gives one the ability to combine the delicacy of an elegant place with the simplicity of a typical Greek island, accomplishing, until the last detail, the challenges of an extra fine wedding.
About Paxos
Turquoise waters, picturesque villages, the unique fjords with the sea caves! The ultimate place for elegant style enthusiasts.
"Legend has it that the island of Paxos was created when Poseidon, God of the Sea, was looking for a romantic retreat to spend time with the alluring sea nymph Amphitrite. In his quest for perfection to impress the lovely Amphitrite, he threw his trident at the southern tip of Corfu and separated a tiny piece of land which now forms the beautiful island of Paxos."
Are you still wondering why you should organize your fairy-tale wedding in Corfu or in Paxos islands?
Contact
Alepou 49100
Corfu
Greece
Reviews

Mederic & Deborah
Toulouse, France
This day was just a perfect day…
It is not anything to organize a wedding and especially if it's abroad. My future husband and I decided that we needeed help to realize the bohemian wedding we were (I was) dreaming of. On a friend's advice we decided to contact a good wedding planner she knew, in October 2015, and that's how we met Aris! He answered in maybe less than 1hour, very positively and anthusiastic… the wedding was for August 2016. Aris is a very kind man, who knows very well his island, all the restaurants, venues, professionals that will work for your wedding and how to get things done. He listens very carefully to what you have to say, in order to get to the smallest details… He told us when something was not possible, but always came up with a solution… usually even better than the first idea. Thanks to him, the 25th of August 2016 will be a day that we will remember all our life… Everything was very well organized and he was there all day long… The only stress I felt was when i had to walk down th aisle!! All our friends and family were also amazed and had a great time. One of my uncle told me it was the most beautiful wedding he ever went to(!). Just to say how Aris can put magic on a simple idea and organize all of it so beautiffuly…. Aris, we'll never find the words to express fully what we're feeling, so simply thank you a thousand times, you're the best!
September 2017
Did you find this review helpful?
0
0

Vangelis & Valeria
Geneva, Switzerland
More than a Wedding Planner
We met Aris in September 2015 in Korfu after we had talked first on Skype in April 2015. From the first moment Aris was to us much more than a Wedding Planner – a friend, an advisor and a supporter. During the planning of our wedding Aris was always at help when uncertainties occured and showed us possible solutions. He is a very energetic and creative person. With this in mind we started our wedding day on 3rd September 2016 very relaxed and it turned out to be a real fairytail wedding. Everything was just perfect and well-organized. Our guests felt taken care of and Aris was the whole day by our side to handle everything in the background. We are very thankful to him for everything he did for us and we strongly hope that he and his wonderful family will visit us soon in Switzerland!
September 2017
Did you find this review helpful?
0
0