On a beautiful autumn afternoon, a private address in north London was the venue for a very intimate celebration. 
Visionary wedding and event designer Michel Camilos teamed up with exclusive cake designer Yevnig Davis to create an exquisite and unforgettable experience and bravely chose to go 'al fresco'.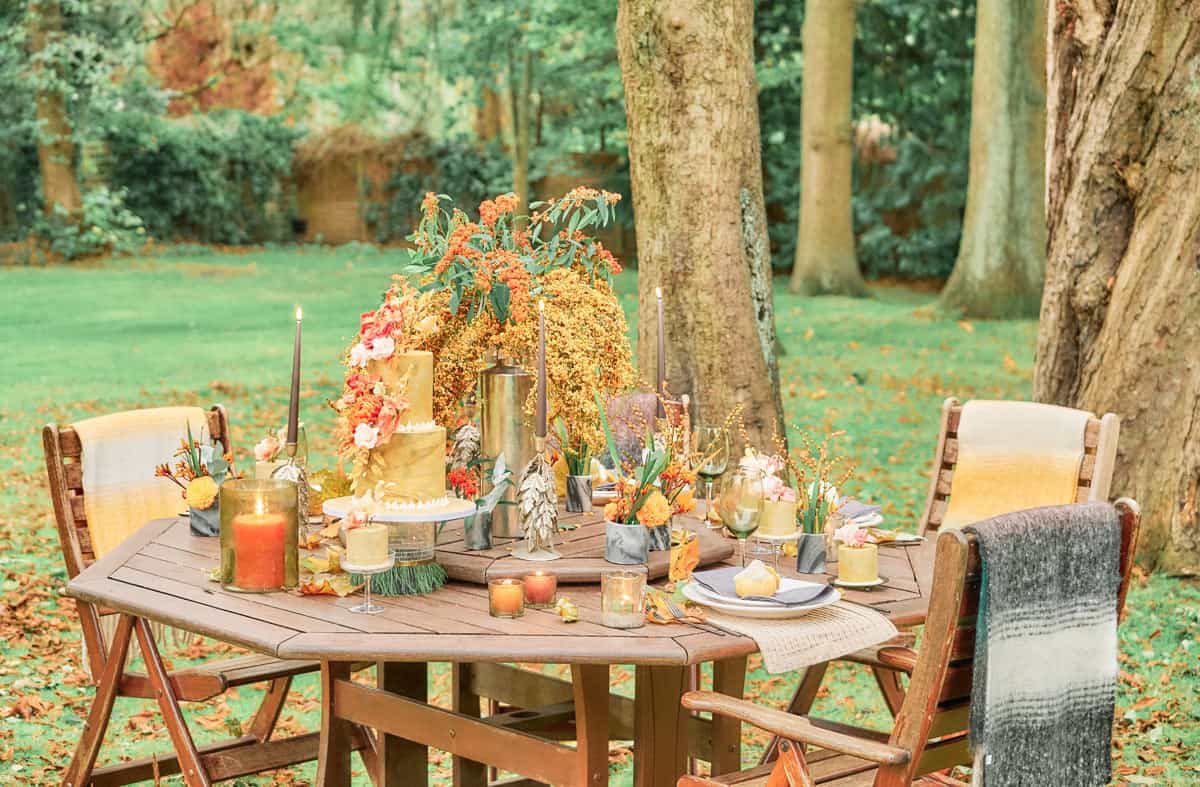 Creating such a warm and cosy atmosphere and all duly captured by the lens of luxury wedding photographer Stuart Wood, here is a glimpse of the private event.
Using a diverse palette of amber, honey, green, orange and brown tones all combine to create a setting that sits perfectly and literally amongst the autumn leaves.

What makes this an even more vibrant gathering is the choice of food and its colours, like the Lebanese pistachio green cotton candy that topped the mini pumpkins, as well as the combination of modern and classic accessories from Misk Boutique and all carefully selected to complement the seasonal warmth of a London garden in the autumn.

As for the enchanting cakes, Yevnig of Unique Cakes by Yevnig says, "Michel kindly shared with me some inspiration images of a few decorative items that would be used to display on the table of the event. The 2 tier delicately decorated cake was inspired by autumnal features, colours, and feelings of nature. The icing was inspired by nature's colours, amber honey yellows, and greens, as they fade and merge into each other creating a lime green beauty in places.
With the accents of silver & gold splashes to reflect the crisping effect of the leaves and the darker tined foliage and flowers. My choice for flowers & berries arranging was in an organic bursting feel, with the colours and arranging with an array of flowers that embodies Autumn, with a tumbling effect in places, inspired by the free-falling leaves.
The colours of the foliage were a combination of the classic autumnal leaves with faded greens, yellows, brown oranges and a hint of burnt red. A selection of miniature cakes complemented the main feature cake in petit, individual presentation – each delicacy serving 1-2 people was the most exquisite gift to thank the client's guests An event which was a total pleasure to be part of for this time of the year."I think that we can all agree with Yevnig on that last point.

Credits
Event design and Styling: Michel Camilos – Instagram @michelcamilos https://www.michelcamilos.com
Cake: Yevnig Instagram @uniquecakesbyyevnig http://yevnig.com/cakes/
Photography: Stuart Wood Instagram @stuartwoodphoto http://stuartwoodweddings.com
Accessories: Misk Boutique Muswell Hill Instagram @misk.london https://miskboutique.com