Whilst we wait for Hayley Paige to release her Spring 2019 collection, we've fallen in love all over again with her 80s inspired Fall 2018 dresses. You can see the full collection here, but we've picked some of our favourites for a cheeky peek – keep scrolling!
Hennessy
Err, hello pretty ombre tulle skirt! In love with the pink and purple soft tones running through this and the sparkling crystal encrusted bodice with its deep V back.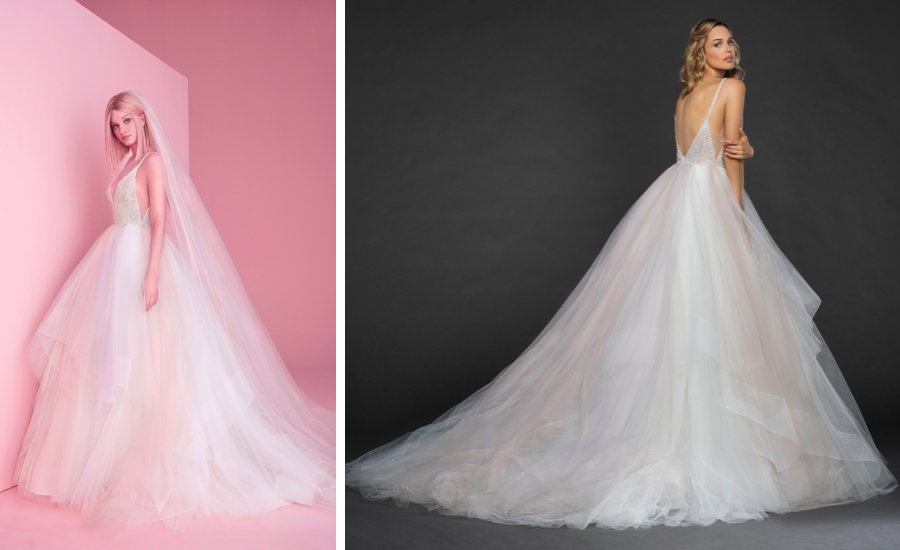 Harley
Well you don't see a striped bridal gown very often! But I love this one! And the sleeves are removable, so you can customise your dress your way!
Billie
Feeling all the love for this blue dress! I adore the sparkling detailing on the back and straps, and the colour is just stunning. And then a tiered skirt?! This one is a show-stopper.
Warren
Ok, let's just stop and appreciate dress perfection for a moment. Rhinestone bodice, feature keyhole back and a slit skirt? This just might be my favourite dress in the collection.
Aldridge
Flouncy skirt alert! Gorgeous cascading layers and a feature back add the prettiest detail to this dress. And there's a matching veil!
OK, enough swooning from us, go and check out the full collection at JLM Couture.
---
Hayley Paige Spring 2018