As we fall into a new season, you might be thinking about a wedding next year. If you're after a spectacular location for an Autumn wedding, look no further than our five top picks for luxury around the world.
Lake Tahoe, California
Combining the beauty of lakeside tranquillity and mountain scenery, Lake Tahoe is a perfect spot for an Autumn wedding. Boasting some of the best autumnal foliage in the whole of America, and with its bright blue waters and mountain views, this is a spectacularly colourful autumn choice. Hire a luxury house and have the ceremony right in the back garden with the lake as your perfect backdrop.
Aruba
The Caribbean is always a favourite spot for a luxury destination wedding, and in Aruba, you don't have to worry about hurricane season. Sitting in the Southern Caribbean, far from the hurricane belt, Aruba boasts the perfect combination of sunshine and gentle sea breezes. And with the summer crowds gone, your Autumn wedding on a beach of white sand will be a spectacular occasion.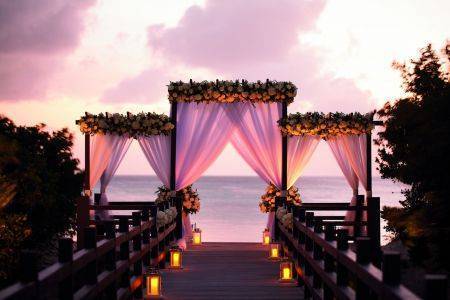 Bali
Whilst we enjoy Autumn's colours of russet and gold, the Southern Hemisphere is starting to move into the warmer seasons. Indonesia may be a fair distance from us here in the UK, but there couldn't be a more stunning backdrop for your nuptials than surrounded by lush tropical rainforest, thatch roof villas, and even an option for holding your ceremony in an oceanfront floating chapel. Pure indulgence, brilliant luxury.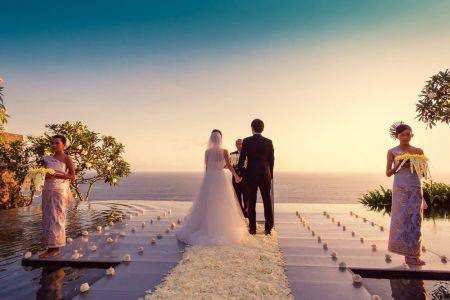 The South of France
A bit closer to home, the south of France enjoys warm Autumn temperatures and beautiful sunlight, still perfectly warm and balmy enough to enjoy an outdoor ceremony or cocktail reception. Surrounded by rolling vineyards and beautiful tranquil countryside, this is a perfect location to wed. Choose a romantic, historic château set in acres of gorgeous gardens, a luxury Riviera hotel with private beach or a cute French chapel among the cobbled streets.
Yosemite
Tuck yourself away in the woods and wed among the majestic, fragrant pines. Yosemite is one of America's most beautiful national parks, and would serve as the perfect backdrop to your fairytale wedding. Hold your ceremony with the breath taking elegance of a mountain view and then treat your guests to fireside hot toddies as you take in the exquisite Autumn colours. You and your loved ones could hire a luxury lodge, country mansion or choose a cosy hotel nestled amongst the trees and rivers.