Just a hop, skip, and a jump from the amenities and transport links of Milton Keynes, Horwood House is a highly photogenic, ivy covered red brick manor in Little Horwood, Buckinghamshire. 5 Star Wedding Directory was kindly invited to come and look around the magnificent Edwardian mansion, which sits at the end of a sweeping driveway, and surrounded by acres of luscious grounds.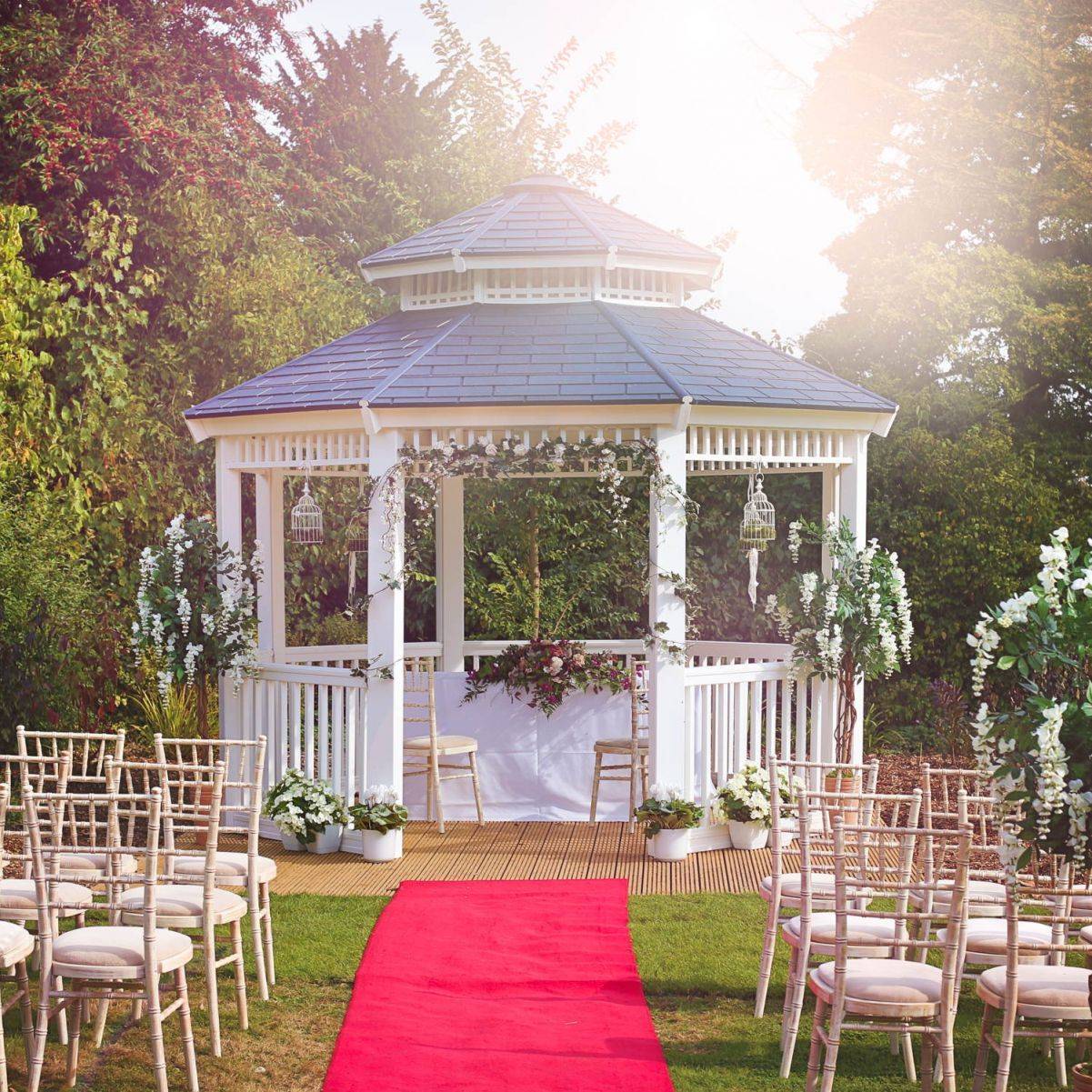 The options for those planning weddings at Horwood include indoor and marquee options, but the real dream spot for romantic summer ceremonies is the garden pagoda. This adorable white dwelling, strewn with flowers and decorated with lanterns, is situated in an idyllic location within the grounds, surrounded by trees and close to the lily pond. We could just imagine how gorgeous a Boho-inspired bride would look, walking down the aisle towards the pagoda, followed by little bridesmaids, wild flowers in their hair… If you're looking for a free-spirited and fairytale setting for your wedding, Horwood House is a must-see.
There's a wedding planning team on hand at the venue to assist with all planning details, and of course provide the food and drink. The food we were served was lovely, and the staff were all extremely hospitable and welcoming, which makes a big difference when choosing a venue because you can rest assured everyone – from you and your new husband or wife, to the most distant relative – will be looked after on the day
We thought Horwood House ticked so many boxes as a lovely venue – the facade of the house is so picturesque, ideal for timeless and classic wedding photos; the gardens and grounds are lovely, and the service was great. Added to this, the accessibility of Milton Keynes – as well as surrounding towns well worth visiting such as the historic Buckingham and lovely market town Winslow – Horwood provides countryside idyll with the convenience of nearby transport links. There is also plenty of basic, but perfectly comfortable, modern accommodation available so there is huge capacity to sleep as many guests as wish to stay. For any Buckinghamshire based wedding planners, Horwood House should definitely be on the short list of venues to visit.
Weddings at Mansion house
See www.horwoodhouse.co.uk for more information. Pagoda ceremonies are subject to weather, and are available May to September.