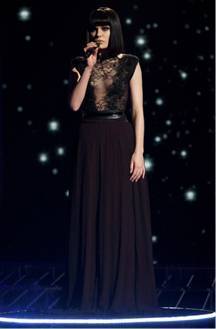 It was a starring role for White Gallery exhibitor Katya Katya Shehurina as one of her latest pieces featured on the prime time TV show X-Factor being worn gracefully by UK Superstar Jessie J. The sophisticated black and burgundy dress with its intricate lace bodice, caused rife speculation with discussions appearing on fashion websites asking the question "who designed the dress?"
And it's not the first screen appearance for Katya Katya Shehurinas designs – in 2009 Katya created costumes for Russia's version of the talent finding programme which received an equally rapturous reception.
The Latvian born designer's collections are feminine and playful, sometimes very extravagant, but also eminently wearable. Combining floaty layers and clever draping with opulent details such as lace, oversized flowers, jewels and tassels the look is distinctly feminine with a dramatic edge.
Katya Katya Shehurina will be exhibiting for the first time as a 'New Talent' at White Gallery London 20-22 May 2012.