If it's one thing that Scotland has, it is a seemingly unending supply of castles, fortified manor houses and exquisitely appointed hotels to make your choice from during your search for luxury Scottish wedding venues. In fact, in Scotland, you will literally be spoiled for choice – each location more delightful than the charm of the ones you previously visited. How do you choose when each is lovelier and statelier than those you viewed before when all are clearly luxury Scottish wedding venues fit for royalty? A search for the perfect wedding venue in Scotland is probably one of the more difficult things you have ever had to do: not because of the dearth of venues, but simply because so many are eminently suitable you just won't be able to choose between them!
Scotland is a country that occupies the top third of the UK, bounded on its eastern shores by the North Sea and, on its northwestern shores by the Atlantic Ocean and, to the south-west, by the Irish Sea and the North Channel. Although Scotland is contiguous with the mainland of England, a further 790 islands belong to the Scottish mainland. Basically, the Scotland of today is divided into 32 unitary authorities, with Edinburgh as Scotland's capital city, as well as five other cities in Scotland: Aberdeen, Dundee, Glasgow, Inverness, and Stirling.
If your dream is peace and tranquility and breathtaking beauty then one of the luxury Scottish wedding venues you might consider is Ardanaiseig Hotel, whose grounds run gently into Ben Cruachan which then fall away into the natural wonder of Loch Awe – aptly named when you look around you and take in the breathtaking tumble of wilderness that is the panorama viewed from the Ardanaiseig Hotel. Remote its location might be but nothing is truly remote in Scotland.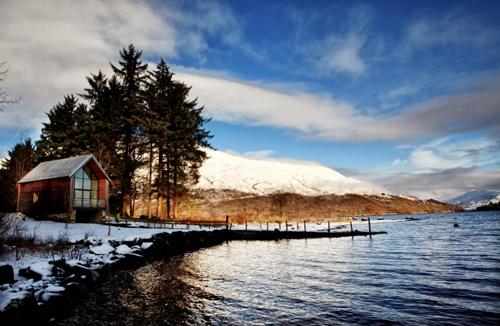 The restaurant belonging to Ardanaiseig Hotel has recently been awarded the status of Romantic Restaurant of the Year for 2010, whilst the Ardanaiseig Hotel itself has acquitted the accolade, Intimate Wedding Hotel of the Year, 2010. Not to be left out, the 2010 Housekeeping Award is a gold medal, along with that of the Chef as well for 2010. With accolades such as these, the location and the views, where else need you consider for luxury Scottish wedding venues when the Ardanaiseig Hotel has so much to recommend it?
Ardanaiseig Hotel lies to the west of Scotland, north-west of Glasgow and not too far from Oban. However, Scotland covers many square miles and Ardanaiseig Hotel may not be in a location best suited to you and your wedding party. A Scottish castle you might consider is Dalhousie Castle, on the outskirts of Edinburgh and within easy access of Edinburgh airport. Dalhousie Castle is steeped in history, a place where the ill-fated Mary Queen of Scots stayed at one time; it even provided a roof over the head of Edward I at one time, showing how old Dalhousie Castle really is.
Of course, considering luxury Scottish wedding venues could never be complete without something that is just a little different – and, how could you get more different than the Rua Reidh Lighthouse, situated south of Ullapool, on the top of a remote cliff with the small community of Gairloch not too far away. Rua Reidh Lighthouse really is a find when it comes to wedding locations. There is even accommodation available for guests, where they can stay in the Old Keeper's House and take advantage of the peace and tranquillity of the cliff-top seclusion whilst enjoying all the benefits of true home cooking. How can any other luxury Scottish wedding venues possibly compete with Rua Reidh Lighthouse as a place to exchange your vows and celebrate your special day?