Putting your style stamp on your wedding stationery
The eagerly anticipated wedding retail, planning and inspiration destination The Wedding Gallery is set to officially open its doors next month and we are just so excited to be media partners for this unique concept.
Bringing together the collections of over 200 brand partners within 20,000 sq ft of architecturally designed underground space, The Wedding Gallery is destined to be the go-to hub of wedding knowledge.
The Wedding Gallery is sharing with us regular snippets of insider inspiration from the brand experts and this week's theme is how to put a personal style stamp on your stationery.
Keep it personal
Starting with the invitation, the wedding stationery sets the scene for the whole occasion and is the perfect opportunity to share your personal story as a couple.
Helen Sharland, co-founder of laser stationery specialists Cutture has some great advice, "€œOur main advice to couples when planning their wedding stationery is to create something that is personal to you. This is an opportunity to tell a unique story; be it literally through illustrations of your life or with subtle details that maybe only you know. Keeping it personal is always the best way to create something unique and memorable."
Chris Pollard, Business Development Director at Armorial Paris supports this view. He says, "€œThere are so many possibilities to choose from so we prefer not to try and '€˜compete€' with what couples may have seen or liked, although this will naturally influence the concepts. It is important to reflect their personalities within the stationery. Anything that can be incorporated – whether a colour or motif/graphic – that truly means something to them (and perhaps the recipients will '€˜get it'€™ too) is what will set them apart."€
Ruth Kaye, Founder of Ruth Kaye Design agrees, "A personal touch is so intrinsic to the way we work. The detail is often where we start our discussions with the couple and the stationery is designed around it. Detail can be as important as a complete colour scheme, overall branding for the event, a bespoke illustration or even the couple's love story (and we have really heard some good ones!). We have also been known to incorporate a secret, nostalgic detail that only the couple know about or are able to decipher hidden somewhere in the invitation."
Avoid the trend trap
While it can be useful to look at trends to determine what you do and don'€™t like, be mindful of not falling into the trap of choosing a stationery style solely based on a current trend.
Founder of Elmo Paperstories, Sadaf Michaelsen says, "Trends will always come and go and you don'€™t want to look at your pictures in five or 10 years from now regretting your choices. If you have a vision in your mind for your stationery then just go for it! This can be influenced by the venue, your love for animals or astrology or perhaps your heritage."€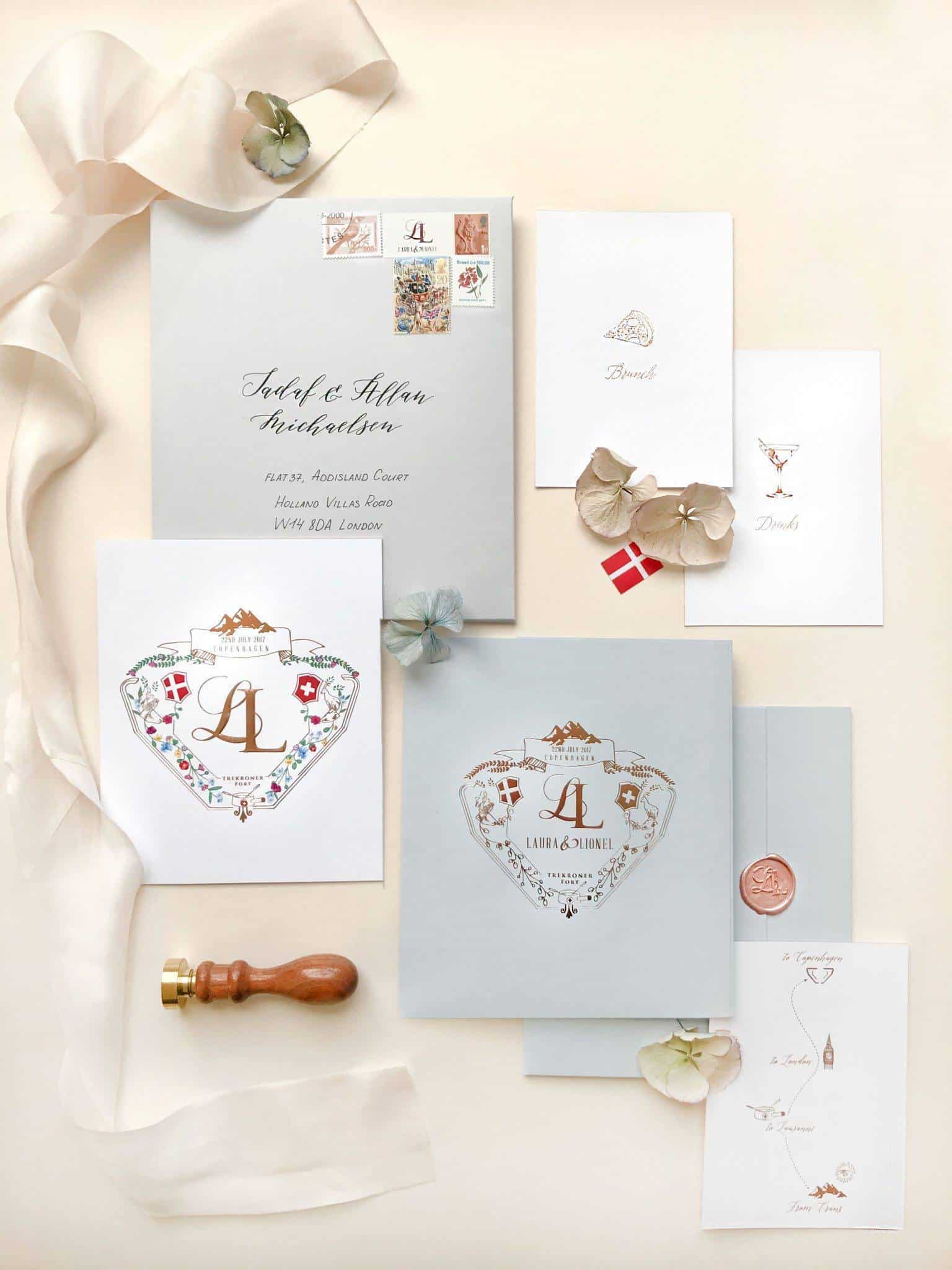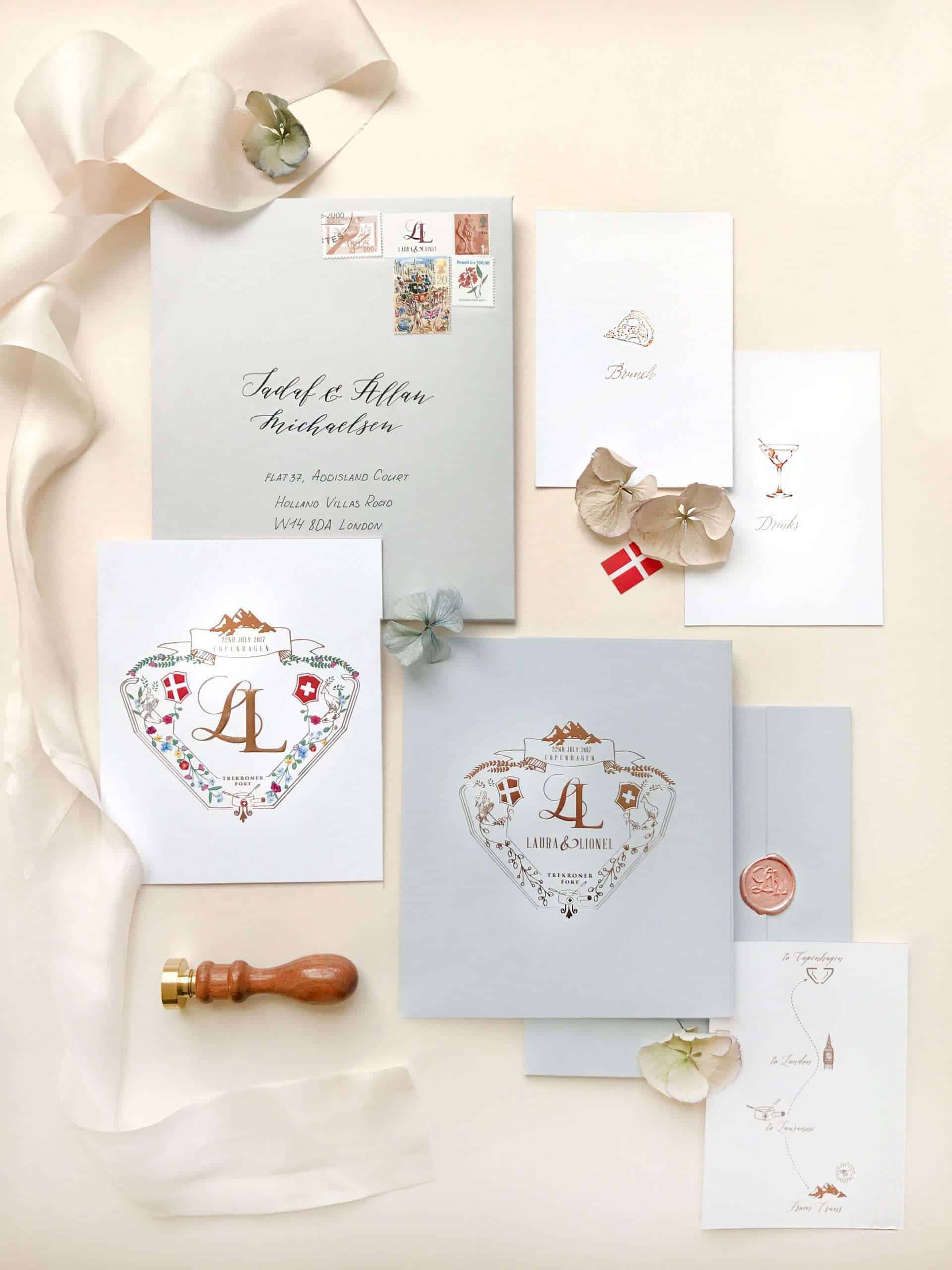 "€œWe always try to balance a couple'€™s wishes to be 'current'€™ with their own personal style and identity. For example, we worked with one couple who loved minimalistic design but also wanted to incorporate their grandmother'€™s handwriting so we created a bespoke stationery suite that reflected this" says Sadaf.
Designer Louise Richardson supports this, commenting, "€œIntroducing an unusual colour palette can set your stationery apart and give it a unique look. Steer clear of using pink or neutrals as this seems to be endlessly popular and instead create a design that will never be repeated for anyone else. The stationery will then become a very personal keepsake, both for you and your guests."
Push the boundaries of creativity
Gone are the days of simple stationery printed in black and white -€" new print techniques are pushing the creative boundaries across all elements of stationery design and now'€™s the time to embrace them.
"A beautiful invitation we recently produced included a stunning lasercut gate-folded outer cover, embellished with gold olive branches and held together with a hidden magnet," says Chris Pollard of Armorial.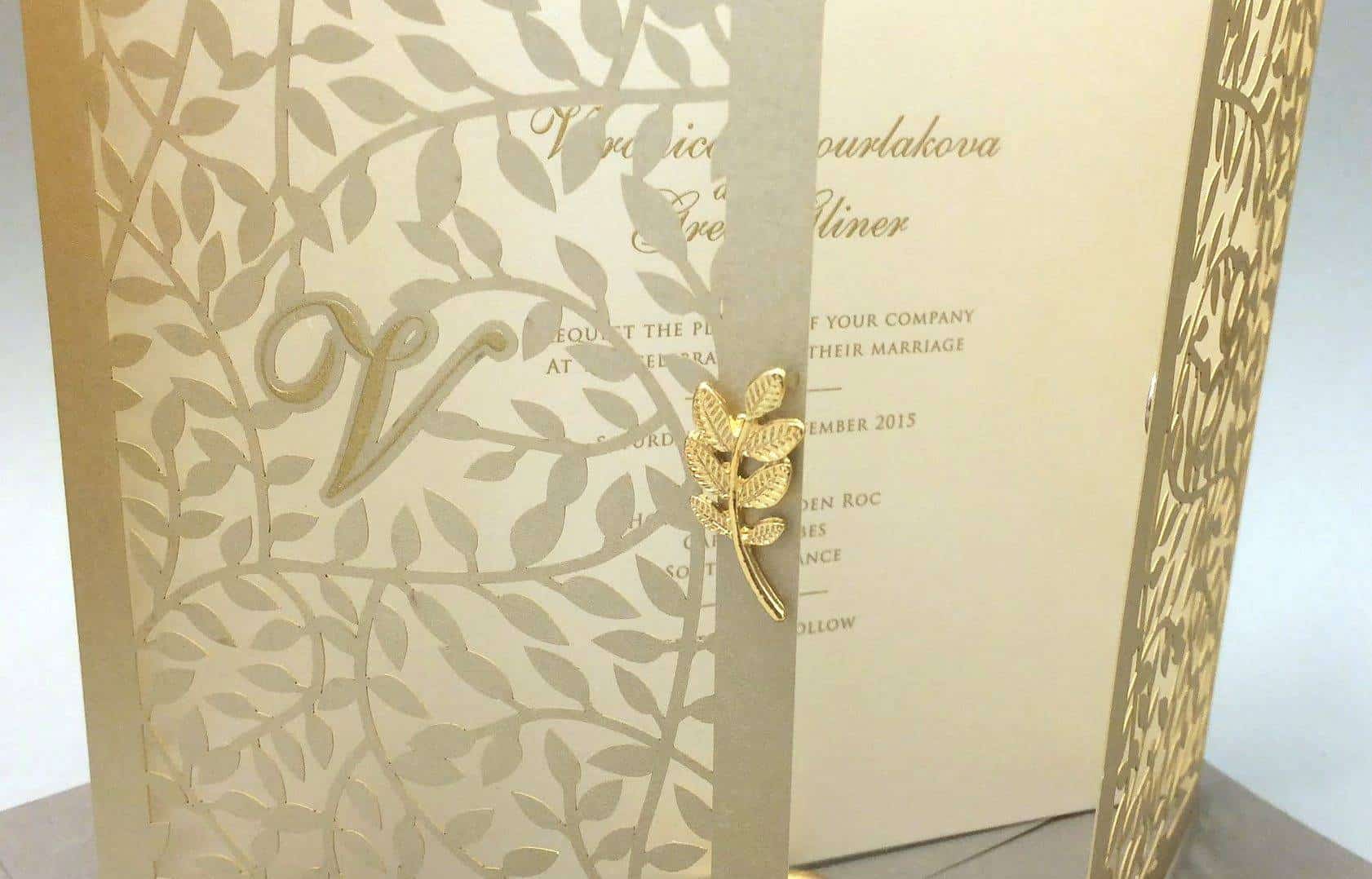 Helen Sharland at Cutture advises, "We have created many invitations which are full of specialist print processes as well as sensory elements such as scented invitations, sound, video and recently, augmented reality. Every bespoke creation is a huge undertaking as everything is individually made and hand finished. One invitation could have 15 processes and then that has to be multiplied by hundreds for the quantity required. We are currently working on a beautiful snow globe wedding invitation with the couple in a lasercut Christmas scene. That one is pretty special!"
Less is often more
"€œIt's a cliché, but less is more,"€ says Chris Pollard at Armorial. "€œAvoid overcomplicating the design and keep wording to a minimum. Of course you need to have all the information there, but avoid clutter. Avoid mixing typefaces too; use two, max (sometimes three will work) and keep them consistent. The same with colour too.€"
"It doesn'€™t need to be overcomplicated" agrees Sadaf Michaelsen. "€œUnless you know months in advance what your wedding day will look like, you won'€™t be able to include all the details in your Save the Date cards. The cards have a purpose and should be designed in an elegant and luxurious way without too much distraction. Details are essential for your wedding stationery, but avoid getting lost in them."
Trust your stationery supplier
Stationery is often assumed to be a simple part of wedding planning but in reality is quite complex; so ensure you find a supplier you trust.
Helen Sharland at Cutture suggests working closely with your designer, "Tell them your plans for your day and what you want from the look and feel of your celebration. At the same time listen to them so they can create a design that you love. A good designer should help you with the process. We suggest thinking about the invitation first, then work on the day stationery closer to the big day."
Louise Richardson advises, "€œI admire those clients who take a leap of faith in me and trust me to create something incredible. I worked on a wedding on the Greek island of Chios a couple of years ago and the venue was an old fruit pressing factory. As soon as the client told me this I knew what to do and created a design that was inspired by vintage fruit wrappers, it was a joy to work on, fun, vibrant and reflected the amazing clients perfectly! I'm also working on a very interesting project at the moment, we are printing onto leather, fabric and wood but my lips are sealed on this one for now!"
Source samples & perfect the packaging
Once the design is complete it'€™s important to not overlook the finished product.
Ruth Kaye advises, "The finish of a product and it's quality is essential. A poorly finished invitation will feel horrible, no matter how lovely the design, however this can never be fully conveyed by simply looking at images. Therefore my advice is to visit your stationer and to view samples of past invitation suites, card stock and finishes available to establish what you are comfortable with. Take the time – it may seem laborious, but there is simply no other way."
"€œIf you are planning on getting your stationery online, always insist on seeing an actual sample first,"€ recommends Louise Richardson. "The design may be exactly what you want but if printed on thin quality paper it will negatively impact the end result. Even if you have to pay for it, it'€™ll be money well spent in the long run."
Such good advice from the experts! We can't wait to visit The Wedding Gallery when it opens and see just what it has to offer! Why to pop over to their website for a sneak peek?!