Choosing the perfect colour palette is such a fun task. And if you're planning an autumn wedding, there are some wonderful options to make sure you capture the essence of the season. Here we've picked our top five palettes for an autumnal affair.
Brights
If you fancy a bold splash of colour, why not go for a combination of red, yellow and berry colours. It'll provide a gorgeous, vivid burst – think cherry, maple leaf and rosy apple against a mellow bumble-bee or turning autumn leaf.
From the table decorations and florals to bridesmaid dresses and cake, this palette compliments the beautiful autumn colours with an intense glow. Rich burgundy and striking yellow warm up the falling temperatures outside and give really lovely options for coordinating a luxury rustic or forest style, as well as theming your food and drink choices. And why not treat yourself to some secret bright red shoes? Just a pop of crimson from under the hemline will make your guests smile and complete the theme.
Metallics
I think there is nothing so luxurious as a navy blue and gold combination. Just imagine a soft, velvety midnight blue, studded with gold accents; there is simply nothing more spectacular when it comes to creating a feel of elegance and sophistication.
A blue, gold and bronze palette would lend itself perfectly to a grand banquet hall. Keep the florals pure white and opt for dark blue decoration with gold highlights. A sparkle here and there will amplify the sophistication and create a magical environment for you and your guests to enjoy. Sleek dark blue bridesmaid dress with gold accessories and an on-trend chic navy suit for the groom will ensure your theme continues right through the day.
Muted
If you'd rather stay muted for the changing season, opt for a palette of greys and deep, dark purples. This keeps the feel fresh and chic whilst creating a warm, comforting atmosphere.
You can play with the wonderful texture and depth of warm plum, rich amethyst and intense violet among your décor, florals and stationery. Stunning dark table runners and dramatic decoration can be lifted with a grey accompaniment. Silvery tones in the bridal bouquet and a stunning grey suit for the groom will give the palette a real lift.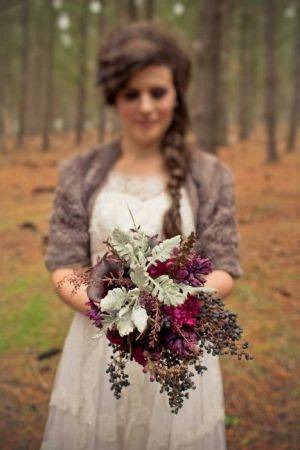 Monochrome
Warm and cosy chocolate and fudge colours are a lovely way to dress an autumn wedding. For a vintage theme, brown tones alongside cream accents make this a perfect seasonal palette.
With the weather usually still warm enough to hold some of the celebrations outside, you can create magic with fireside festivities. Large candles, dark wooden crates and whisky barrels inspire the cosy atmosphere, ensuring guests fall in love with your chosen theme. Pop your bridesmaids in brown boots letting a natural, relaxed vibe surround your special day. And here's your excuse for an indulgent, wonderfully rich chocolate wedding cake…
Colourful
For a bright and fresh pop, go for an orange and purple palette. Continue the colour scheme through the florals, décor and favours. Think pumpkin, orange sunflowers and rose gold set against a dark lilac.
With the autumn foliage just turning to match your palette, you and the season will be perfectly in step with each other. Really go for it with a bold mix of florals – dahlias and wildflowers can create a spectacular bouquet, while accents of pretty purple and ochre ribbons tying luxury flavoured popcorn can accessorise your tables perfectly. If you're feeling adventurous and your bridesmaids' tones allow, why not go for burnt orange dresses? Keep the rest of the décor fairly neutral to make your best friends really shine.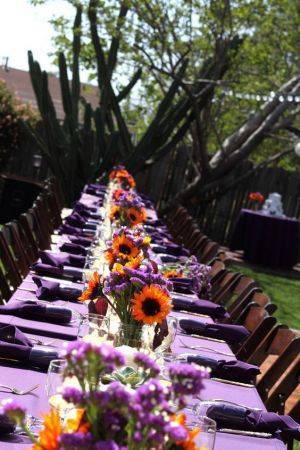 Whatever palette you may choose for your autumn wedding, just have fun combining colours and themes that reflect you as a couple – your personalities, favourite things and shared experiences. This will ensure your day looks, as well as feels, sheer perfection.