Top wedding dresses: The biggest challenge a bride faces before her wedding is finding the correct wedding dress. Moreover, the abundance of wedding dresses, at times, makes it even harder to find the dress in which you look and feel perfect on your wedding day.
This article presents the top luxury wedding dress designers in the United Kingdom, and thus, to help you in your search for the perfect dress.
Caroline Castigliano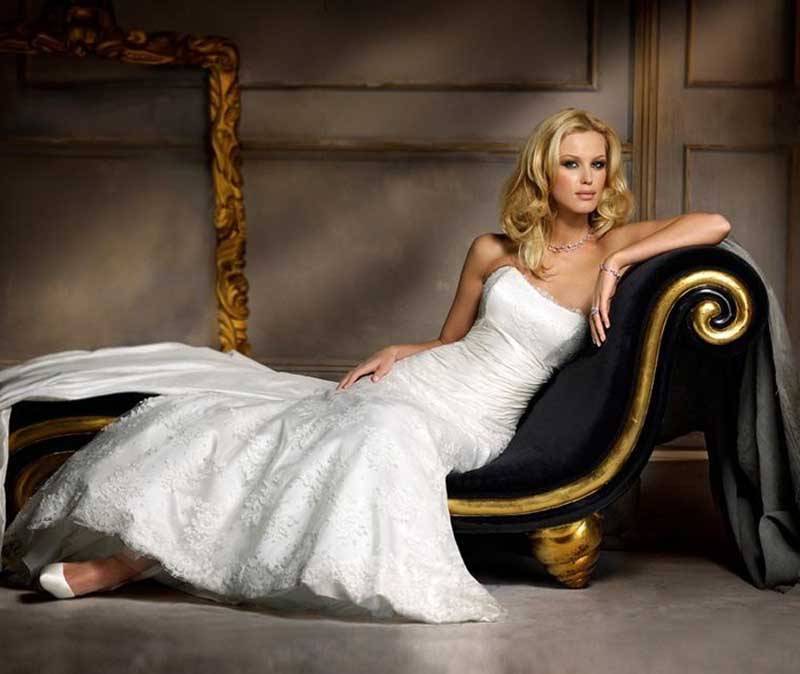 Specialising in classic styles with a contemporary edge, the emphasis at Caroline Castigliano is on genuine luxury and total indulgence. From humble beginnings, Caroline Castigliano opened her first bridal boutique in Surrey in 1991, today there are six such boutiques throughout the United Kingdom with several more stockists around the world.
Caroline is an expert in corsetry and incorporates her superior technique into her perfectly structured gowns. Caroline is an expert in creating dresses which flatter the female form using simple lines and understated elegance.
Sarah Burton at Alexander McQueen
Royal wedding dress designer Sarah Burton is creative director at the luxury fashion house Alexander McQueen, following the death of its founder Lee Alexander McQueen. Sarah Burton arrived at the prestigious fashion house straight from college and has since taken the brand from strength to strength.
Famed for her exquisite designs, Sarah is a veritable magician with a needle and thread. Using a variety of textures, Sarah creates a world of beauty with her incredible ability to create artful and sophisticated gowns. Having created day dresses for Michelle Obama, Gwyneth Paltrow and Lady Gaga, Sarah Burton and co are no strangers to creating outstanding couture.
Amanda Wakeley
Amanda Wakeley launched her signature label in 1990 and has over the past two decades developed into an international brand with a considerable reputation as a designer of luxury womenswear. The bridal collection established in 2000, offers contemporary glamour coupled with timeless elegance.
Her collections tend to focus on simple clean lines which elongate the silhouette. This is achieved through precision cut and sophisticated designs with very few embellishments. Using a variety of luxurious fabrics, Amanda Wakeley's attention to detail and craftsmanship is known throughout the industry.
Jenny Packham
One of the United Kingdoms most influential and successful fashion houses, Jenny Packham's collections include sophisticated eveningwear and bridal attire. Offering a contemporary approach to style and design, there is both a couture and ready-to-wear collection.
Dresses are available to purchase at the world famous Harrods and showrooms in London, Paris and New York. Jenny Packham is an iconic designer having produced gowns for Kate Winslet, Angelina Jolie, Amy Adams and Catherine Zeta-Jones.
Ian Stuart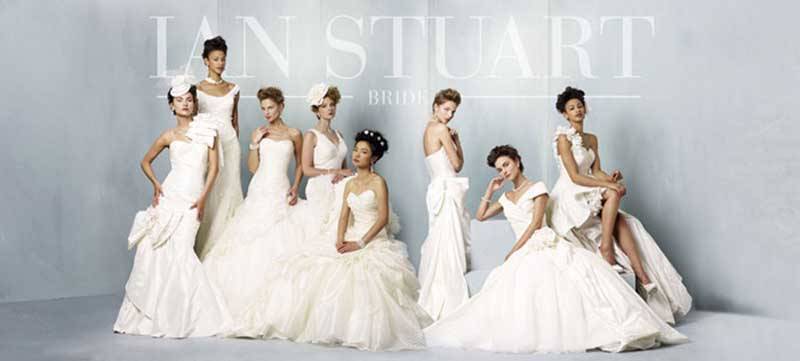 British designer Ian Stuart is famous for his spectacular bridal wear collections. Mixing elegant gowns with contemporary chic, Ian Stuart is highly praised for his unique and whimsical designs. Five times winner of Bridal Designer of the Year at the Bridal Buyer Awards, Ian boasts an impressive list of clients including socialites, celebrities and the Royal family.
Launched in 2003, Ian's couture gowns are all about glamour, grandeur and refinement. With an unrivalled eye for detailing, many gowns are hand finished with ruffles, flowers and diamonds. Romantic and feminine, Ian Stuart's gowns are as elaborate as they are beautiful.
Stewart Parvin
Royal couturier Stewart Parvin studied fashion at Edinburgh College of Art, then went on to work for well-known fashion designer Donald Campbell. Stewart started his own label in 1995 initially designing eveningwear however in 1999 he launched his first bridal collection, and the rest, as they say, is history.
Stewart Parvin was awarded the Royal Warrant of Appointment to HM the Queen in 2007, after years of designing for Her Majesty. Elegant, sophisticated and luxurious, are just some of the words which could describe any of Stewart's bridal dresses. He truly has an eye for flattering the female form in perfectly cut sumptuous gowns.
Phillipa Lepley
Phillipa Lepley is renown for her impeccable style and is one of London's leading bridal couture designers. Her distinctness style of understated elegance and sophistication makes her a popular choice for London's high flyers. Timeless and feminine, Phillipa's signature look is that of luxurious splendour. Coupling vintage fabrics with exquisite embellishments, Phillipa Lepley's gowns simply ooze old world charm with a modern twist.
Each dress is designed to flatter the bride's figure giving the bride the confidence to shine. Phillipa launched her first bridal collection in 1988-1990 from a basement in South Kensington and opened her flagship bridal shop in London's fashionable Chelsea in 1990.
Suzanne Neville
British-born designer Suzanne Neville likes to keep her award-winning dresses home-made with all of her designing and handmade production taking place in London. Famed for her decadent wedding gowns, each piece is structured and constructed to fit the body perfectly. Suzanne's dress is hand crafted to the pinnacle of couture excellence. Using only the finest silks and hand embroidery, Suzanne Neville's collection includes everything from slim fitting dresses to full romantic gowns.
Suzanne started the business in 1991 after studying at London College of Fashion. She has since gone on to win numerous awards and British Bridal Designer of the Year in 2009. Suzanne is frequently featured in top bridal and fashion publications and boasts an enviable client list, including celebrities and high-profile clients.
Ritva Westenius
London's leading Wedding Dress Designer with over 35 years of experience and dedication for producing innovative Bridal Couture of the highest quality. Ritva Westenius has become the symbol of British style by opening the way to the innovative and artistic interpretation of Wedding Fashion. Ritva Westenius has won numerous designer awards across her career, among them the Best British Bridal Designer 2012 and again a Finalist in 2013.
Ritva Westenius launched her own couture wedding gown collection in 1977 and opened her modern luxury Bridal Boutique in Central London. Here one is greeted with the eye-catching splendour of glamour and sophistication. Elegant slim fitting dresses, trendy fishtails and full romantic gowns are created in beautiful luxury fabrics of organza, tulle, slipper satin and lace with exquisite hand-beading and a choice of unusual, belts, corsages and boleros.
www.ritvawestenius.com
Sassi Holford
There is nothing better than an authentic handmade wedding dress that will show you in your best light. In this respect, Sassi Holford's interpretation of the perfect wedding dress is brilliant. Her dresses exhibit the traditional style of the old days. What is stylish never goes out of fashion, and this is what Sassi has proven more than once. Moreover, designed to complement the figure at all times, her collection's internal corseting will portray the bride in her most elegant form.
Justin Alexander
Justin Alexander is best known for his vintage gowns, combining timeless elegance from the 1950s and 60s with modern design. Old world glamour and sophistication pour from each dress, giving the bride a uniquely classical look, synonymous with Justin Alexander. Using exquisite styling and only the highest quality materials including antique lace, tulle and silk chiffon, Justin Alexander frequently appears in high fashion magazines and editorial.
Temperley London
Temperley London easily scores a place here, because she is one of the few designers who are ready to break free from the traditional forms and change the meaning of the word stylish. Her vast collection has dresses that fit all tastes from the shy and simple to the more retro wedding dresses.
Bruce Oldfield
As a wedding designer, Bruce Oldfield is known in all the high-fashion circles. In fact, Queen Rania of Jordan and Princess Diana are some of his previous clients who have proudly showcased some of the dresses in his collection. As for style, he shows how well conservative details go with modern-age ideas. If you are looking for a dress that will open you up, his innovative designs will, without a doubt, satisfy your taste.
Terry Fox
Terry Fox takes her place in our top ten because of a plethora of reasons. For one, her talent is not only recognised by numerous brides, but also by the 2013 Wedding Industry Awards committee, which pronounced her as the Best Wedding Dress Designer National Winner.
Whatever your taste is, you can be sure to find a dress that absolutely satisfies you. Terry Fox's collection has everything from the most elegant and simple to the stylish, modern-age wedding dress. As a plus, all of her dresses are made by hand with a lot of attention to detail.
We hope you enjoyed reading our list of the top UK wedding dress designers, off-course there are much more, so we hope to feature more designers in the future. If you have any suggestions do let us know.