Brocket Hall is a beautiful stately home in Hatfield, Hertfordshire.
Sitting within 543 beautiful acres, this house holds a rich history, housing two prime ministers, playing host to Queen Victoria and bearing witness to a few lascivious affairs.
We encountered the estate on a windy and rainy October day, but the weather only added to the drama as we swept up the winding driveway and Brocket Hall came into view. We stayed in Melbourne Lodge, a separate accommodation a little way from the main house with 16 bedrooms where wedding guests stay when the venue is hired for exclusive use.
We started our Brocket Hall experience with a tour of the many jaw-droppingly beautiful rooms in the main house. A sweeping staircase displayed impressive oil paintings and an elegant lounge played host to a very chic afternoon tea. Brocket Hall served as a maternity hospital during the war, and my favourite room, where the women would have recovered from their labours, had a Chinese theme and still had the original silk wallpaper as well as a gorgeous orange chaise longue. There are 30 luxurious double bedrooms within Brocket Hall, each adding to the elegance and romance of the estate.
We took in all the rooms in the manor house, where the bridal party would stay for a wedding, with a choice of beautiful suites; bathrooms with standalone baths and exquisite views over the grounds.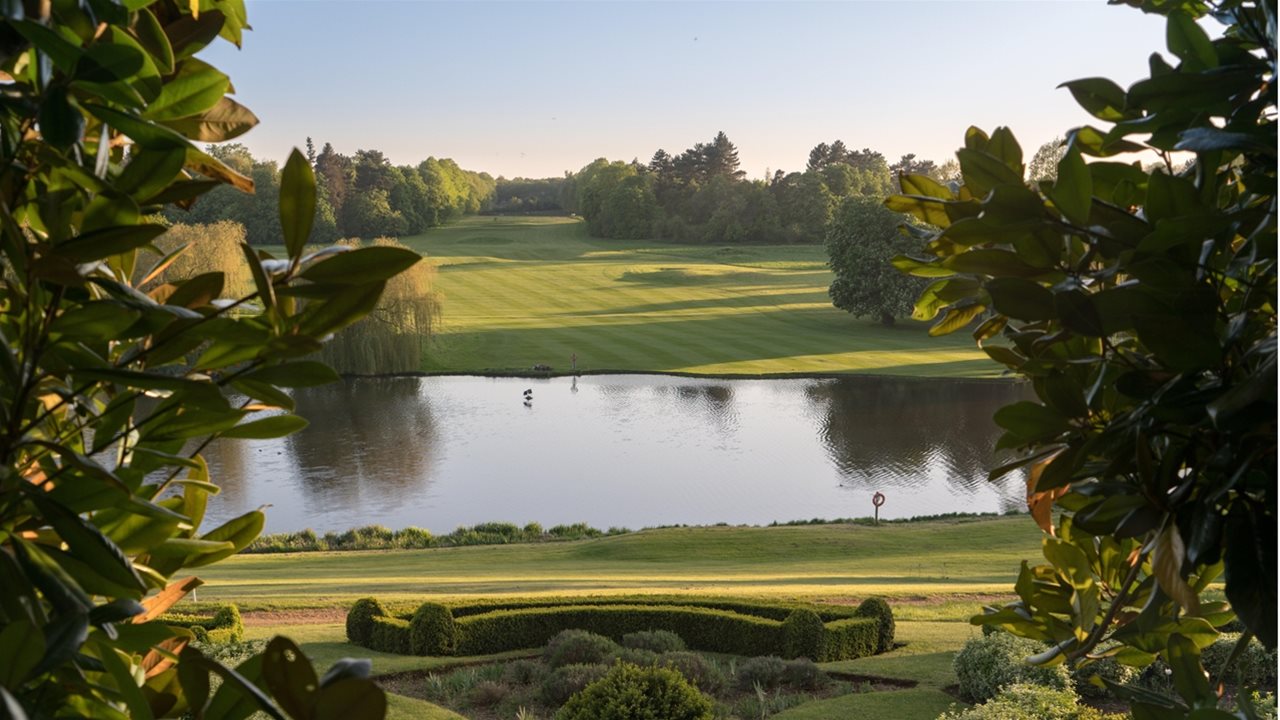 Weddings at Brocket Hall
The ballroom is a simply stunning space with intricately painted ceiling, crystal chandelier and the second longest table in England. It's the most beautiful room, perfect for a grand, historic wedding. It can accommodate 50-150 guests.
After our tour we took a long walk around the grounds, exploring the gardens, lake and bridge and the picturesque locations that would be perfect for wedding photographs. We then took a moment to relax in our wonderfully comfortable room before heading off to dinner at Brocket Hall's fine dining restaurant, Auberge du Lac.
Auberge du Lac
The restaurant is a short golf buggy ride from the main house and we loved the adventure of climbing aboard and venturing off in the darkness, especially our young daughter! Big, heavy wooden hunting lodge doors hide a warm, cosy and inviting restaurant that smells divine. With a two AA Rosette award for culinary excellence, Auberge du Lac has a beautiful lounge, pretty lakeside terrace and a range of private dining rooms that will accommodate from two to 16 guests. You can also hold your wedding reception here as it can cater for up to 60 guests with a bespoke menu. Its head chef, Matt Edmonds, boasts a wealth of experience cooking in luxury establishments and we were treated to one of the best meals we've ever eaten.
From the salmon sushi to the pan fried cod and finishing with a gorgeous pistachio dessert, the eclectic blend of flavours was deliciously delightful and came with the best service.
After a lovely night's sleep we enjoyed breakfast at the golf resort. With two courses named after the two Prime Ministers who resided at Brocket Hall, Lord Palmerston and Lord Melbourne, the resort regularly plays host to professional and members' tournaments as well as Pro-Am. The golf club can cater for weddings up to 120. We enjoyed our breakfast greatly – smoked salmon and scrambled eggs was the perfect meal to wend us on our windy way home.
We had a gorgeous stay at Brocket Hall. It really is a beautiful venue with a range of choices for holding a truly historic wedding there.
Welwyn, Hertfordshire AL8 7XG