The Langham, London opened in 1865 as London's largest and most modern hotel. At a cost of £300,000, The Langham was the first 'grand hotel' in Europe and had the first hydraulic lifts in England. It remained the favoured hotel of royalty, artists and musicians from around the world, with Charles Dickens, Arthur Conan Doyle and HRH Diana, Princess of Wales among its regular guests. Old black and white pictures now adorn the walls, reminding guests of these famous visitors and staff of old.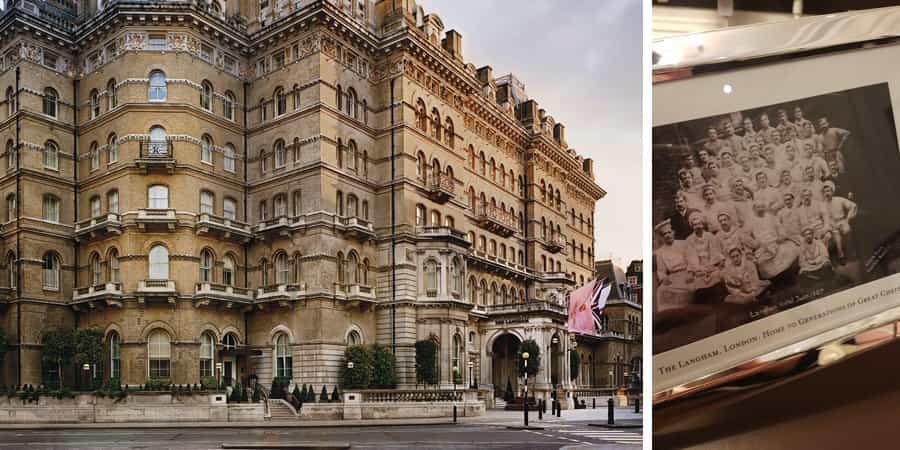 It underwent renovation in 2016, opening its doors to the world once again to welcome visitors from around the globe, and we were delighted to join the esteemed guest list to see what this grand hotel had to offer.
Welcome
Stepping in from the heart of the West End, The Langham, London's grand staircase takes you in from Regent Street into the beautiful lobby, past the elegantly attired doormen in formal grey uniforms. We visited just after Christmas so the decorations were still twinkling, transforming the surroundings into a magical space. We were just taken aback by it all and spent a moment taking it all in!
Spa
While our room was prepared, we visited the spa, Chuan Body + Soul, a sanctuary that has a philosophy based on the values of traditional Chinese medicine. It's truly a beautiful, calm and relaxing space, with gorgeous scents as you enter. I had a tour of the spa, saw the swimming pool which is located in the old banking vault, and then completed my personal questionnaire over a pot of tea, so that they could personalise my treatment.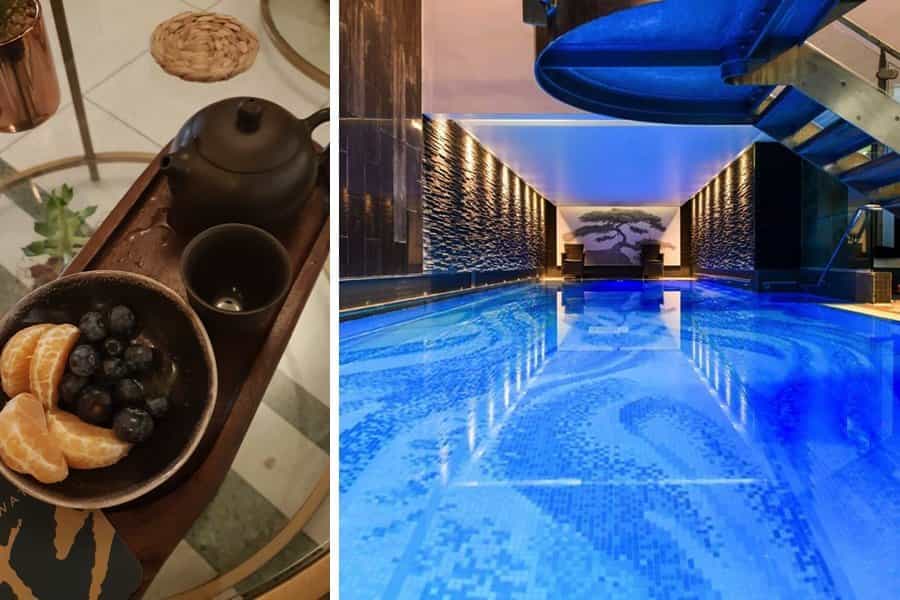 The spa uses the natural elements to inspire their treatments, tailored to you, so my full body massage was personalised to the element of water, and was accented with chanting and breathing – so relaxing!
Rooms
Up in the famed lift to our suite with views over the rooftops of London. The hotel has 333 rooms, five apartments with kitchens and 42 private suites. Its penthouse, the chic blue and grey Sterling Suite, is the ultimate in luxury. With six ensuite bedrooms, a media lounge, dining room and living room complete with baby grand piano, this space will set you back a cool £25,000 per night. Our one bedroom suite, although much smaller, of course, was absolutely gorgeous. It would be perfect for getting ready for your big day. With beautifully comfortable kingsize bed, marble bathroom and plush furnishings, we felt thoroughly spoiled. Macarons to welcome us and sweet treats and a teddy for our daughter, they went above and beyond to ensure we felt at home.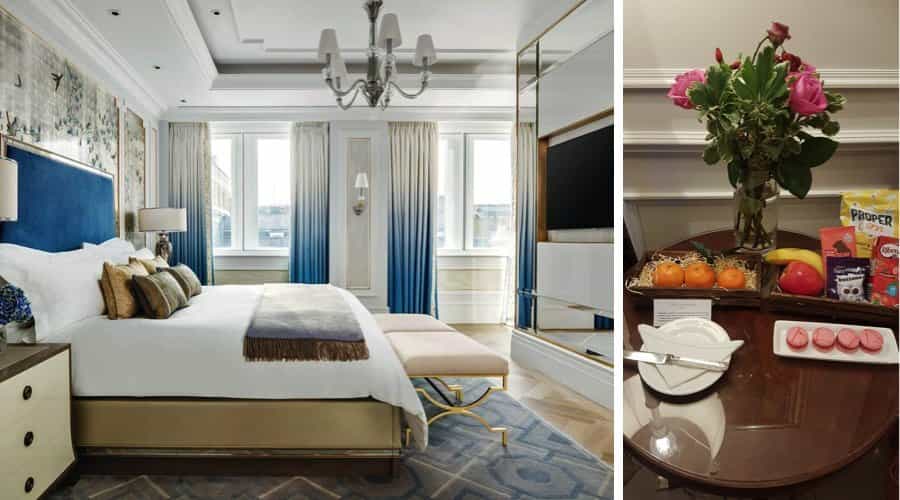 Food
Dinner at Palm Court – famed as the birthplace of the afternoon tea – was a delicious experience. The hotel has four restaurants and bars to enjoy and we dined at the dazzling Palm Court. Light and sophisticated in the daytime for sweet afternoon teas, once 7pm hits the atmosphere changes and you know dinner is on! With low lighting and the strains of a harp as our backdrop, we enjoyed smoked salmon, stuffed chicken leg and a gorgeous mix of coffee and chocolates. The food was sublime, the service top notch and the atmosphere was so relaxing.
Turn down
A turned down room was lovely to come back to, with fluffy slippers, milk and cookies and a Langham scented candle to light, aiding our relaxation before bed time.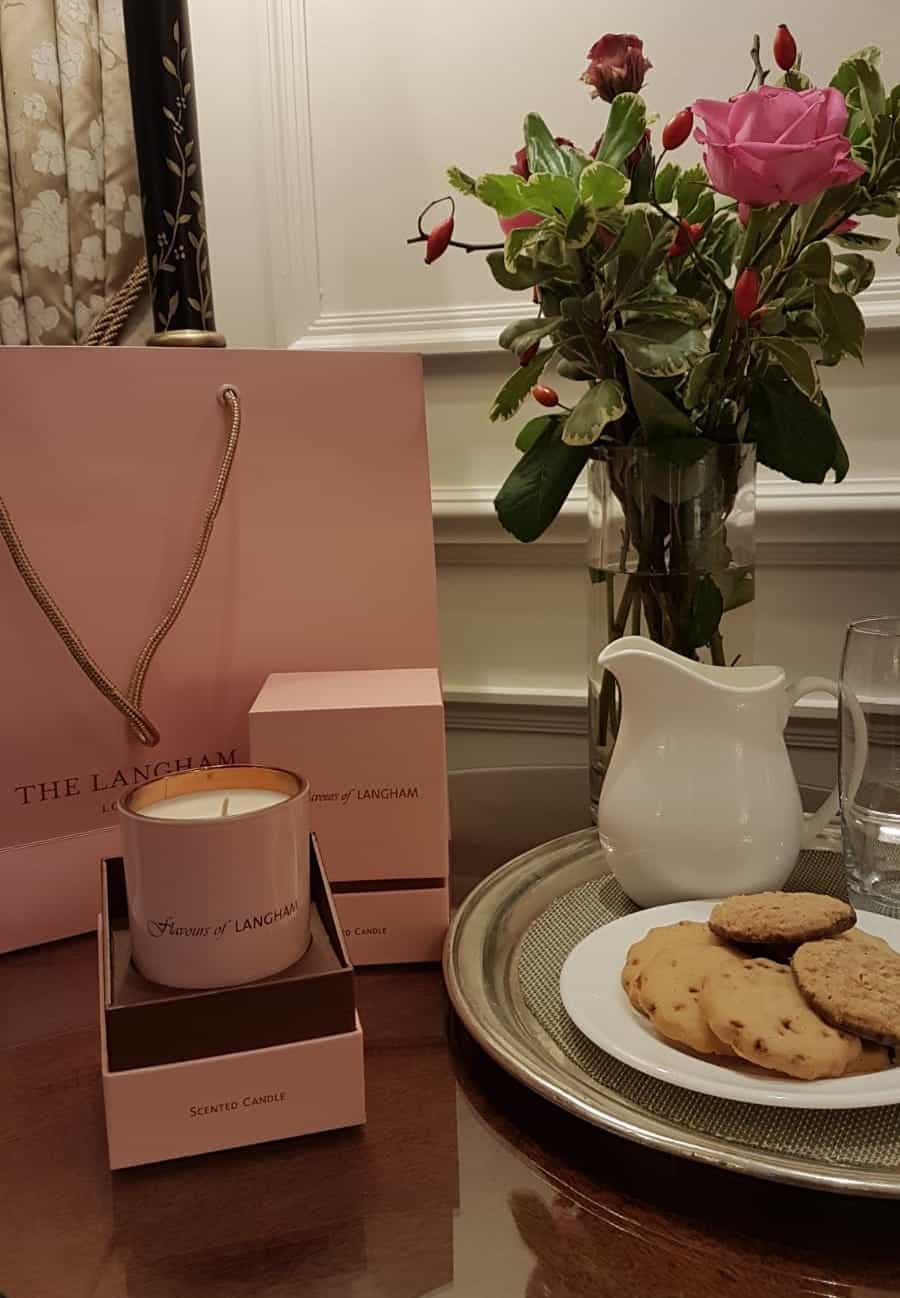 Breakfast
After a really good night's sleep we enjoyed breakfast in the hotel's Roux at the Landau restaurant. You can get a buffet breakfast at Palm Court, but we opted for table service at Albert and Michel Roux Jr's seasonal and contemporary restaurant. A wonderful avocado and poached egg breakfast set us up for the day, before we were given a tour of the wedding venue.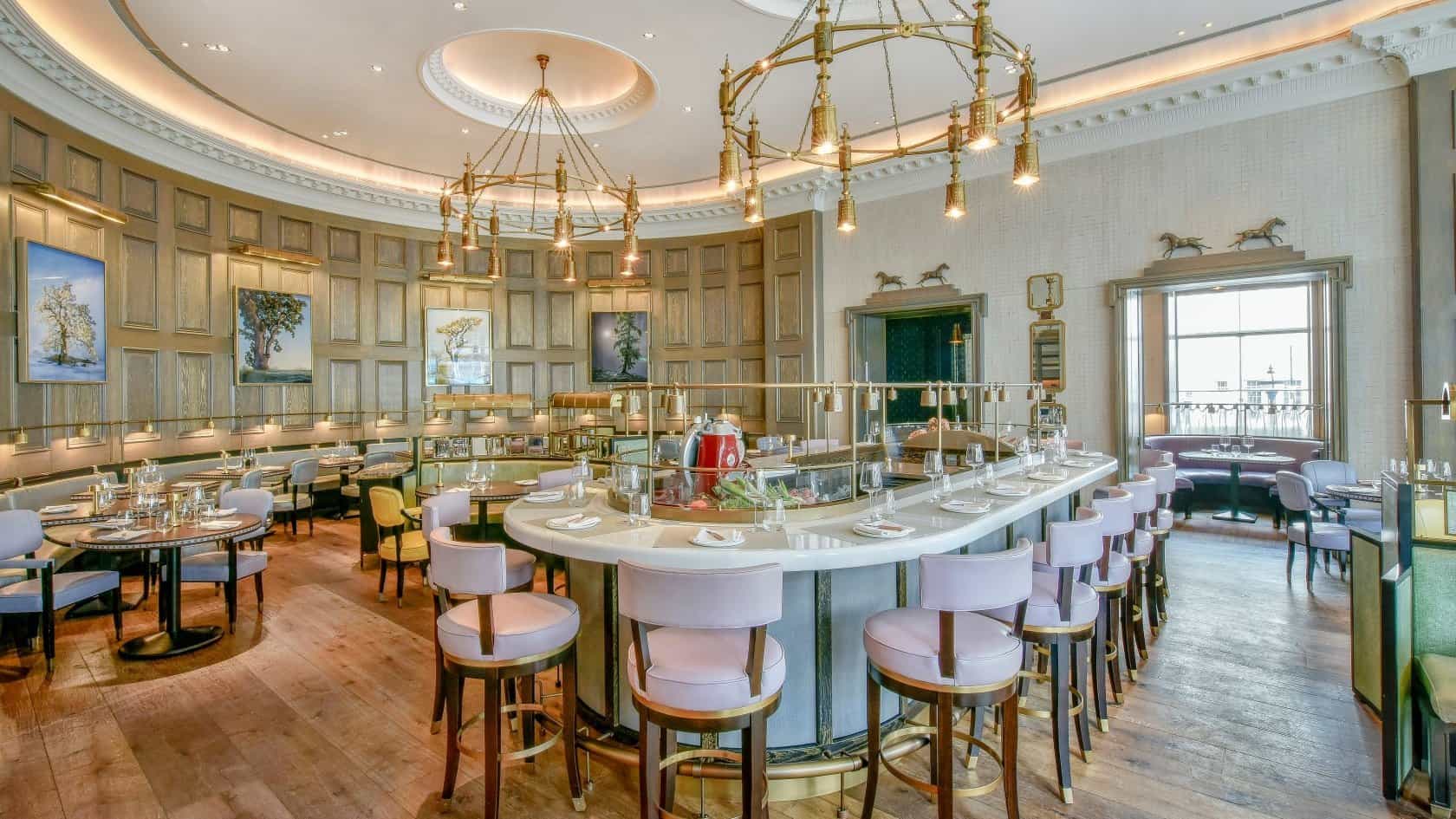 Weddings
With an elegant ballroom leading to its own garden courtyard, The Langham, London's al fresco space is so unusual and beautifully thought out. You could have a winter wonderland out there in the colder months, with summer cocktails during the sunny seasons. The wedding breakfast menu is amazing, developed in collaboration with Michel Roux Jr, catering for up to 375 guests. All Souls Church is conveniently located directly opposite the hotel, perfect for transitioning from ceremony to celebration, and the hotel itself is fully licensed for hosting weddings as well as civil partnerships.
With its grand, wide corridors and old photos reminiscing of the hotel's history, we thoroughly enjoyed being swept up in all that The Langham, London had to offer. It truly is still an iconic grand hotel, and a wedding here would most definitely be the talk of the town. We had a fabulous stay – we know you would too.
1c Portland Place, Regent Street, London, GB W1B 1JA
T 44 (0) 20 7636 1000 F 44 (0) 20 7323 2340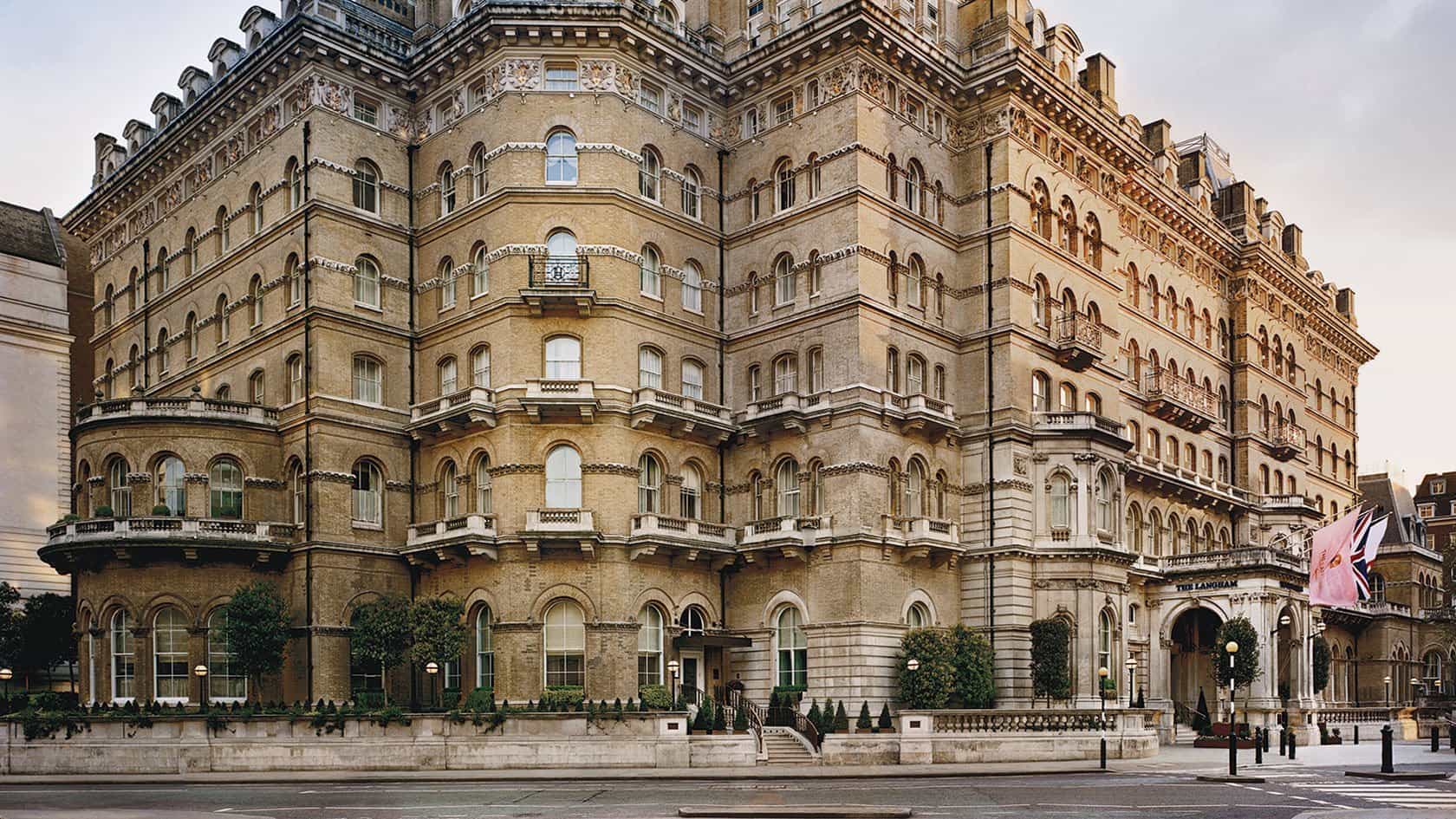 Review: The Langham, London
Steeped in British history
The Langham, London's grand staircase takes you in from Regent Street into the beautiful lobby, past the elegantly attired doormen in formal grey uniforms.