[pro_ad_display_adzone id="89742″]
5 Star Weddings: How long have you been designing?
Ann Guise: I started designing at the age of 5, making dresses for my dolls on a child's Singer hand sewing machine. Age 7 I watched an item on 'Blue Peter' on how to make a doll's dress, which really got me going. Age 11 I started making my own clothes using an electric sewing machine – and never looked back.
5 Star Weddings: Why did you choose to only design pure silk veils?
Ann Guise: I decided to start my business specialising in making silk wedding veils so that all brides can have the choice and opportunity of wearing a couture silk wedding veil.
I made my own silk wedding veil because I didn't like the feel or look of the polyester ones. I've always loved the feel of beautiful fabrics. Being a trained fashion designer, friends would often ask me to make their bridal gown and I always suggested a silk wedding veil. Also, a standard size shop bought veil doesn't suit everyone.
5 Star Weddings: What or who has influenced your design work? What type of client do you have in mind when you are designing or do you only design to order?
Ann Guise: I love beautiful fabrics and anything that sparkles – mirrors, glass, chandeliers, diamonds! I love the musicals of the 1930/40s, Fred Astaire/Ginger Rogers and Busby Berkeley. Edith Head designed some of the amazing costumes. I also love Erte who designed the most stunning outfits for Diaghalev's Ballet Russe and beautiful covers for Harpers and Queens. I only design to order at the moment. I always design for a particular client. She will usually have an idea of the veil she is looking for but unable to find it in a bridal store. I advise and make suggestions within the brief given. My brides want individuality and a veil to complement their outfit.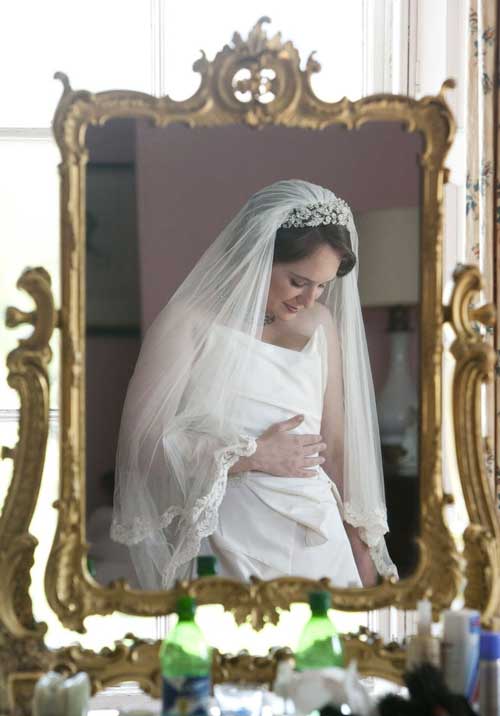 5 Star Weddings: Where do you sell your veils?
Ann Guise: Distance is no object where my veils are concerned. I have made silk veils for clients all over the world Australia, Canada, USA, Hong Kong, Dubai, New Zealand and Europe. There are pictures of some of my 'Real Brides' on my website. The internet makes the world a very small place. The ordering process is very simple and exactly the same no matter where a bride lives.
5 Star Weddings: What advice would you give to Brides considering wearing a veil?
Ann Guise: The style of veil is a bride's choice. She should never feel pressurised into wearing something because it is the 'proper' or 'right' way. Each bride is an individual and should do her own thing. If a bride wants it, then that's the right way for her. The decoration on the dress and length of train need to be considered. A veil shouldn't distract from the total look of the outfit. A short veil can make the back look too busy if there is detail like the edge of a bodice, embroidery or a sash etc. all around the same area. In this instance, I usually suggest a long veil which allows the detail to show through.
5 Star Weddings: Do you stock anywhere or are you purely about bespoke and made to order?
Ann Guise: I have been approached by retailers who would like to stock my veils, both in the UK, US and Australia but I'm reluctant because that would increase the price of my veils. Also, I like the interaction between myself and my clients. Part of the service is the advice and guidance they receive.
5 Star Weddings: What are your plans for the future?
Ann Guise: I would like to continue developing my embroidery and beadwork designs to provide even more choice for my clients. Due to the interest I've been receiving from retailers, I may soon consider an off the peg range – we'll see!
Brides will spend a huge amount of time and money on their wedding dress and I want each bride to have the opportunity to wear a diaphanous pure silk wedding veil, which will compliment their dress perfectly, and create a beautiful aura. Each veil is unique and an heirloom that can be passed from sister to sister, or mother to daughter and is a lovely 'something borrowed'.
5 Star Weddings: Who has been your favourite wedding veil that a celebrity has worn?
Ann Guise:  I love this veil worn by Hillary Scott. It's unique to her and was designed to compliment her wedding dress – beautiful!
5 Star Weddings: In your opinion what makes a 5 star wedding?
Ann Guise: Each wedding is 5 star, to the couple getting married. A couple will put their own stamp on their wedding to make it 5 star for them.'
Should you wish to see more wonderful designs visit Ann Guise.com

Copyright: 5 Star Weddings.